Donatella Versace's Instagram Is Uniquely, Deliciously Ostentatious
Lesson number one: Let the male models do all the hard work for you.
---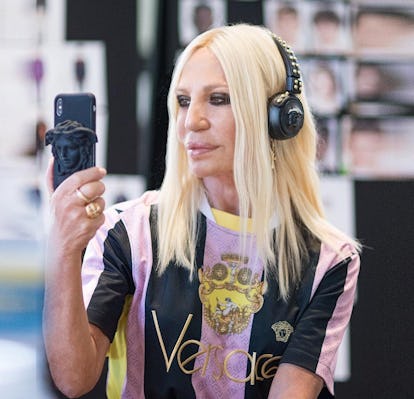 Photo by @donatella_versace.
It may be unclear exactly how Donatella Versace feels about American Crime Story: The Assassination of Gianni Versace on Instagram (the designer has not posted any content in reference to the series, although the Versace family is publicly against its version of events), but what is apparent from a deep dive into her social media is that Donatella is absolutely hellbent on having fun.
Although the Versace family insists that American Crime Story's second season is "full of gossip and speculation.", on Donatella's Instagram, the tension between the family and the FX producers is nowhere to be found. What she does give us is a taste into the deliciously ostentatious lifestyle of a creative director at Versace with a personal cult following of her own.
Let's go all the way back to the maestra's initial foray into Instagram: her very first post is a photo of her taking a selfie with none other than Versace muse Gigi Hadid in 2014. Always eager to learn something new, here she is, learning the millennial duck face selfie stance from Hadid.
Judging by the looks of this selfie, it seems like Hadid's iPhone tips probably paid off.
Of course, one would expect the Instagram account of the designer of just about any major fashion house to be teeming with models—and make no mistake, Donatella Versace's account certainly is overflowing with scantily clad male models around the world—but of course that's not the only thing to go to her account for. She's been known to have another muse in Lady Gaga (who, sadly, does not play Donatella Versace in American Crime Story, but just think of how perfect it could have been if she did). Donatella supports her dear friend by posting about listening to Gaga's latest album Joanne while getting ready to go out, posing backstage with Gaga (while she donned a leotard printed with Madonna's face on it),and showing up to the 2017 Super Bowl, when Gaga performed.
And if you're looking for more insight into Versace's music taste, rapper 2 Chainz and "Versace on the Floor" singer Bruno Mars have also made the cut on her Instagram. All that's missing is a special appearance from "Versace" rappers,Migos.
Of course, any glimpse into the often ostentatious life of Versace would be incomplete without appearances from her dogs Audrey and Django.
Surrounding herself with almost-naked men and getting them to do basic tasks for her (remember her ice bucket challenge video from 2014?) is also par for the course for Versace's Instagram account.
Versace is also giving Britney Spears' runway series a run for her money. There's a particularly unique genre of Instagram video that she often posts when traveling the world—where she announces to the camera where she's about to travel or where she's just arrived, as she walks towards the lens. It's harrowing.
And though she is clearly having the time of her life, Versace would like to remind us that above all she's a businesswoman, hard at work.