Ricky Martin Loves an Instagram Thirst Trap
The 45-year-old Puerto Rican superstar is unabashed about flexing for the 'gram.
---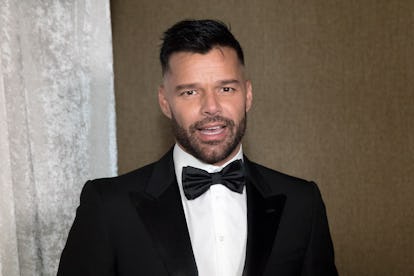 Greg Doherty/Getty Images
Ricky Martin is a definite proponent of the thirst trap. (A thirst trap, in case you aren't familiar, is a photo posted for thirst. i.e., attention or "likes.") It doesn't take much scrolling through the Latin superstar's Instagram before you get to a photo or video where he's got his shirt halfway off (or all the way off), or his underwear at his ankles. He's a busy man, too—whether that's because he is gallivanting about Miami Art during Art Basel this week, raising money for hurricane victims of his native Puerto Rico, bringing his kids on gallery visits or running lines for an upcoming TV role. He always finds time to flex on Instagram, showing off his chest tattoos or relaxed weekend looks with his gently tousled hair.
With an upcoming role in Ryan Murphy's The Assassination of Gianni Versace: American Crime Story, Martin plays Antonio D'Amico, an Italian model and designer known for being Gianni Versace's partner. Versace's 1997 murder by Andrew Cunanan will be the focal point of the series, with Penelope Cruz as Donatella Versace, Gianni's sister. Recently, Martin was featured in Haute Living Miami, where he called out intolerance of the LGBTQ community as the reason Gianni Versace's killer, who will be played by Darren Criss in Murphy's FX series, was able to murder Versace.
Lately on his Instagram, Ricky Martin loves to post evidence that he's been getting close with his American Crime Story co-stars.
And last week, Ricky Martin squired none other than Rita Ora and model Adriana Lima all around Art Basel Miami Baech. It was hot, at least hot enough to wear a halfway unbuttoned shirt revealing Martin's glistening chest, obviously.
He also has a penchant for posting about his run-ins with other famous people whom he may or may not actually be friends with, from Tom Hanks to Prince Harry to Melanie Griffith (who seems to be friends with just about everyone on Instagram).
He also uses his Instagram like a total dad, which is to say, it's not quite clear that he totally understands captions and hashtags, nor some of the methods he chooses to share information. He once recorded his meeting with Prince Harry (along with the members of One Direction) from his television screen and then posted that recording to his personal Instagram, rather than just finding that footage and posting it directly.
Most of the captions are rather inscrutable, but the images still undoubtedly thirst trappy.
The 45-year-old superstar is also a father of two boys, whom he features on his Instagram as well.
When he's not palling around with his boys at art galleries, he can be found working to raise money for victims of Hurricane Maria in Puerto Rico.
Dad's still got it.
Related: 10 Instagram Highlights From Art Basel Miami, From a Giant Neon Vagina to the New Museum of Ice Cream