Don't Keep Your Erotic Art Collection With Your Florida Mistress
Nicholas Zoullas of Manhattan kept his pricey art collection in Florida long with his former mistress.
---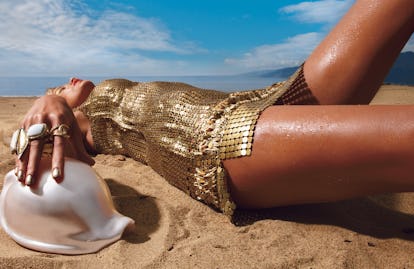 Photo by Emma Summerton, styled by Edward Enninful.
Not even a substantial fortune can safeguard you against the never ever ending stream of weirdness that occurs in Florida. Who knows why? Maybe all the humidity seeps into the brain and lubricates the mechanisms of bad decisions.
To be fair to 80-year-old New York City financial advisor Nicholas Zoullas, storing both your multi-million dollar collection of erotic artwork and your younger mistress in the same Palm Beach County homes makes a certain amount of sense. Until, of course, your mistress decides to make off with your artworks with her other boyfriend.
The strange situation also entangled blue-chip auction houses Christie's and Sotheby's, which both had a stake in the collection, and had to put pressure on the small town of Lantana, Florida and its police department to solve the crime.
Zoullas purchased the pad on Hypoluxo Island, a ritzy but relatively quiet enclave between Boca Raton and West Palm Beach, and let his former mistress, Stacy Cliett, 43 stay there. At some point this year, the affair came to an end, and Zoullas discovered that $15 million worth of his erotic art collection that was also kept in the home was now missing. In fact, 200 pieces in total were now unaccounted for. He called up the Lantana police department frantic.
"She was upset. The ride was over. The good life was coming to an end," police officer Eddie Tavcar told Palm Beach's NBC affiliate WPTV. "It got really ugly there in the end."
One of the stolen pieces included a work by Swiss artist Luciano Castelli, and the police force says they fielded cars from Manhattan's two biggest art auction houses who hoped they'd solve the crime.
Police, of course, focused on Cliett and her new boyfriend Todd Stephens and tried to cut a deal.
"I told her, 'If you're able to get the artwork back and give it to them, it will all go away.' And the lawyers assured her of that. But she refused," Tacvar told the station.
Alas, the police had to go on a good old-fashioned stakeout and tracked the couple for several days until they located the art at an inland warehouse.
Once returned, the police force then had the odd task of cataloging all the recovered artwork, much of it erotic in nature. The haul included everything from a nude mannequin of a woman made with real human hair to ancient erotic artifacts from the Aztecs.
The entire collection is now safely back in New York. Cliett and Stephens are out on bond and awaiting trial (though they're sticking to a defense that they merely moved the artwork because of a mold problem). Zoullas has now also filed a lawsuit against the pair in New York Southern District Court, but according to the news station she's still living in Zoullas' Hypoluxo Island home.
In any event, while art collections worth millions, mistresses younger by decades and a second home in South Florida are all de rigueur among Manhattan power players of a certain sort. Here's as good a reminder as any not to mix all three.