Make that a Double
Sophomores have arguably always had it harder than their first year counterparts. Particularly if they managed to have a pretty stellar freshman showing. Image maintenance can be a tricky business. Such a tenet certainly applies...
---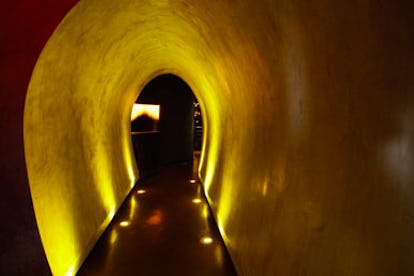 Sophomores have arguably always had it harder than their first year counterparts. Particularly if they managed to have a pretty stellar freshman showing. Image maintenance can be a tricky business.
Such a tenet certainly applies to nightlife endeavors. What succeeded unequivocally the first time around may fall flat on the second go what with the fickle personality of New York's nocturnal scene.
No one is more aware of this possibility than David Rabin. The former co-owner of Lotus and current proprietor of The Lamb's Club and Jimmy's at the James Hotel, Rabin is currently undertaking a project—along with partners Jeffrey Jah, Will Regan and Mark Baker—many of his colleagues would shy away from: reincarnating the Double Seven, his immensely popular, chic boite whose moody home on 14th street across from Lotus closed in 2007.
"It's a gamble or risk in that a lot of people over the years have said, 'The last place I really loved going to on a consistent basis was the Double Seven,'" he says on an early fall day seated in the lounge's new location on Gansevoort Street. "You hear that and think, 'Well, gosh, I hope they're telling the truth.'"
Evidence would prove as much: during a soft opening period the new Double Seven has already hosted Prabal Gurung's post-show bash and an impromptu after-party for the New Yorkers for Children gala.
"That night at least fifty or sixty people came here in their tuxes and gowns," he recalls. "We forgot to start checking our event calendar, so we were like, 'What's going on? Did a bus just pull up?'"
It's easy to understand why his loyal clients—and perhaps some new ones who weren't legal during the Double Seven's early years—might flock to this new outpost.
Much of the space's aesthetics, courtesy of interior designer Gulla Jonsdottir, mimic or preserve its predecessor, from the second you enter its glowing yellow tunnel.
"This would immediately transport people back in their minds," says Rabin.
Behind the hostess stand is one of two Norman Mooney glass artworks, the second a larger amber one along the southern wall. Six of the boxy, leather sofas are originals from the old place—they were housed in the basement below this new address during the Double Seven's hiatus. The specialty cocktails like the Gold Rush, a bourbon, honey and lemon juice concoction, are still dreamed up by Milk & Honey's Sasha Petraske, though this time around they come with paired with Debauve and Gallais chocolate. And the feel is still intimate—holding "163, says New York City."
So what's new? For starters, a round sofa by Mark Anthony from JC Furniture grounds the center of the room, which isn't linear like the old space—with age comes curves, apparently. A back wall is covered with a customized metallic sculpture from California, like a cross between a church organ and a huge candelabra, appropriately flickering with votive candles. The organic tables for each sofa-cum-booth are made of a root from Bali.
"The good news is they're beautiful. The bad news is they have holes in them," quips Rabin. "We like the holes until the champagne flutes start going down the holes and you hear 'crash!' and our good friend Kim Vernon yells across the room, 'Mark, another one just broke!'"
The problem will soon be solved by bringing the drinks on trays that will cover the holes.
A less hazardous option is the bar, covered in a chocolate embossed leather that matches the armed chairs that serve as seating. A kitchen gives partiers some fuel for their efforts in the form of small bites like Kobe beef burgers, grilled cheese sandwiches and pigs 'n' a blanket (the latter was given a major thumb's up by Rabin's nine year-old son, Tyler).
It's a nice addition considering that Double Seven has always been a highly flexible operation, catering to both people seeking a nightcap on their way home and those looking for a place to start their adventures.
"People used to run from the old Double Seven to Bungalow at 2:30am and I was thrilled, I was fine with it. You can't be all things to all people," says Rabin, continuing, "And we have to stay in our lane. And our lane is 10pm-2am, what we call nightlife for grownups. And that's not an age thing, it's a mentality. They just don't want to be in a club where they can't hear themselves talk."
That's not to say you can't have a little naughty fun at Double Seven. Its intimate square footage means some table-sharing may be in order—and that's not a bad thing.
"Actually, a lot of friendships have been struck up. Or business relationships. Or other things," says Rabin with a laugh.