How Europeans Age Gracefully, With Help from Dr. Dray
One of Europe's hottest cosmetic dermatologists talks injectables and aging.
---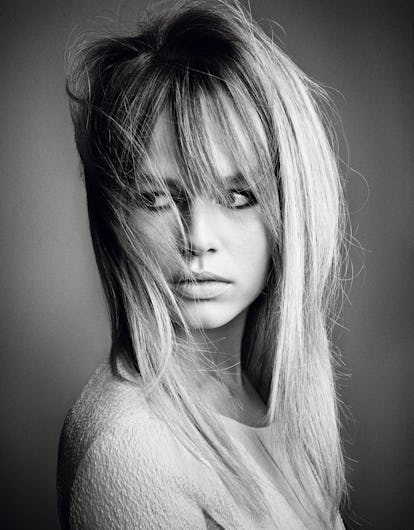 Photo by Patrick Demarchelier
I have a dear friend in London, who, along with her husband, seems to look dewier, fresher, and yes, markedly younger, every time I see her. Naturally I wanted in on the secret. She was quick to confess: "Dr. Dray." At first I thought she was confusing her face-work with her headphones, but no, Dr. Maurice Dray (a French native who splits his time between Paris and London) is one of Europe's hottest cosmetic dermatologists, seeing to the complexions (and complexes) of myriad society mavens, celebrities, politicians, princesses and ordinary rich folk. The pioneer of mesotherapy (in which a cocktail of vitamins, coenzymes and hyaluronic acid are injected into the dermis with the intention of stimulating collagen production), Dray is known for his gentlemanly bedside manner, light touch and tres, TRES natural results. He was kind enough to take some time out from his summer holiday (in Ibiza, bien sur!) to speak with me.
Tell me about your signature procedures. My friend raves about the Mesolift and the 10-Minute Facelift. I would say the Mesolift, which incorporates mesotherapy, is our A-1 treatment. You see, when we put a cream on the skin, it is not very efficient, as it doesn't reach the dermis. But in my Mesolift, I inject revitalizing actives and nutrients right into the dermis. The results aren't instantaneous, but cumulative. You will start see an improvement in hydration in two or three sessions, and over time, an improvement in tone and elasticity. And the 10-Minute Facelift is exactly that: A quick, non-surgical upper and lower lift using only injectibles. For the upper face, I use hyaluronic acid in six very specific dots. You immediately see a big difference in lift and elasticity. With the lower lift, I use another material – a calcium gel – to help me give a very beautiful jawline. The combination gives a beautiful result, really, in 10 minutes. I am the only one doing this specific work – it's my special, signature treatment.
I hear from my friend that you also do great work on hands. We do two procedures on the hands. First of all, we do mesotherapy, to improve the quality of the surface of the skin. We also use hyaluronic-acid filler to smooth the appearance of bumps, bones and veins in a very natural way. It's important to only use a little bit. We work in the French style – that is to say, never too much of anything. In France, everyone is concerned with not looking overdone. We are very concerned with using products that are as natural as possible and getting natural results. I cannot stress this enough.
What else do your patients request? I do a lot of threading, you know, neck lifts performed using biodegradable polylactic and glycolic acid threads to form a kind of "net" that supports sagging skin tissue and encourages collagen production. It's much more popular here than in the States, I think. A lot of people from Los Angeles and New York (I can't give you names, of course) come to us for this procedure, as it's not aggressive or traumatic, and produces excellent results. You will see an improvement in skin quality in two or three weeks, and even though the threads dissolve in about six months, their lifting effect can last up to two years. We are very concerned about skin quality here. What makes you look younger? Three things: Hydration (that glow!), elasticity and firmness.
Do your Paris-office patients differ from the London ones as far as the procedures they favor? Really, I don't see a big difference. I used to say, a lady is a lady. We have a very international clientele. But perhaps a very small difference – the English are very conservative, and so are the French, but the Americans ask for a bit more sometimes.
What should a woman do on her own in order to look younger? It's going to sound like a cliche, but avoid the sun. The sun is a very bad friend. It's not an enemy, but it's not a good friend, either. Hydrate. Drink a lot of water. And use a good moisture cream. It is not necessary to spend a lot of money, either. I have my own creams, of course, and they are very good. But you really don't have to buy expensive creams. Just find something that works for your skin.
Are there any procedures you won't do? Volume. We don't do volume because volume looks fake. What we do is try to give you the face you had maybe five or 10 years ago. Again, we focus on giving your skin more elasticity, more hydration and taking away some of your wrinkles. But I prefer to leave you a few wrinkles, so you look natural, like you never walked into my office.
Watch W's most popular videos here: