Drake and Millie Bobby Brown, Mutual Fans, Did Their Best Eleven Impressions on Instagram
Hotline Bling meets Stranger Things
---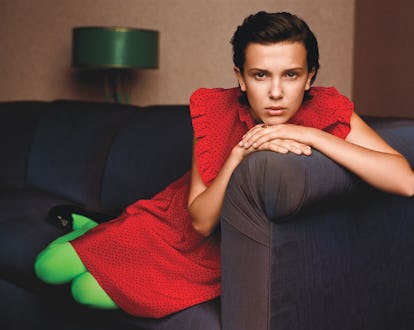 Photographs by Alasdair McLellan, Styled by Edward Enninful; Hair by Shay Ashual at Art Partner; makeup by Diane Kendal for Marc Jacobs Beauty at Julian Watson Agency; manicures by Casey Herman for Dior at the Wall Group. Set design by Stefan Beckman at Exposure NY.
We may have reached Peak Stranger Things now that the cast, in addition to being everywhere, is hanging out with Drake. Then again, you certainly can't fault the rapper for being a fan of the hit Netflix series and of Millie Bobby Brown, who plays the superhuman and fan favorite Eleven on the show. The two posed together for photos they each posted to Instagram late on Friday, November 10, mostly likely taken backstage at Drake's Brisbane, Australia concert.
In Brown's picture, captioned "this guy…," the two smile for the camera.
But in Drake's post, captioned "Hawkins Very Own," they've adopted Eleven's signature "using my powers to move things with my mind" stance.
So, now that the relationship is Instagram official, could a collaboration be next? Brown can rap, as demonstrated on some of her many late night appearances, and anyone who watched Degrassi knows Drake can act, so don't be surprised to see Brown featured on Drake's next album, or for a certain notable Canadian to suddenly find himself in Hawkins, Indiana, next season. In fact, Drake's definitely making moves into Netflix content, starting as early as next year. He's "teaming with Netflix to revive the critically acclaimed but short-lived British crime series Top Boy (think an across-the-pond version of The Wire). Drake and Future…will executive produce the series, which will go into production early next year for a 2019 debut. The pair also is shopping the Sean Menard-helmed Carter Effect, which also may land at Netflix," per a recent feature in The Hollywood Reporter. Maybe a spot could be made for Brown on one of those series.
Now, if looking at this picture doesn't make you feel old enough, a quick calculation will tell you that Brown was a mere months-old baby when Drake's character Jimmy was paralyzed in the iconic school shooting episode of Degrassi: The Next Generation. Just two generations, brought together by the power of the Upside Down.
Related: Drake Has Been Collecting Hermès Birkin Bags for His Future Wife
Stranger Things: 5 Eccentric Nail Polishes To Elevate Your Fall Manicure