Drake's "In My Feelings" Music Video Is Loaded With Celebrity Cameos
It's basically one big #InMyFeelings challenge.
---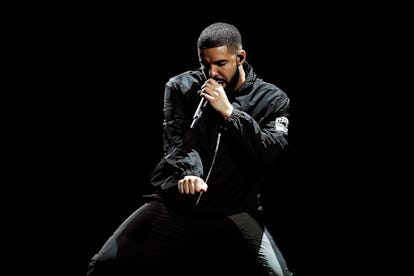 Composite. Lagerhaus/Getty Images
Drake's latest music video basically made itself. On Friday, just over a month after comedian Shiggy kicked off the #InMyFeelings challenge by posting a video on Instagram of him dancing to "In My Feelings" off Drake's latest album Scorpion, the rapper released his own official video for the song. And—surprise!—it prominently features Shiggy, plus a whole host of challenge submissions from Drake's famous friends.
The video, helmed by "God's Plan" and "Nice for What" director Karena Evans, starts with Drake throwing rocks at the bedroom window of the Kiki mentioned in the song, played by Power star La La Anthony. Before he can persuade her to take him back, though, Kiki's mom (Phylicia Rashad) hears him from her own window and kicks him off her front lawn, dropping the hilarious line, "This is not a Taye Diggs movie, sir!" After he sheepishly runs away, the track kicks in and kicks off a three-minute montage of people dancing all over New Orleans, with some, including Drake and Shiggy himself, following along to the dance moves Shiggy made popular in late June.
At the end of the video, Drake wakes up in an on-set trailer, reeling from a bad dream in which he made a song that sparked a dance challenge, started by "a kid who spits when he talks"—"Nobody would stop. It was terrible," he says—before that talk-spitting kid (aka Shiggy) appears as an assistant tasked with bringing Drake to set, and proceeds to go head-to-head with Drake in a sassy exchange.
To cap off the clip, as the credits roll, Drake proves that he must not find the #InMyFeelings challenge so "terrible" after all, since a montage plays featuring some of his fellow A-listers' submissions to the challenge. Look closely, and you can spot Will Smith, DJ Khaled, Dua Lipa, Ryan Seacrest, the Queer Eye cast, Backpack Kid, and Drake's pal Millie Bobby Brown with her Stranger Things costar Noah Schnapp, among several other spot-on attempts at the dance.
Watch the whole "In My Feelings" video — and see a few of those celeb videos in full — here:
Related: Millie Bobby Brown Is Already an Icon For Her Generation