Dree Hemingway's Beauty Confessions
She doesn't own a blow dryer, she wears baby lotion on her face and she prefers to dress like a 12-year-old boy. "But with a feminine touch!" she exclaims. "And with the good hair."
---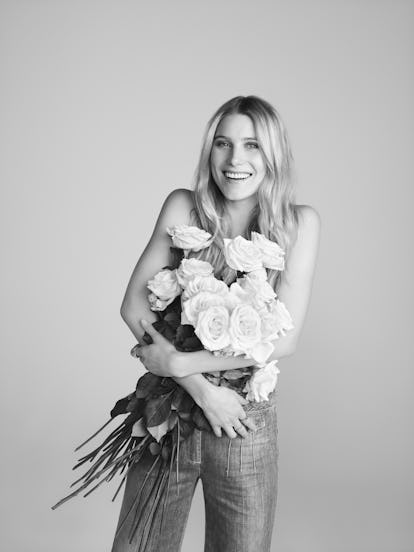 Dree Hemingway is one cool chick. And chic too, which might be one of reasons Chloé tapped her as the face of the house's famed fragrance collection. The latest edition, Fleur de Parfum, is as the name would suggest a floral with notes of verbena, rose and cherry blossom that's, as she put it, "Not too loud or in your face." Just like Hemingway herself, in a way. The great granddaughter of Ernest Hemingway, she has made a name for herself as a model, actress – first making her mark in the indie Starlet four years ago – and muse known for her own brand of understated bohemian style. Fragrances are not new to the Hemingway name – her mother Mariel was a model and her late sister Margaux was the face of Fabergé's Babe perfume – and Hemingway seems to be embracing the role of spokeswoman. "There's nothing too avant garde about it," she said of Chloé's fragrance collection. "I think you can wear it any time, any place, and that's what's nice about it. It reminds me of springtime, all the time. Plus, the bottle is iconic." No doubt. Here, Hemingway opens up about her hair secrets – hint: she's very low key.
You have the best rich girl hair. Who cuts it? My friend Alex Polillo in Los Angeles cuts it. I like it to look like it's grown out a bit. I don't like extreme angles.
And Lena Ott at Suite Caroline does your color, right? How often to do see her? She does! I try not to go that often because I like to let it sit in. She does a really good job of coloring it so it allows to grow out. So every three months, sometimes more, sometimes less. She does a base touchup and will do a toner or something. I've been blonde for so long that it doesn't really take that much. I don't know, I'm craving a change! I have been dark in the past. I did dark for this film I did, The People Garden. Ah! I really want to go dark.
We always want to trade. I'm obsessed. I was watching so much Penny Dreadful the past couple of weeks. I watched all the seasons within an embarrassingly short time which means I didn't really move from my bed that often. It was when I was trying to do my juice cleanse, and I was failing. And I became so obsessed with Eva Green and that hair color. It's so amazing. Although, when I do heavy changes really quickly it makes me have a bit of a panic. I cut my hair to my collarbone for my last movie and that freaked me out because it was very blunt, and I kept saying to my hair stylist, 'You gave me a lesbian hair cut, and I already dress like a lesbian. I can't pull it off, I need wisps!' She said, 'Stop, Dree. You're going to love it in like a week or two.'
Same. It always takes two weeks, and then I love it. How do you get away with not washing that often? A lot of dry shampoo? I don't really use dry shampoo anymore. I used to, but I'm not into volume in my hair. I like it to kind of sit against my head. I just use conditioner. I use shampoo once a week, maybe. I really like Wen, that cleansing conditioner, and that's what I use every day or every other day. Or there's this other Swedish shampoo, Sachajuan, that my hairstylist just turned me on to it and I really like. I have a lot of strawberry blonde in my natural color so I tend to go a little golden after awhile, which I don't particularly love because it's a little tangerine.
Do you sleep on it wet or walk out the door with it…? I walk out the door with it wet. I don't own a blow dryer. I have a Tangle Teezer as my hair brush. They're nice in your hand and soft on your head. They come in fun colors. I really am low maintenance with my hair. I'll put a serum in to not make it frizzy when it's wet. It's so yummy.
Did you pick up any tips from your mom? For hair? No, my mother has never been a huge beauty person. I think she tries to pick up tips from me. It's been an exploration. When I was in my teens, I used strictly Pantene Pro-V and I was very into fluffy hair. It was really long, and I just wanted it fluffy, all the time. Brushed and fluffy!
And now, it's the opposite. Now, I've veered away from it. Now I hate it when it's fluffy. But also because my hair wasn't dyed blonde it did a different fluffy thing. Blonde [dyed] goes fluffy; it's like Petco.
What's in your skincare arsenal? Do you have any experts that you love? I really like Carol at Ling. She's turned me on to uber hydrating facial masks and stuff like that, and that's my go-to thing. Also, their vitamin c serum at night is my favorite. I use their moisture mask and oxygen mask and their eye cream. I also like a La Mer product, but I buy at duty free and I always try to convince them to give me a gold fish every time. It's so expensive! Do I get the gold fish in the tank please? I love Weleda Skin Food, and I really like their baby lotion for your face. And it's awesome because there's calendula, and it's also a lot cheaper and lighter than Skin Food, which is great.
Have you gotten into preventative aging measures at all like lasers? No. I think that just continually moisturizing your skin is anti-aging. But I take a lot of vitamin c and vitamin b.
Do you have a favorite supplement brand? There are these Lypo-Spheric vitamins that come in gel packets. I get them on amazon or Erewhon, which is the bane of my existence in Los Angeles. It's the best. It's like a Whole Foods. It's so expensive and I can spend… I think I spend most of my money on vitamins and organic food. And then like having that hormonal moment of going and buying things that I don't really wear. I buy a lot of shoes that I never really wear. These are Chloé [points to shoes]. I mostly wear Vans and Converse in my everyday life.
Very California. I kind of like to dress like a 12-year-old boy. But with a feminine touch! And with the good hair.
When do you pull out the good stuff? Do you normally wear your own pieces for red carpets and events? Yeah, sometimes. I don't get to all the time because a lot of times I'm going with someone and they want me to wear something. But I do like going in my own clothing because then I can just be me.
Does that feel more rebellious? Well then, when I do it that way it's always dressed down. Which one might consider rebellious, but I just consider that people are jealous that I'm dressed down. I think it's very important to be the most dressed down rather than the most dressed up at an event or a party. I would much rather be the dressed down one and more comfortable than the person who can't breathe. My getting ready period is really quite funny because I'll put all this makeup on and literally before leaving, I'll just take it all off.
What do you put on the most of? I don't use foundation. I hate covering my whole face up. I don't know. I'll put an eye on, which I can't very well do myself. And then it will come off. Then the face scrub will come out, and I'll be covering a pimple, throw on some blush and leave.
So you like making yourself up but you don't like living in it? I don't mind playing, but then I think I've stared at myself for too long and it was almost like far too vain for my own good that people can't see me like that.
Back to the chill thing. Yeah. But I also don't hold a shitload of makeup well. Some people can hold makeup…unless I'm doing a very 70s vibe, I can do that. But otherwise I look like Little Miss Sunshine. And it looks like a 5-year-old who played dress up. I don't think I hold the maturity yet for a full face of makeup.
That's very French, very Chloé. It's just like a French girl.