Dries van Noten Designs for the Ballet
The fashion legend talks about his recent collaboration.
---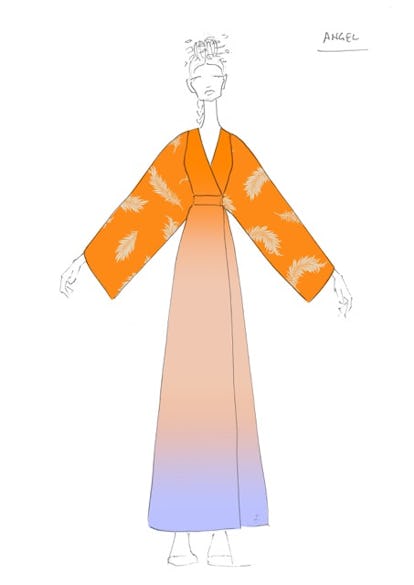 For the past three decades, Belgian designer Dries van Noten has pushed the fashion industry forward with his innovative and imaginative ready-to-wear collections. The next frontier for van Noten is costume design. After collaborating with choreographer David Michalek last year, the designer is working with him again on the dance-chamber opera Hagoromo, directed by Michalek and starring former New York City Ballet principal dancers Wendy Whelan and Jock Soto. Here, van Noten talks about the project:
How did you meet David Michalek? I came across David's work through Pamela Golbin, Chief Curator of Les Arts Decoratifs in Paris. The first piece of his work which I saw was an installation at Lincoln Center a few years ago, and I found his work perfect as a device for showing garments and movement for our exhibition "Inspirations" shown in Paris and Antwerp. With David, I decided to commission a triptych of three screens showing a variety of dancers, male and female, of all races, wearing our clothes. It is always a great pleasure to collaborate with an artist whose work inspires you and David did a perfect job in respecting the spirit of our garments. I was very happy with the final result, which garnered a great reaction.
What inspired your designs for this collaboration? The story of Hagoromo is a classic Japanese tale and I sought to meld the traditionalism of the fable with the contemporary nature of David's work. The inspiration for the costumes was traditional Japanese dress for both men and women yet with a contemporary take on color and print.
What is the biggest difference designing costumes and doing ready-to-wear? Designing costumes is much more specific than normal ready-to-wear. Just as with any costume or uniform, there is a heightened technicality needed and a greater need to allow for movement. Often garments designed in the fashion context can stand alone, yet a costume needs to stand amongst other garments within the performance.
Hagoromo, directed by David Michalek and commissioned by American Opera Projects, featuring Wendy Whelan and Jock Soto, will premiere at Brooklyn Academy of Music (BAM), Nov 3—8, 2015.
Photos: Dries van Noten Designs for the Ballet
Van Noten's Costume design. Courtesy of designer.
Van Noten's Costume design. Courtesy of designer.
Van Noten's Costume design. Courtesy of designer.