Why Everything You Thought You Knew About Skincare Is Wrong, According To Drunk Elephant Founder Tiffany Masterson
The skincare guru offers us a whole new set of skin-changing rules, from why you shouldn't wash your face in the morning to why essential oils and fragrance will ruin your skin.
---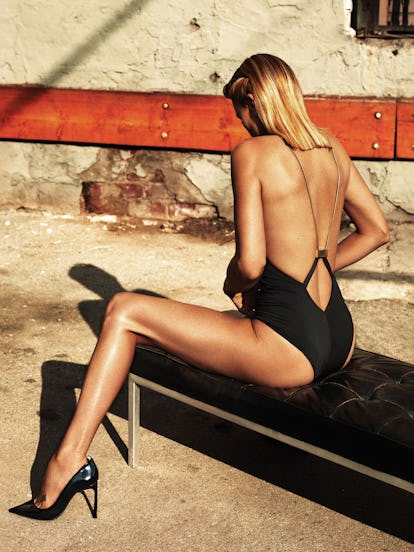 In 2009, Texas-based stay-at-home mom Tiffany Masterson began working for a cosmetics company selling an imported facial bar that completely changed her skin. "I thought the bar was magic," Masterson explains over the phone from Drunk Elephant's headquarters in Houston, Texas. "But it turned out it wasn't what was in the product, but what was not. It was giving my skin a break." Inspired by this discovery, Masterson spent the next three years testing and perfecting her own nine products, non-toxic skincare line, which shares this less-is-more philosophy. "Once you eliminate five or six ingredients it changes everything," she explains. Dyes, alcohol, fragrance, SLS, parabens, and more were replaced by Marula oil, an oil derived from African Marula fruit trees, which she includes in every one of her products (naturally with BPA-free packaging).
It seems simple, but Masterson is offering something unique in today's skincare market, which has earned her an impressive following, including Gwyneth Paltrow, Kourtney Kardashian, and Kristen Davis. Here, the skincare guru shares the secret to her miracle skincare philosophy.
What was your skincare routine like before you started your own brand? Before I started Drunk Elephant I would use expensive dermatologists' brands as well as all natural products, and my skin was enflamed. As a consumer I just didn't understand why. Then I learned there are ingredients to avoid that are at the root of every skincare issue. The truth is that avoiding essential oils, fragrant oils, silicone, and harsh detergents like SLS has changed my skin. The change is immediate, but not because Drunk Elephant products are miracle products, but because of the relief your skin experiences upon eliminating these irritants and pore-cloggers we use on a daily basis.
So all essential oils are bad? Almost every cosmetic is made with them… They're volatile oils that don't belong on our skin. My skin has reacted to the 'less is more philosophy' better than anything I've ever tried and people walk up to me and literally say 'thank you, I couldn't figure it out.' Essential oils enflame and sensitize the skin, which leads to irritation and collagen breakdown. Essential oils are volatile. People don't realize that. With these oils on your skin all day, your skin cannot function the way it should.
And fragrance is just as bad? Yes. Who cares if your skin smells like flowers? The attention should be on the well-being of our skin, to make sure we're avoiding any ingredients that disrupts its balance.
So your products smell exactly as they are? Yes, it smells exactly like the ingredients we're using. There is no masking involved. My chemist kept asking me if I 'was sure.' If we added fragrance, it would interfere with our product's effectiveness. I want my ingredients to stand alone and do what they're supposed to do. Synthetic and natural fragrances present a world of problems. There are so many chemicals they can add under the heading of "Fragrance" on an ingredient list. Essential oils is where everyone turned when they wanted natural fragrance. People believe it's fine because it's all natural, but in reality they're sensitizing and irritating. You want medicine for your skin, not something that irritates it.
So your ingredient list must be pretty minimalist. Once I figured out that it wasn't what was in that bar, but what was not in it, the goal of my skincare line was to identify the ingredients my skin didn't like and remove them. I loaded the products with antioxidants, kept the acid levels high, and made sure the PH levels were in the right spot to make it as effective as possible without being irritating. All ingredients are only there to benefit the skin.
What was the most surprising thing you've found out on your search? How much trickery is going on in the cosmetics industry. It's hard for a consumer to get their head around this. What does non-toxic even mean anymore? Why can orange essential oil also be called "orange extract" by a company, and the consumer won't be informed? How is the consumer supposed to make educated decisions when everything is disguised all the time? That's what was crazy to me when I started researching ingredients. I also couldn't believe how marketing steered people with sensitive skin towards natural skincare which is the main cause of sensitive skin! It was upsetting and surprising.
Your secret is marula oil. So is that not an essential oil? No, the way to tell a non-essential oil is when it's a non-fragrant plant or nut oil. If you smell oil and it's citrus, then that's an essential oil. Anytime it's fragrant, it doesn't belong on the face. When you get into the non-fragrant variety, you have to see if it's a large or small molecule oil, and whether it can penetrate or not. Large molecule oils like coconut oil sit on top of your skin, rather than get inside. If you need hydration underneath, a smaller molecule oil is better, which is what marula is. It resembles the moisture that our skin produces ourselves.
So your products work for everyone? Not for oily or sensitive, but just "for skin"? Right, I think oily and sensitive skin are issues that are created. When you think of it that way, and you stop using stuff that creates those issues, you're looking at a group that has pretty similar skin. When you know the function of skin, you ask what is our job to maintain, improve, and protect the skin. I have clients who have dry /oily skin. Once they use only Drunk Elephant, they all get balance. I don't remember the last time I had a breakout.
What's your skincare routine now? I don't wash it in the morning, your face produces natural oils anyway. I wake up with balanced skin. I go use the B Hydra gel, vitamin c serum, and sunscreen, and that's it.
You make a point about not being organic, why? I'm not against it, it just wasn't a priority for me. The ingredients I use are high quality. Organic is overused. As a consumer I started rolling my eyes at a certain point. The word has been diluted and doesn't mean anything to me.
Are you surprised no one thought of what you're doing first? Maybe I should change my answer to that question. The most surprising thing I've found is that I don't understand why I'm the only one doing this. It's crazy.
Watch W's most popular videos here: