Blow Out
Alli Webb sleeps on silk pillowcases (for her blowouts!) and other hair secrets from the hair guru.
---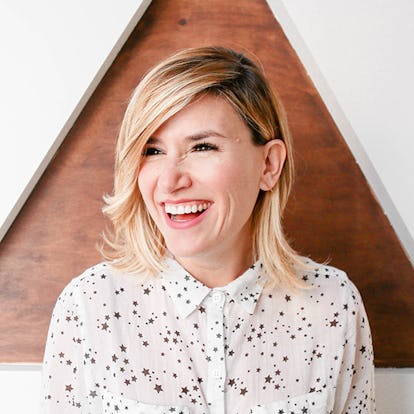 Alli Webb knows her way around a blow dryer. A devotee of model hair growing up, she eventually worked with the greats like Cindy Crawford ss the founder of DryBar. Still, she always wishes she had more time to play with her own hair.
What's your earliest beauty memory? As a young girl I was kind of enamored with super models like Christie Brinkley, Cindy Crawford & Helena Christensen. But not for what they were wearing or their bodies – I was obsessed with their hair! I was in such awe of how they one, got it straight and two, got it bouncy. I'm pretty sure I have spent the majority of my life trying to emulate those styles. I have since blown out Cindy's hair in Drybar — as you can image, it was quite a thrill for me!
What's your current hair obsession? Well, it's hard to pin point just one obsession. The truth is, I am constantly inspired by so many different styles and colors. I'm loving ice blonde straight lobs right now. But I also love a great messy, tousled blowout. That's the beauty of hair – there are always so many great options.
What's your biggest hair pet peeve? When our stylists don't start from the front, which is my biggest rule! Also, I'm not a big fan of perfectly placed hair. I like hair to move and have some life.
What's your evening beauty routine? I load up on lots of serums, eye creams and moisturizers for my skin and put our 100 Proof Treatment Oil on the ends of my hair. I always sleep on a silk pillowcase (we are launching our very own in March!), which really helps preserve my blowout (and my lash extensions!)
If you had ten more minutes to add to your routine, what would you do? Sleep for 10 more minutes! Actually, I'd probably spend the extra time playing with my hair…
What's your secret to the perfect blowout at home? Take your time! Invest in good quality products and tools and make sure you have a mirror to see the back of your hair.
Which products do you always travel with? I always have Triple Sec 3-in-1 in my purse. It's the perfect hair pick me up.