Get To Know the Sportswear Label That Took Over a Metro Station During Paris Fashion Week
Dumitrascu is definitely one to watch following an impressive guerilla fashion show.
---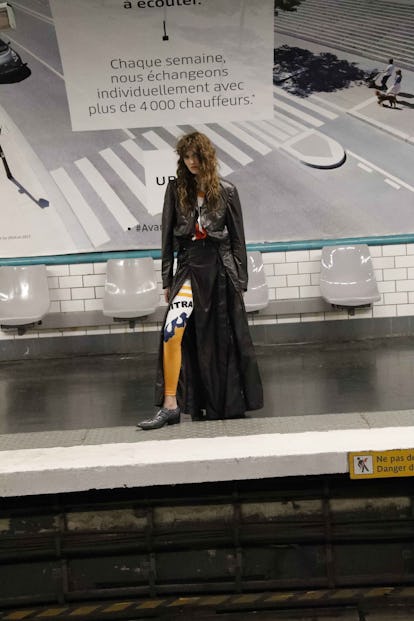 Andra Dumitrascu isn't one to go about things the ordinary way. That is why, on a Friday evening in the midst of Paris Fashion Week, she found herself surrounded by friends, models, and a handful of editors on a platform in the Paris metro. "I was supposed to show at the Pompidou," Dumitrascu shared the next day while at her airy showroom in 3rd arrondissement. However, she continued, a last minute turn of events led to the original plan being scrapped—but the designer was undeterred. After passing through the Rambuteau station and admiring the pastel colored light emanating from the ceiling, it clicked: the station would be her new runway.
Sans permits, Dumitrascu's diverse cast of musicians, artists and transgender models (the designer works with Walter Pearce on casting, who may be best known for his collaboration with Hood by Air's Shayne Oliver) rode the elevator down into the station as commuting Parisians looked on. Models wore pastel logo tops, leggings, and shorts, striding down the platform's edge.Speakers on trolley carts blaring a set mixed by a DJ friend specifically for her presentation. At that point, there was perhaps no other option than for the girls to jump on the train—they'd already paid the fare, after all. "I just told the models to get on the metro!" Dumitrascu said. That wasn't part of the initial plan either—sensing a trend?
If you think there is a performance art quality to to Dumitrascu's work, you wouldn't be wrong. She was born in Romania, and in her early teens her family moved to the Black Forest, which she describes as "the cutest place in the world—but it's only bearable for so long." So, craving a more creative life, she moved to Berlin to study art history and philosophy. "It was was insanely fantastic and underground," at that time, she reflected. After working with an art collective that put on a few fashion shows, she knew she wanted to explore fashion further, and began studying under Raf Simons, Veronique Branquinho, and Bernard Wilhelm while attending the University of Applied Arts in Vienna. Upon coming to the realization that "fashion school doesn't teach you anything," she returned to Berlin, and decided to open up a nameless "wearspace" in the city's Mitte district, offering a platform for the city's emerging labels, artists, and designers. "It had no name, no program, no hours," she said. Today, the Mulackstrasse street shop is called Salbazaar, and it is known for having introduced Berliners to acclaimed international designers. She decided to take her involvement in fashion one step further and launched Dumitrascu for Spring 2017. It wasn't until after her first presentation when stores placed orders right away that she thought, "Okay I'm in fashion now. We were not prepared at all for orders or production." But is didn't take long to figure out, considering Dumitrascu's background in buying. Today, the majority of the collection is produced right in Berlin.
As her presentation in the metro demonstrates, Dumitrascu gravitates towards studies in contrast. Her spring collection is crafted using classic tailoring techniques from high performance fabric. A favorite piece in the collection was a raver pant, cut from lightweight nylon, which created a very elegant silhouette. Elegant is not necessarily a word one might associate with a collection that was inspired by a number of dichotomies, including sports and couture, as well as "grand dame and fetish, rooftop and gutter, and Xanas and speed." But aside from her references and inspirations (which also include, but are not limited to: Turkish lettering, gloves from a Pigalle sex shop, and the idea of being on the run and in transit), she clearly knows her craft Her experimentation with fabrications have a surprising and interesting effect. As beautiful as it is to witness fashion shows in the great halls of the Palais Royale, the Louvre, and the Grand Palais, there is also something worth paying attention to the underground.
Related: Introducing Sézane, the Brand That French Girls Wait in Lines To Buy
Kaia Gerber's Best Fashion Week Looks On and Off the Runway