Duro Olowu, a Michelle Obama Darling, Graduates to Art Curator
He's dressed the American first lady and Beyoncé but the designer is now turning his eye to curating "Making & Unmaking" at the Camden Art Centre in London.
---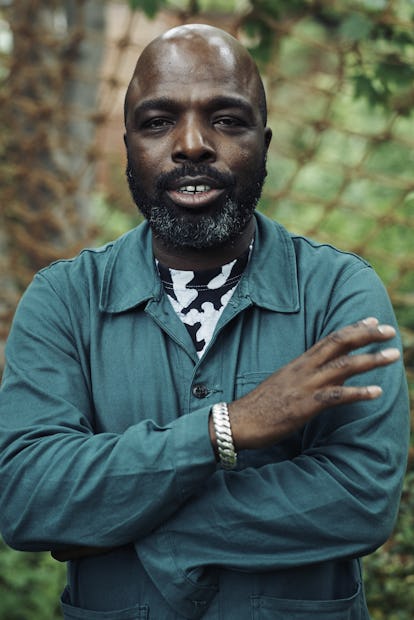 In May 2015, the Nigerian-born fashion designer Duro Olowu entered the stage of the Tate Modern's auditorium in front of an illustrious crowd of gallerists, museum directors and art collectors. His friend, the American artist Glenn Ligon, had invited him to chair a live conversation as part of the London museum's lecture series. Rather than ponder academic theories, though, Olowu decided to center the conversation on something entirely unexpected: the artists' collection of antique textiles.
Surprisingly, the audience was captivated, no one more so than so than Jenni Lomax, director of the Camden Art Centre, who rushed over to him as soon as the talk ended.
"Jenni said she wanted me to do a show at the centre," Olowu told me recently. "'Sure,' I thought. Thinking it would just be a small thing in one of their little galleries."
He couldn't have been more wrong. Lomax invited Olowu to conceive their annual artist-curated show, which spans the entire building. "Making & Unmaking," which opens Saturday, brings together the work of 60 artists, including painters (Meredith Frampton, Donna Huddleston and Lynette Yiadom-Boakye); textile designers (Anni Albers as well as traditional Yoruba weavers); photographers (Hamidou Maiga, Tony Armstrong Jones and Al Vandenberg); and sculptors (Yinka Shonibare and Ibrahim El-Salahi), to name a few.
"The show isn't about artists who use textiles, it's about seeing an artists' process," said Olowu, observing that it's similar to the way people weave fabric. We were sitting in his Mason's Yard boutique, which, with its Twins Seven Seven-printed walls and Stanley Whitney paintings, struck me as a microcosm of the exhibition he was describing. "It's balancing a tension from a ritualistic practice. So many artists I admire do that. I see what their process is. It's like that whole ritual of weaving; it's very personal – almost like a chant. I wanted to imbue the space with that."
Olowu will be the first fashion designer to curate the annual show, an invitation that until now has been given to the likes of Richard Wentworth, Tacita Dean and Turner-prize winning artist Simon Starling. But to describe him as just a fashion designer – though he's a highly successful one, having dressed everyone from Michelle Obama to Beyoncé – misses his growing influence.
Olowu, 50, draws deep pride from his birthplace of Lagos and his heritage, a Nigerian father and a Jamaican mother who met in London in the '50s as part of the Windrush Generation – the migration of hundreds of thousands of people from the West Indies to Europe and North America after the Second World War.
"When these guys came to England all they had was the way they presented themselves. There was such a sense of pride, nothing out of place. That's what interests me – it's not fashion, it's culture. I always want people to look at my work and have an idea of what was going on in other aspects of life," Olowu explained.
At the age of 16, Olowu was sent to boarding school in the United Kingdom before going on to study law at Canterbury University. "I knew I wanted to be a designer, but there were only 5 professions in those days," he said, laughing. "I wasn't going against the grain consciously; I don't think I need to rebel to make a point – I think I need to do what I do well."
Like his father, he enjoyed a respite as a lawyer in Nigeria, but in the late 1990s he gave up the corporate world and opened a shop on London's Portobello Road to sell his designs and soon after, in 2004, launched his eponymous brand, which despite minimal publicity and without having a runway show, drew raves from critics.
"Fabric is the most important thing. I design my own textiles, which are all made in England or Italy, and then I add in a rare vintage fabric into the design. I like very contemporary things, but I also appreciate things that were made in a certain period that haven't dated, because that's really hard to do," he said.
Olowu's authenticity struck a chord: after just a year in business he won the 2005 British Fashion Awards' New Designer of the Year accolade. Attending the ceremony that night was the octogenarian style icon Iris Apfel, who was immediately enthralled by this man who, in her words, was dressed "a la Savile Row with Converse sneakers." The following morning Olowu and Apfel had a fortuitous encounter over the breakfast table of The Knightsbridge Hotel, and hit it off right away. "Duro is a renaissance man. He is intellectual and street-smart and that's a rare quality; too many intellectuals live in ivory towers," she told me. "He's like me – he likes to combine trash and treasure."
Another woman Olowu holds in high regard is his wife, Thelma Golden, the director of the Studio Museum in Harlem. "Thelma's someone I'm obviously in love with, but she's someone I admire. I think the way I feel about her, about women, affects how I work and what I do," he said.
The couple met 10 years ago at a party their mutual friend, Paper Magazine editor Kim Hastreiter.Golden had in fact called Olowu's boutique two years prior in an attempt to get her hands on a dress that had sold out at Barneys, but her message never made it to him. "I always say it was meant to be because if that's how it had started we probably would never have gone out with each other," he said. They married in 2008 at New York City Hall, with Hastreiter and Ligon as their witnesses. "I knew they were a perfect couple when I called Thelma one Saturday morning and asked what they were doing and she replied 'We're reading [fashion] magazines,'" Ligon said.
Studying magazines is something Olowu has done from a young age, but it is out in the world – whether on the streets of Lagos or the halls of the Tate – where he finds true inspiration. Take a scroll of his Instagram feed, and in place of the usual selfies you'll find a judicious observer of individual style.
"I like clothes to reflect whom the person is, so no mutton dressed as lamb, no trying too hard," he said. That's the direction he predicts society is moving in: "It's how people used to think about fashion and music, and that's what people are going back to. Not just following the same crowd."
Photos: Duro Olowu, a Michelle Obama Darling, Graduates to Art Curator
Photo by Edd Horder. Produced by Biel Parklee.
Photo by Edd Horder. Produced by Biel Parklee.
James Brown "Some Neighbors in the Garden of My Other House" (detail), 2013 Photograph: Francois Halard, 2016. Courtesy of the artist. Part of "Making & Unmaking" at the Camden Art Centre.
Leonce Raphael Agbodjelou "Untitled (Musclemen series)," 2012. Image courtesy of Jack Bell Gallery. Part of "Making & Unmaking" at the Camden Art Centre.
Anni Albers "Open Letter," 1958 © 2016 Josef and Anni Albers Foundation / DACS. Part of "Making & Unmaking" at the Camden Art Centre.
Meredith Frampton "Winifred Radford," 1921 © National Portrait Gallery, London. Part of "Making & Unmaking" at the Camden Art Centre.
Lisa Brice "Untitled," 2016. Courtesy of the artist © Lisa Brice. Photo: Noah Da Costa. Part of "Making & Unmaking" at the Camden Art Centre.
Produced by Biel Parklee.