On With the Show
Dustin Hoffman's latest role: cheerleader and fundraiser for a new theater in Santa Monica.
---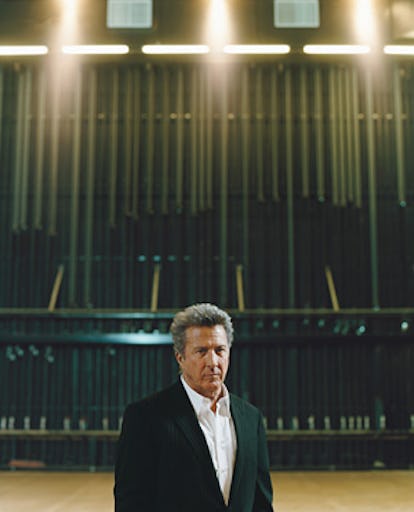 For decades to come, Dustin Hoffman will be paid tribute at the Broad Stage, a dazzlingly modern new theater at Santa Monica College that he spent much of the past nine years raising money to build. "They wanted to name the theater after me," says Hoffman, an SMC alumnus whose career spans 50 years, two Oscars, a host of iconic screen performances and notable appearances on the boards as Willy Loman and Shylock. "I said, 'No way. I want a toilet.'" And so the actor will have his efforts commemorated with a namesake bathroom backstage.
During a hard-hat tour in June, Hoffman explains his preference: Once, during a performance of The Merchant of Venice in London, he found himself without the time to answer nature's call between scenes. "I know what it's like [to] have to go when you have to go on," says the actor, who still sounds like the Graduate and who, at 70, moves with the high-strung energy of Michael Dorsey, aka Tootsie. So he advised architect Renzo Zecchetto to equip the Broad with the necessary facilities just off stage right. (The toilet will be co-dedicated to the Broad's director, Dale Franzen, a former lyric soprano whom Hoffman describes as an "aesthetic pneumatic jackhammer" who originated the idea for the theater and has overseen its construction from day one.)
Hoffman clearly loves the off-kilter tribute of having a toilet named after him, but still one wonders why the star wouldn't accept the honor of having his name emblazoned on the side of the building. Hoffman answers the question in a way that is, well, theatrical. He sticks out his tongue and screams, "Bleah!" like a two-year-old at his most terrible. Then he does it again. And again, louder still: "Bleaaah!" Just as one begins to suspect that he's lurched into senility, Hoffman composes himself and explains that he didn't want the Broad Stage to be his funerary monument, "like the pyramids." The theater—which in the end was named for mega-philanthropist Eli Broad, who gave $10 million to the project—is in Hoffman's mind very much a living place, an artists' playhouse where he and friends can "work out" between jobs.
"The worst thing about being an actor is not being able to practice your craft," explains Hoffman, who's dressed like the existential detective he played in I ❤ Huckabees, in running shoes and a navy pinstriped suit smudged with construction dust. "If we're between jobs, where are we gonna practice? We need company. We can't bear being alone."
Hoffman got involved with the project in 1999, when Franzen called to ask for his support. He was immediately excited by the idea of a theater in Santa Monica and threw his weight behind the project. "She wanted to bed me," Hoffman jokes when asked about his initial conversations with Franzen. "But we thought it's better to build something like this."
The Broad Stage is actually a performing arts center with two stages. The main auditorium has a modest 499 seats but is equipped like a major Broadway theater, with a full-size proscenium arch, a "sprung" floor to accommodate dance performances, a 41-person orchestra pit and the necessary technical accoutrements to handle backdrops for operas and musicals. With its unusual configuration of a small audience facing a huge stage, the Broad is at once both intimate and grand, somewhat in the manner of Italy's baroque opera houses. A second, smaller stage—named after Broad's wife, Edythe—is in a 99-seat black-box theater that can be configured for any use, from chamber-music recitals to script readings. The inaugural season kicks off September 20 with a gala performance on the main stage by Barbara Cook, and Franzen has already lined up a series of other musical programs. Ironically, though, she and Hoffman haven't yet chosen a play. One idea being bandied about is Thornton Wilder's Our Town, with Hoffman starring as the Stage Manager.
Hoffman's vision for the Broad is to provide a spark for L.A.'s moribund theater scene, and he draws on memories of his early years in New York—where he moved from his native Los Angeles in 1958 and maintains a home, in addition to his place in L.A.—for inspiration. Back then, Broadway was full of fresh plays by Tennessee Williams, Edward Albee and Arthur Miller. Contemporary Los Angeles, on the other hand, doesn't really have a self-sustaining theater community. The local geography is half the problem; the city's principal stages are downtown, and, Hoffman jokes, "people in my field only venture there for a Lakers game."
These days Hoffman's main role at the Broad is to recruit big-name talent, and, sensibly enough, he's started with his neighbors. David Mamet, a friend who lives within a mile of the theater, is working on a new play in which Hoffman plans to appear. He's also cast a wider net, approaching London-based director Nicholas Hytner (The History Boys) about doing a project. "He's hooked," says Hoffman triumphantly.
"I get calls all the time: 'Oh, I saw Dustin, and he told me to call you,'" reports Franzen, who seems by now quite accustomed to Hoffman's Clinton-esque zest for outreach. "We're trying to make this not just a community center for the audience but an artists' center." Franzen adds that what she really wants is for Hoffman to treat the Broad as "his theater," and on that count, she has apparently succeeded. When Hoffman is asked what he most wants to do there in the future—whether it's act, direct or even write plays—he nods yes to all of it: "The whole banana," he says.