Model Ebonee Davis on Her Recent TED Talk Tackling Racism in the Fashion Industry
The 24-year-old model asked for a TED Talk on Twitter after penning an open letter to the industry. And she then got one.
---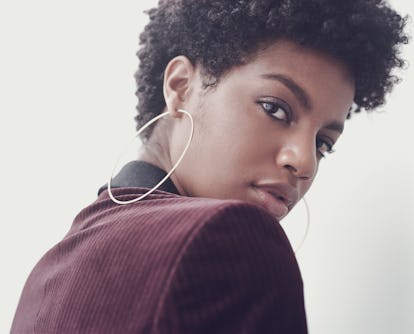 Following a series of fatal police killings of African Americans last summer, a small but loud number of fashion personalities spoke about the industry's deafening silence on the subject. Maxwell Osborne wrote an open letter for W, as did the model Ebonee Davis. Hers, specifically, was call to action to "neutralize the phobias surrounding black culture" as well as to produce "produce positive, accurate and inclusive imagery."
"As artists in the fashion industry, we are the embodiment of free speech," she wrote. "We set the tone for society through the stories we tell—fashion, the gatekeeper of cool, decides and dictates what is beautiful and acceptable. And let me tell you, it is no longer acceptable for us to revel in black culture with no regard for the struggles facing the black community."
Davis's letter quickly went viral, and she received numerous responses on Twitter—among them a retweet from a TED Talk coordinator. Fired up with plenty more to say, she DM'ed her TED fan on the spot: "Can I get a TED talk tho?" The answer: Yes.
In February, Davis's talk titled, "Black Girl Magic in the Fashion Industry," was finally posted online for the world to see. It's received over 34,000 views to date and deserves far more. After being in the industry for five years, though—boasting campaigns with Adidas, Calvin Klein underwear, and a page in the Yeezy Season 4 lookbook—this 24-years-old says she's only just getting started.
Once the TED Talk became a reality, how did you begin to prep for it?
I got brought on to talk about racism in the fashion industry, but it was hard for me to settle on that topic because I wasn't sure if that's what I wanted to use that platform for. I went back and forth between a few different topics and I ended up writing like four different talks. It was about four months of preparation but about four weeks of going through my experiences and really trying to put them in a concise and powerful form.
Have you done public speaking in the past?
No, I hadn't. I spoke at my middle school graduation! I've just always loved storytelling and expressing myself.
Does being in front of the camera help?
Yeah, but that's not really expression to me. I'm taking on someone else's idea of what they want me to look like and their brand.
You spoke about straightening and relaxing your hair for years. When did you decide to go natural and what lead you to that point emotionally and mentally?
I decided to go natural about a year and a half ago. What led me to that point was just wanting to be self-defined; wanting to be authentic. I never felt like myself when I had weaves or my hair straightened. I thought it looked beautiful because other people thought it looked beautiful. It was tedious; it was hours of labor; it was expensive. I was constantly checking to see if my hair blended in or if it looked "real." But how can it when it's not yours? Ultimately, it's a persona. It's what led me to writing this piece and where I am now with my activism. I'm looking back and realizing all the ways in which my life has been the result of other people deciding for me and telling me how I should be. Especially as black women—we live in a society based on white privilege, so all of the standards of what is beautiful starts with whiteness. We also live in a male-dominated society, so as black women we have to work hard to fight those intersecting oppressions.
Your experiences within the fashion industry allow you to really flip it on its head. How do you reconcile your activism with your work?
After the election, I wanted to quit modeling because I was just really upset by the results. I realized the damage that this industry does and how it essentially supports and perpetuates the narrative of perfection and "ideal" beauty standards. It profits from making people feel insecure. Your self-esteem is commodified. But we live in a capitalist society and that's just the way things are done. I was like, 'I don't want to be a part of this!' But then I realized that I have more power if I stay in the industry. If I quit, then there goes the platform. There goes my apartment in Gowanus, because the bills gotta get paid.
Have you been reading at all about the Balenciaga casting allegations? Do you have any comments?
James Scully is a hero! It takes guts to speak out. I've sat through those castings—they're ridiculous. Why are we not being treated like human beings? It's disgusting. That's abuse. Some of these girls are also 15 and 16 years old and this is their first time leaving their hometowns and they have to endure this. It's sick.
Growing up, you read fashion magazines but didn't see women you could relate to. So then who did you look up to?
I looked up to musicians like Lauryn Hill, Tupac, Common. They were all conscious. They had the same message that I have now when it comes to oppression and freedom and seeing society for what it is. They taught me the message! I didn't really look up to models. There was Tyra [Banks] and Naomi [Campbell], but they looked like Barbies to me. And I didn't look like a Barbie.
How would you describe your personal style today?
I like being comfortable, but I also like to get sexy! I love cleavage. I love side-boob. I left the house this morning being like, 'Damn, I feel sexy! I'm about to kill this interview.' I do it for me.
Have you read any books that influenced your thought process?
The Four Agreements. Everyone should read it. It talks about allowing yourself to get over past experiences and getting power from that place. It asks: What and who would you be if the world never told you you couldn't? And The Alchemist because man, my life is literally just magic! [Laughs.]
You're making it happen for yourself, though.
Definitely. I didn't come from a privileged background. I didn't have the money or the resources to just do what I wanted to do—I had to hustle for it. When I first started modeling, I didn't have any money. I used to go to Urban Outfitters—they have an excellent return policy—and I would buy clothes for test shoots and then return them. Now, you go to any Urban Outfitters across the nation and you'll see my face.
What do you like to do for "me-time?"
I have to have a lot of me-time because I give a lot. In order to do what I do, I have to recharge and make sure it's coming from an authentic place and the best place. I have to center myself; I can't be around people all the time. I like to just sit and pray and meditate.
What are some goals that you have moving forward?
Well, my book. That's the goal. I think it's the best thing that I can give to the world.
American Fashion Stands With Black Lives Matter Protests