Exclusive: After Real Sex, Eckhaus Latta Tackles Actual Reality TV in New Video
Get an exclusive look at Mike Eckhaus and Zoe Latta's latest collaboration with Berlin-based filmmaker Alexa Karolinski, which will soon be on display at New York's Museum of Arts and Design.
---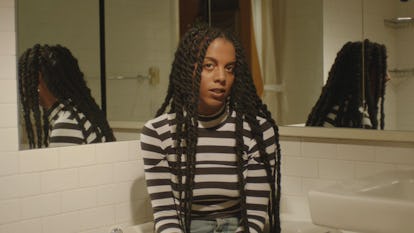 Courtesy Alexa Karolinski and Eckhaus Latta
Given that their last campaign starred models having unsimulated sex, it's perhaps no surprise that the only room used in designers Mike Eckhaus and Zoe Latta's latest project for their label Eckhaus Latta is a bathroom.
This time, though, the models hardly had the chance to get frisky. Coco, their latest video collaboration in partnership with the Berlin- and L.A.-based filmmaker Alexa Karolinski, whose trailer is premiering exclusively here, stars the label's usual suspects, like Juliana Huxtable and India Menuez, plus a newer, always diverse roster of names, from the collector Ethan Wagner to the ceramicist-turned-acupuncturist Graham Marks. Also among the cast was Thea Westreich, a collector who owns an office in Soho, which is where Eckhaus, Latta, and Karolinski set up shop, leaving each model alone in the bathroom.
With the door closed, shutting out even the director of photography, models were left completely alone, save for the tools to take things into their own hands: a camera on a tripod and a list of index cards with prompts that solicited meandering thoughts on everything from true love to trans identity to, in the case of Menuez, memories of her family's dairy farm in Iceland.
The results? "Actual reality TV," as Latta put it, in the vein of the sessions they first started two years ago at a dinner at Karolinski's house, where a DSLR was set up in the bathroom for guests to take a break from the crowd to say a confessional that was to be preserved on a memory card for the next 10 years.
This time, the monologues are getting a much more public airing: from this Thursday until August, the 40-minute film, which was named Coco after Marks's first love, a Dachshund, will be on loop inside New York's Museum of Arts and Design as a part of its "fashion after Fashion" exhibition, which features six designers that are thinking, and making the institution think, about fashion anew. It's not the first time the brand's videos have gotten museum treatment: Smile, their spring 2016 collection video, was even featured in the Hammer Museum's "Made in L.A." biennial.
Still, their fledgling films have come a long way from 2012, just a year after they started their brand on the Lower East Side, and a friend introduced them to Karolinski because she thought they might share sensibilities with someone who, as Eckhaus put it, "made this insane video about her grandmother."
Clearly, she wasn't wrong: instead of deciding on an initial project together to test the waters, shortly after they met, "we got really ambitious and were like, let's make 10!" Latta recalled of their original brainstorming session, which actually started with 20 ideas (and which the group still holds, often, as Karolinski added, over "FaceTime with a glass of wine.")
It's a partnership all are clearly committed to, from twice yearly videos for each of the brand's collections to shooting even when one of them was getting married (one of their films was shot over a honeymoon weekend in Berlin). It was hardly the first time they picked an unlikely location: among their oeuvre are home videos following two friends in what Latta called "pretty robust looks" around Home Depot, and a 45-minute film of another friend dancing in a far-off warehouse.
Related: How Models Ended Up Having Actual Sex in Eckhaus Latta's Spring 2017 Campaign
A Brief History of Fashion's Most NSFW, Controversial Ad Campaigns
For their first large-scale campaign, the designers behind Eckhaus Latta enlisted a diverse group of 30-something couples to not only wear their spring 2017 collection, but have real sex in front of the camera for the photographer Heji Shin, who had produced a similar series of images for a German sex education book for teenagers.
In 1971, a nude (and largely hairless) Yves Saint Laurent posed nude for Jeanloup Sieff to debut his first-ever perfume for his namesake label, Pour Homme.
Other than her controversially "heroin chic" ads for Calvin Klein, a topless, 17-year-old Kate Moss also starred in this 1992 campaign for the brand with Mark Wahlberg—one that made her so uncomfortable, she later said it prompted a nervous breakdown.
Rumor has it that Wonderbra's billboards of Eva Herzigova caused traffic build-ups and car crashes when they went up in 1994.
It didn't take long for controversy to erupt after Steven Meisel and Calvin Klein cast a crew of apparently underage models, including Kate Moss, for a 1995 Calvin Klein campaign; eventually, CK responded to the outcry over the ad with another ad, a full page in the New York Times announcing it was pulling the original advertisement.
This infamous 2000 campaign from Yves Saint Laurent, featuring a nude Sophie Dahl, drew 948 complaints to the U.K.'s Advertising Standards Authority, making it the eighth most complained about advertisement in recorded history.
Yves Saint Laurent again pared things down for one of his perfume ads in 2002, this time swapping out the designer's likeness for a chiseled model to go full frontal.
Tom Ford and Carine Roitfeld both solidified their reputations as provocateurs when the designer and stylist drove down the fact that they were working for Gucci by shaving a "G" into a model's pubic hair for this 2003 campaign shot by Mario Testino.
American Apparel, whose founder Dov Charney has faced a litany of sexual harassment lawsuits, began its run of controversial ads depicting highly sexualized and barely clothed women—an approach that was highly successful in creating conversation, but hardly saved the brand from bankruptcy—with this 2006 campaign.
The concept of "sex sells" barely gets more explicit than in Terry Richardson's 2007 campaign for Tom Ford's men's fragrance, an ad that was banned in Italy.
"Stupid is as stupid done" is how some critics responded to Diesel's 2010 "Be Stupid" campaign, which featured images of models flashing security cameras, among other suggestive poses. Some felt the images were needlessly sensationalistic while others described them as youthful and rebellious.
Dakota Fanning's 2011 campaign for Marc Jacobs' Lola campaign was banned in England after the U.K.'s Advertising Standards Authority deemed it too "sexually provocative" for the then 17-year-old actress, who was photographed by Juergen Teller.
Thanks to a little Photoshop, Barack Obama and Hugo Chavez were just several of the world leaders found making out in a 2011 campaign by United Colors of Benneton, which has a long history of provoking with their ads.
The model Anna Ewers has long been one of Alexander Wang's muses, but the pair ended up in hot water with this 2014 campaign, in which Ewers is only just barely wearing Wang's clothes.
This 2007 campaign by Dolce & Gabbana's came to be known as the "gang rape advert" not only then, when several magazines refused to run it, but when it resurfaced online in 2015.
The U.K.'s Advertising Standards Agency also banned this 2015 Miu Miu campaign, shot by Steven Meisel, for being "irresponsible" in sexualizing an apparently underage (but actually 22-year-old) Mia Goth.
Calvin Klein courted controversy again last year with a campaign that featured a model photographed from under her dress, but the acclaimed British female photographer Harley Weir, whose work has long been interested in youth culture and sexuality, defended the campaign.
See Laura Dern, Naomi Watts, Patricia Arquette, and Hailey Gates Open Up About Working with Legendary Director David Lynch: