Ed Sheeran Reveals His Struggle with Substance Abuse
The singer-songwriter credits his girlfriend for helping him recover.
---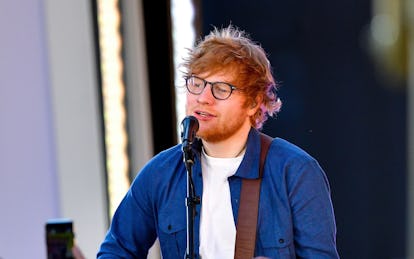 James Devaney/GC Images
Without revealing exactly what he's been using, singer-songwriter Ed Sheeran is opening up about an issue with substance abuse, and crediting his girlfriend with helping him stay sober.
In March, Sheeran told Rolling Stone he'd been drinking more and more ("Often, I'm like, 'Is it bad that I drink almost every single day?'" he wondered) as he dealt with life on the road and in the spotlight. In 2015, his frequent collaborator Johnny McDaid cautioned him, 'Look, man, please have all the fun in the world. But be careful because if that elastic snaps, it could take a long time to recover from it." But after a summer of travel, McDaid said of Sheeran, "I think he reconnected to his friends and family, and he feels anchored."
He's thrown away his cell phone and moved in with his girlfriend, Cherry Seaborn, whom he's known since high school. "We live together now, and I think that was a real help grounding me," Ed Sheeran told The Jonathan Ross Show. "I was a 25-year-old in the music industry on tour, so I just needed someone to balance me out."
"I think you need to, when you get into the industry, adjust to [fame], and I didn't adjust because I was constantly working on tour. And all the pitfalls that people read about, I just found myself slipping into all of them. Mostly, like, substance abuse… I started slipping into it, and that's why I took a year off and buggered off." said Sheeran of his time away from touring and the media before releasing his latest album, ÷.
In fact, work has helped him step away from his vices. "I can't work under the influence. I can't write songs under the influence. I can't perform under the influence. So, the more I worked, the less [that happened]," said the "Shape Of You" singer.
Ultimately, he doesn't want recreational substance use to be anything more than recreational, and his life and career come first. "I've worked my whole life to get to where I am, and you can't lose that over something that you do in your spare time."
Mick Jagger, 74-Year-Old Instagram Rock Star, Spends His Free Time Bowling and Hanging with Ed Sheeran