The New Guard: Eddie Redmayne
Brit Marling, Eddie Redmayne, and Emayatzy Corinealdi have all arrived—but via very different routes.
---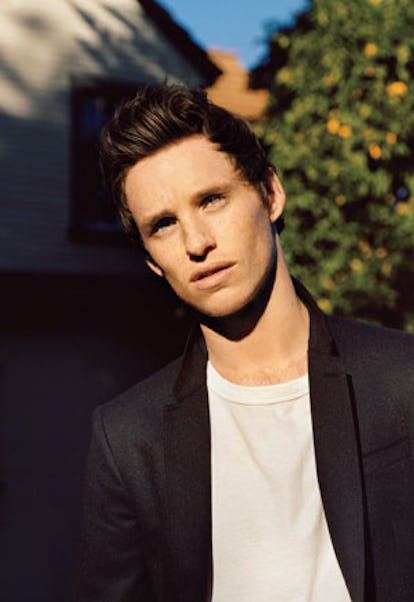 Eddie Redmayne, who sings, leads a revolution, and breaks hearts in the movie version of Les ­Misérables, was staring at an abstract landscape by Gustav Klimt at the Neue Galerie in Manhattan on a freezing afternoon in early February. "Look at that," he said, pointing to a small bright blue patch in the upper left corner of the canvas. Redmayne, who is 31 but has the boyish exuberance of the perpetually curious, majored in art history at Cambridge and wrote his dissertation on the artist Yves Klein and his signature color: a pure electric blue that nearly matches the shade in the Klimt. "I'm color-blind, but I can pick out that blue anywhere," Redmayne said and walked toward the painting in a sort of trance. "I wrote 30,000 words on this color, and I never grew tired of it. The pigment is staggering. It's amazing that a color can be so emotional. One can only hope to achieve that intensity in acting."
Redmayne stared at the blue. He is tall and lanky and was dressed in shades of fall: tan corduroy pants, brown sweater, khaki jacket, with a dark green muffler looped around his neck. He began visiting the Neue seven years ago, when he was in New York to audition for the film The Good Shepherd, in which he played Angelina Jolie's son. "I doubt it was my acting—I have my big lips to thank for getting cast," Redmayne said. He turned his attention to an Egon Schiele cityscape. "I am fascinated by Schiele," he continued, peeking behind a black curtain blocking the closed gallery next door. Before the guard could stop him from entering the room where the more autobiographical Schieles are displayed, Redmayne backed up. "The sexuality of Schiele's drawings is still shocking," he said, disappointed that he couldn't see them that day. "We all think we've seen everything, and then you look at Schiele's work and are stunned by how evocative and raw it is."
Like his taste in art, which encompasses the refined and the rough, Redmayne seems to be split between worlds when it comes to his career: He recently portrayed Shakespeare's Richard II onstage in London, but in his second film, Savage Grace, he was cast as a repressed gay man who has sex with his mother and kills her. "My trajectory has always been a little bipolar—I'm caught between the Elizabethans and the crazies," Redmayne said. We headed downstairs to Café ­Sabarsky, the Viennese restaurant in the museum. "I heard about the auditions for Les Mis while I was in a field in North Carolina shooting a movie called Hick, in which I play a pedophile meth addict from Texas with a limp," he said. "I was in my Winne­bago dressed in a cowboy costume, and I took my iPhone and filmed myself singing my character Marius's big song."
It worked: He got the part. Marius is often played as a handsome male ­ingénu, but Redmayne brought out the complexity of the character. "Three people die because of Marius," he said as he ordered Wiener schnitzel and a glass of white wine. "He has to bear that weight." Redmayne smiled. "When I was a boy, I was so jealous of Gavroche, the youngest revolutionary. I wanted to be him. Gavroche and Les Mis may be why I became an actor."
When Redmayne was 11, his parents allowed him to audition for a London stage production of Oliver! "I had one line," he said, still sounding proud. "Here it is: 'Books you ordered from the bookseller, sir.' I was elated and terrified. That musical was like a rite of passage. Half the cast of Les Mis were in some production of Oliver! That experience sticks with you: I can still do my audition dance." During his second year at Cambridge, Redmayne was cast as Viola in an all-male Shakespeare's Globe production of Twelfth Night. "I was a boy playing a girl playing a boy," he recalled. "I had to wear a whalebone corset. To this day, when actresses on set start whining to me about the pain of their corsets, I say, 'I've been there. It's not that bad.' "
Thanks to Twelfth Night, Redmayne got an agent. After school ended, however, he had a crisis over what to do with his life. He decided to give himself a year to try acting, to see what would happen. Four months later he was cast in a play, and a year and a half after that he got The Good Shepherd. Although he has worked steadily, a few years ago Redmayne was once again feeling conflicted about his profession. In 2009, he was sent the script for Red, John Logan's play about the artist Mark Rothko and his assistant. A meditation on mentors, genius, and the creative process, Red reminded Redmayne of his school thesis on Klein's blue. "And Klein worked in red too," Redmayne said, as if it were a sign. Night after night, Redmayne's character, the assistant, would engage Rothko on ­existential subjects while mixing paint, hoping to come up with Rothko's perfect hue. "During the production, I became a parody of myself," Redmayne joked. "I lived on St. Mark's Place in the East Village and started painting. Red restored my faith in acting."
Redmayne finished eating, polishing off a slice of dark-chocolate Sacher torte. He had a plane to catch—he was heading home to London and then to the Berlin International Film Festival and eventually back to the States for the Academy Awards in Los Angeles. He had just been cast in the Wachowski siblings' next project, Jupiter Ascending, opposite Channing Tatum and Mila Kunis. The movie is shrouded in secrecy, but Redmayne revealed that his character is "not so nice." He smiled. "It's time for the darkness to return. I kind of miss it."
The New Guard: Hollywood's Freshest Faces
Brit Marling wears Rag & Bone jacket; Lanvin top and dress. Eddie Redmayne wears Belstaff jacket; T by Alexander Wang shirt. Emayatzy Corinealdi wears Chloé dress.

Photographer: Alasdair McLellan Stylist: Edward Enninful
J. Crew cardigan; Nina Ricci dress; Falke socks; Louis Vuitton boots.

Beauty note: Keep blonde locks vibrant with Matrix Total Results Blonde Care Weightless Conditioner.

Photographer: Alasdair McLellan Stylist: Edward Enninful
From left: Dries Van Noten shirt; Miu Miu top. T by Alexander Wang shirt.

Photographer: Alasdair McLellan Stylist: Edward Enninful
From left: Boss trenchcoat; Donna Karan New York gown; Jimmy Choo boots. Nili Lotan jacket; Carolina Herrera gown; Falke socks; Louis Vuitton boots.

Photographer: Alasdair McLellan Stylist: Edward Enninful
Belstaff jacket; T by Alexander Wang shirt.

Beauty note: Baby-soft skin won't get razor burn with Aveeno Active Naturals Men's After Shave Lotion.

Photographer: Alasdair McLellan Stylist: Edward Enninful
Acne Studios jacket; Calvin Klein Collection dress.

Photographer: Alasdair McLellan Stylist: Edward Enninful
Chloé dress; Jimmy Choo boots.

Beauty note: Keep skin glowing with Iman BB Creme.

Hair by Jimmy Paul for Bumble and bumble; makeup by Aaron De Mey at Art Partner; grooming by Amy Komorows for Axe at Celestine agency; manicures by Emi Kudo. Production by Jill Roy at 3 Star Productions. Photography assistants: Gareth Powell, Lex Kimberly, Seth Gudmunson. Fashion assistants: Felicia Garcia-Rivera, Lacey Lennon, Mecca Cox.

Photographer: Alasdair McLellan Stylist: Edward Enninful
Brit Marling and Eddie Redmayne on the cover of W's April 2013 issue.
Hair by Jimmy Paul for Bumble and bumble; makeup by Aaron De Mey at Art Partner. Grooming by Amy Komorowski for Axe at Celestine Agency. Fashion: Brit Marling wears Dries Van Noten shirt; Miu Miu top. Eddie Redmayne wears T by Alexander Wang shirt. Beauty: Covergirl Outlast Stay Fabulous 3-in-1 Foundation in Creamy Natural; Eye Enhancer 1 Kit in Champagne; LineBlast 24HR in Enduring Black; Clump Crusher by LashBlast Mascara in Black; Covergirl + Olay Simply Ageless Sculpting Blush in Rich Cinnamon; LipPerfection Lipcolor in Sultry.