Our History With Gender Fluidity, the Issue Dominating the Fashion Conversation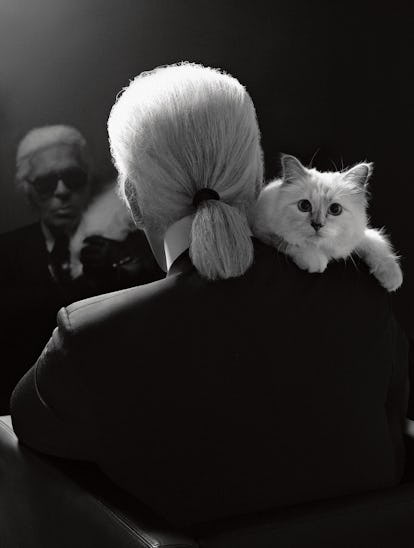 Photograph by Karl Lagerfeld.
At this magazine, we were early and vocal champions of the gender fluidity that is now at the center of the fashion conversation. In 2004, Steven Meisel shot a cover story with boys in dresses and girls in suits striking provocative poses in a vacant lot in Los Angeles; it's hard to believe that, at the time, those images were seen as controversial and scandalous. It's telling how far we've evolved on the subject that when trans women and men such as Carmen Carrera and Casil McArthur, to name but two, appeared in our pages several years ago, no one seemed to bat an eyelash.
Since then, we have continued to explore and support inclusivity of every kind. In this issue, the makeup artist James ­Kaliardos and the photographer Richard Burbridge celebrate how standards of beauty have broadened and evolved ("Face Time," page 24); Ethan James Green, whose photo book Young New York, featuring portraits of queer youth and nonbinary muses, was just published by Aperture, worked with the stylist Carlos Nazario on a portfolio that highlights how fashion is becoming increasingly genderless ("Two of a Kind," page 62); and the photographer Mikael Jansson, together with Contributing Fashion Editor Katie Grand, focuses on a new kind of power dressing that's as sexy as it is strong ("She Wears the Pants," page 74). On our covers, we feature two actors who are helping to redefine mainstream pop culture in America. Henry Golding, the star of the blockbuster Crazy Rich Asians, is taking on powerful roles that, as he explains in "Gold Rush" (page 56), are not based on his race. Naomi Scott, the revelation in Guy Ritchie's Aladdin, is having a breakout moment as an actress, but she is also already pursuing her considerable musical ambitions as a singer and producer ("Make a Wish," page 48).
Almost 10 years ago, we invited Ryan Trecartin and Lizzie Fitch to be a part of our annual Art Issue. Two of the most influential artists of the digital generation, with major exhibitions in top galleries and museums all over the world, Trecartin and Fitch create hypnotic, frenetic films that obliterate conventional notions of gender, race, and identity. "I see people as being what their personality is at the moment of expression," Trecartin said then. "I feel genitals hold us back a lot." A few weeks ago, he and Fitch opened an exhilarating show at the Fondazione Prada that brought rural Ohio, where the artists have constructed an astonishing site, to the heart of Milan. Before it opened, Features and Culture Director Diane Solway visited Trecartin and Fitch in ­Athens, Ohio, in the middle of the country, and toured the water-park ride, prefab barn, and watchtower they built on the property they purchased in 2016 ("Land Rovers," page 88). There, real life and art intersect, as experiences, neighbors, the landscape, and set construction become fodder for their adventurous film productions. Summing up the scope of the project, Fitch says that when they actually saw images of what they were doing, "we were, like, 'Okay, we accidentally also built a piece of land art.' "
This issue wouldn't be complete without a tribute to Karl Lagerfeld, a man who eluded easy categorization his entire life, and who was always at the forefront of creativity and discovery. An acute cultural observer and witty critic, Lagerfeld ­created fashion, decade after decade, that deftly mirrored society. I was never a close friend of his, but we did share moments of intimacy during which I got a glimpse of the man behind the icon. Sometimes, sitting in his studio, previewing his next collection, we would escape the room to talk about our friends and families, a book or a movie, a museum show or a painting—and, often, about his cat, Choupette. Then he would reach for his phone, take off his dark shades, and show me a few touching personal images. In "Channeling Chanel" (page 96), six of Lagerfeld's muses reminisce on similarly revealing moments they spent with him. As for myself, I loved listening to his stories about the Alta Moda in Rome in the '60s, living in Paris and dressing for the club scene in the '70s, coming to New York in the '80s…always without a tinge of nostalgia, because for Karl, the best moments were always the ones that were yet to come.