Italian Renaissance: Editor's Letter September 2015
W's editor-in-chief talks about Milan's cultural revolution.
---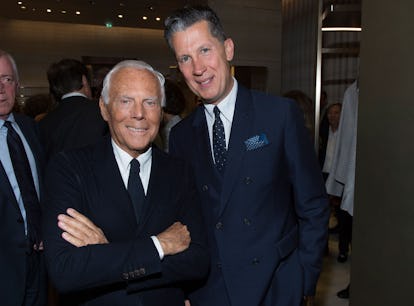 On the eve of the opening of his Armani/Silos­museum,in Milan, dedicated to his 40 years in fashion, ­Giorgio Armani revealed to the writer Alice Rawsthorn that when, as a teenager, he visited the city where he would eventually become a star, he didn't care for it; it took him years to feel like he actually belonged there. Armani's story reminded me of when I first moved to Milan, in 1987, to work at L'Uomo Vogue. I was used to youthful, cool Florence, and to my frequent jaunts to London and Paris. By comparison, Milan seemed weighed down by malaise: There was too much bourgeois good taste, too many nameless squares, too many nondescript buildings that blended into the gray, foggy atmosphere. My Florentine friends said that Milan was a place in which to work—for the least amount of time possible—in between skiing in Saint Moritz and sailing in Portofino.
Although the late 1980s was the golden age of Italian fashion, thanks to designers like Gianni Versace, Gianfranco Ferré, the Missonis, Franco Moschino, Romeo Gigli, and, of course, Armani, the creative energy that supported all these talents was nowhere to be seen—at first, anyway. Little by little I began to discover Milan's carefully guarded secrets. After the gorgeous models and chic editors who strolled up and down Via Montenapoleone with their shopping bags during Fashion Week departed, the city settled into its own rhythm. The palazzos opened their doors, and people met in fantastic courtyards to talk about theater and design; dinners in soulful restaurants went late into the night, and under-the-radar clubs in the basements of anonymous glass skyscrapers blasted New Wave until dawn. It was only after almost a decade that I finally felt, like Armani, that I belonged.
I've lived in New York since the mid-'90s, but I travel to Milan constantly, which is why I can say that, without question, 2015 has been a pivotal year for the city. After the many scandals of the "bunga bunga" Berlusconi regime, Prime Minister Matteo Renzi has brought new energy to Italy and to Milan, in particular. Expo Milano 2015, the mega exposition focused on food and sustainability that opened in May and closes at the end of October, has brought in millions of people eager to visit the international pavilions and the special exhibitions, like the exceptional one on food and art that Germano Celant curated at the Triennale, ­Milan's design museum. There is new construction everywhere, and entire neighborhoods, like the area surrounding the famed fashion complex 10 Corso Como, are becoming cultural epicenters. Even the Camera Nazionale della Moda Italiana, the organization that oversees Fashion Week in Milan, is upping its game: Its new president, Carlo Capasa, is implementing initiatives to support emerging designers, like giving them free spaces in which to show their collections.
But what is truly exciting about Milan's transformation is that it is being led, in great part, by fashion companies that have decided to invest in the arts rather than just in factories and stores. Turn to "Molto Giorgio" to read the full story of Armani's museum, which is sure to revitalize the Tortona district of Milan. Not to be outdone, Miuccia Prada and her husband, Patrizio Bertelli, took over a former distillery in the outskirts of the city and, with the help of the architect Rem Koolhaas, transformed it into a unique venue for contemporary art featuring multiple exhibition spaces, a movie theater, and an Italian bar designed by the film director Wes Anderson. At W, we have always believed in bringing together the worlds of art and fashion, so it's especially gratifying for us to witness this on such a grand scale. Hopefully, it's just the beginning of many other similar endeavors—this is one trend we can really get behind.
Photos: Italian Renaissance: Editor's Letter September 2015
Stefano Tonchi, with Giorgio Armani, at the designer's 40th anniversary celebration in May. Courtesy of Armani.
Tree of Life, the centerpiece of Milan Expo 2015. Photo by Ye Pingfan/Xinhua Press/Corbis.
Tom Wesselmann's Still Life #3, 1962, at the Triennale di Milano. Photo by Jeffrey Sturgers/Estate of Tom Wesselmann/Vaga, NY, NY.
Israel's pavilion at Milan Expo. Photo by Rich/Splash News/Corbis.
Patrizio Bertelli, Miuccia Prada, Matteo Renzi, and Rem Koolhaas at the opening of the Fondazione Prada. Photo byVittorio Zunino Celotto/Getty Images.
The Koolhaas-designed Prada art complex. Courtesy of the Fondazione Prada.
Braco Dimitrijevic's Les Hérauts De La Post-Histoire, 1997, at the Triennale. Photo by Nick Zonna/Splash News/Corbis.
The Daniel Libeksind–designed Expo Chinese pavilion. Photo by Andrea Pavan/PhotoFVG/Corbis.