A Letter From the Editor
Editor-in-chief Sara Moonves on the "Best Performances" issue.
---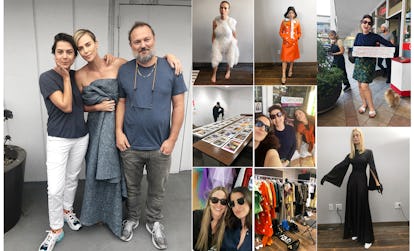 Before I started working at W, I always looked forward to its annual Best Performances portfolio, and wondered what it took to make it happen from beginning to end. I got the answer working on this issue, when Editor at Large Lynn Hirschberg called me screaming from the Cannes Film Festival to tell me about Quentin Tarantino's latest film, Once Upon a Time…in Hollywood. And so it all began.
Best Performances is now in its 10th year, and to be on Hirschberg's list has become somewhat of an award in itself, as you can tell from our nine incredible covers. But Hirschberg always makes the point that it's not just about featuring the most famous movie stars in the world—it's literally about the year's best performances across the spectrum, from independent films to major blockbusters. So next to Joker's Joaquin Phoenix you will find Queen & Slim's Jodie Turner-Smith, and across from Marriage Story's Adam Driver you will find Taylor Russell from Waves. Over three days in Los Angeles, the photographer Juergen Teller, his creative partner, Dovile Drizyte, Hirschberg, and I, along with the amazing content and fashion teams at W led by Alex Ben-Gurion and Nora Milch, ran down Sunset Boulevard with Willem Dafoe, danced in front of Sushi Park with J.Lo, jumped on tanning beds with Elle Fanning, and were left speechless by Brad Pitt…just being Brad Pitt.
Teller is someone I have admired for as long as I can remember. His wit, humor, and speed made the shoot incredibly fun—we laughed the entire time—and the final results are images that I hope will stay in your memory (Adam Sandler and the shopping cart!). When it was all over, we were exhausted but also sad to end the adventure. It's not often that you get to spend your days with Scarlett Johansson, both Fanning sisters, and Eddie Murphy.
Best performances don't just happen in front of the camera, though, so this issue also features Sandy Powell, the brilliant costume designer who has created unforgettable looks for films including Velvet Goldmine, The Favourite, and, more recently, The Irishman. It turns out that Powell's personal style is as unique and boundary-pushing as her work—as you will see in "Costume Drama," which Tim Walker shot on the cliffs of Dover, England, close to where Powell stores all of her fabulous costumes. You will also find an incredible, cinematic fashion story by the photographer Jamie Hawkesworth and the stylist Max Pearmain, featuring only new models, in "Walk This Way". Hawkesworth's pictures bring to life the season's best, and I am so glad to have him in the pages of this magazine.
At W, we are thrilled to start the decade by recognizing the star turns of the past year, all while discovering the best of what's ahead and celebrating new beginnings. Happy 2020!
Love,
Sara Moonves