10 Things You Didn't Know About Edward Enninful
Excerpts from the W fashion and style director's new feature in Industrie Magazine.
---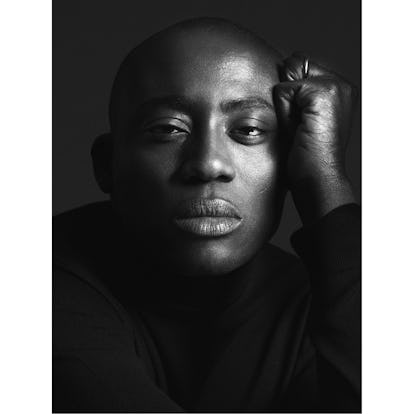 He kept his apartment in London when he moved to New York. "I spend so much time in hotels that it was important for me to have a home here. A lot of love went into building this flat. It's my sanctuary," he tells Simon Foxton.
He loves Instagram—or did you already know that? "I'm so fascinated by the influence of social media on fashion. I've seen so many artists on Instagram, up and comers you would have never known otherwise. Even my dog, Ru, loves to Instagram."
He didn't always plan to be a stylist. "Coming from a family who put a lot of emphasis on academics, I always thought I was going to be a lawyer."
But he always thought about style. "When I was really young, I had an afro and wore pressed jeans and argyle sweaters. In my teens, I moved on to ripped Levi's jeans, white T-shirts, and cowboy boots."
He is constantly inspired by friends Naomi Campbell and Kate Moss. "It's very hard to find people who can inspire you for such a long time and whose company you enjoy. This is what makes them muses rather than just beautiful women… When you're around Kate, you want to be around her all day and night. Same with Naomi. They're funny, but they're also strong businesswomen."
He used to be afraid of dogs, according to Pat McGrath. "A long time ago, we both went to a hypnotist to quit smoking. When we were there, Edward figured he might as well 'fix' other things. He goes 'Oh I'm also afraid of dogs. Can you cure that?' Months later, he bought his dog, Ru." – Pat McGrath
He's a big inspiration for Proenza Schouler. "For us, growing up in the '90s, Edward was the man responsible for many of our inspiration images back in the day. You forget this because he still looks like he's 20 years old." – Jack McCollough and Lazaro Hernandez
Donatella Versace is secretly attracted to him. "Edward is a beautiful and attractive man and he has this sexy, deep look. I am very upset that he is gay—but don't tell him." – Donatella Versace
"Good Kate, Bad Kate" is one of his favorite shoots. "Mert and Marcus really push me to my creative limits. I have known them since the late Nineties. No story we do is ever the same and I love each one so much I could never pick a favorite."
He has no regrets. "I've learned to put a big value on having a life outside of fashion, and I think that's what's saved me, because the fashion industry can suck you in."