Here's What Elena Ferrante's My Brilliant Friend Looks Like As an HBO Series
It took eight months to find the leads.
---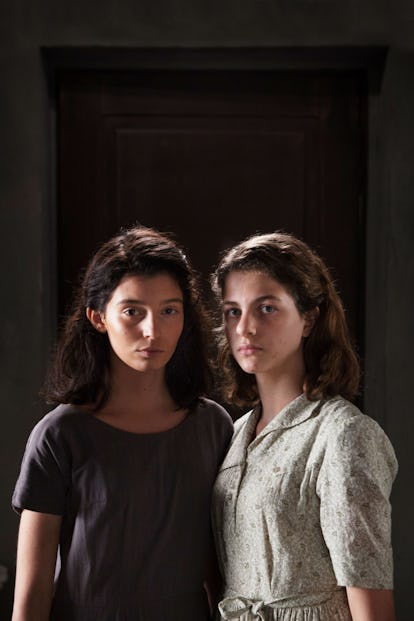 Eduardo Castaldo/HBO
As Game of Thrones comes to an end, HBO has been experimenting with a handful of new shows—one of which is an adaptation of Elena Ferrante's 2012 bestseller My Brilliant Friend. Today brings the first look at what an Elena Ferrante novel looks like on prestige cable.
In the first images, we get a glimpse of the leads, Elena and Lila, as children and as teens. Elisa Del Genio and Ludovica Nasti play the younger roles, and Margherita Mazzucco and Gaia Girace play them as teenagers. The series consists of only eight episodes—at least for now, as it could alway be extended à la Big Little Lies—but an unbelievable number of hours went into nailing every detail of the book set in 1950s Naples.
For one, it took eight months to find the leads in an exhaustive search that considered 9,000 children and 500 adults, per Vulture. If that seems excessive, it's nothing compared to the 150 actors and 5,000-plus extras who appear in the show. There are plenty of other impressive numbers surrounding My Brilliant Friend, as well, like the 215,000 square feet of sets erected for the production, which included a reported 14 exterior apartment buildings, five interior sets of apartments, a church, and a tunnel. Not to mention, 1,500 original costumes.
These efforts are all in hopes of bringing to life the beloved novel in an authentic way. Part of that includes HBO's choice of Italian director Saverio Costanzo and filming on location in Caserta, Italy. As for whether or not Ferrante herself has been involved, that has yet to be announced.
It would be momentous, however, if Ferrante were part of the process, considering the fact that the author hasn't even revealed their identity—even if the Internet has claimed to have unmasked Ferrante—opting instead to remain under a pseudonym. When asked directly if the author had worked in cinema before by The New York Times in 2014, Ferrante replied, "Absolutely not. But I adore the cinema and have since I was a child." As for Ferrante's anonymity, the author has explained, "I didn't choose anonymity; the books are signed. Instead, I chose absence. More than 20 years ago I felt the burden of exposing myself in public. I wanted to detach myself from the finished story. I wanted the books to assert themselves without my patronage."