Sneak Peak
Once a quiet success, Elie Tahari makes it loud and clear that he's serious business.
---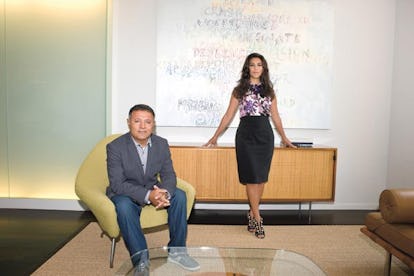 Elie Tahari has done well for himself. He presides over a sprawling West 42nd Street office filled with midcentury furniture, impressive photographs by Nan Goldin, David LaChapelle and Herb Ritts, and bowls of green apples and almonds. He also owns one of Manhattan's architectural landmarks, Gordon Bunshaft's linear glass building at 510 Fifth Avenue, which houses his design studio and a Chase Manhattan Bank, his tenant. In three years' time, he expects his firm's annual revenue to exceed $1 billion—growth that will be fueled by a recent global push, starting in London, Istanbul, Seoul and Moscow.
An Elie Tahari look from Resort 2009.
In other words, Elie Tahari is a massive success. So much so that even in this glum economy, the company's sales are reportedly up 20 percent. Yet despite the robust health of his business, and a bit to his chagrin, Tahari is not typically among the designers who cause fits of editorial excitement. (Last year, at his fall 2007 presentation, he lamented to The New York Times the lack of attention lavished on him by high-end fashion magazines. "I guess I'm not important enough," he said.) But he hasn't been entirely overlooked. In fact, preinterview, Tahari's publicist sent over a folder full of clippings from Time, Women's Wear Daily, Haute Living and Interior Design, almost all of which touch on his rags-to-riches tale, from Israeli orphan to Seventh Avenue sensation. Then there's his failed bid to buy Barneys New York for $400 million in 2004 and, prior to that, the much ballyhooed history with Theory: Tahari cofounded the label in 1997 with Andrew Rosen, sold his stake in 2003, and later tried to sue the great-fitting pants off Rosen when he took Theory public, thus making a fortune on the heels of Tahari's withdrawal. Tahari lost the case.
Those stories have been widely chronicled. But, perched in his plush, professionally feng shui–ed office, Tahari, with his back to the windows—very un-shui—makes it clear that he's not interested in another by-his-bootstraps story. "You know what everybody wrote about," he says. "We should do something nobody wrote about." Which is? "About the collection itself," he answers. "People don't realize how much I love and am involved in getting the collection out. It's doing very well, and it's not by accident. It's by design."
There's no question Tahari engineers a lineup composed of the type of clothes that are a retailer's dream—meaning they sell, sell, sell. "We love Elie," notes Michael Fink, vice president and women's fashion director of Saks Fifth Avenue, which has long carried Tahari's collection and last year opened a 5,000-square-foot shop-in-shop in Beverly Hills. "There are lots of reasons why. He's always right on fashion trend, which is important for our customer because she sees it on the runway and she wants to be part of whatever mood that is."
A python 510 bag for Spring 2009.
Indeed, Tahari is a master of distilling current trends into high-quality, reality clothes (the average price of a dress is $400; a jacket, $600) for the fashion wise but not obsessed woman. Take a look at his most recent resort collection: Full of feminine blouses and flared pants replete with colorful floral prints, the clothes are appealing, accessible versions of those that set fire to many a designer runway this past spring. The truth is that Tahari's design expertise lies not in provocation, but in his laudable savvy. However, he insists there's more to it. When pressed to further elaborate on what he considers to be his untold story, Tahari declares: "I think it's the fact that I was born as an artist. Everything that motivates me and makes me tick is beauty and visuals."
That translates into long hours in the design studio spent fixated on fabric, color stories and fit—one of his consistent strengths—which he says he perfects by using women from his offices as models. "I like to fit on different bodies," he notes. "Not different sizes, but three different types of bodies. If a fit looks good on all of them, I know it's going to be right." He's been a keen observer from the start and has long found inspiration on the streets of New York, watching what real women wear. One of his very first designs, a tube top he made in the Seventies, was prompted by the braless club culture of the era. Shortly after, he transitioned from disco nights to nine-to-five. "I started making suits because a lot of New York women dressed to go to work," he recalls. "That was during the Seventies, when women were wearing printed dresses, so the suit was something new and fresh-looking." While he worked the office look for years, Tahari now treads more sophisticated, fashion-focused terrain, and the shift has been very well received. "That's old-school Elie," says Fink of Tahari's suit phenomenon. "Where we always thought of him as strictly go-to-work suits, in the last eight or nine years he has really made that switch to lifestyle."
Coincidentally or not, another lifestyle change occurred eight years ago: Tahari got married. His wife, Rory, a former television producer with whom he has two children, Jeremey, seven, and Zoe, four, is now Elie Tahari's vice chairman and creative director. Her arrival marked the advent of an aggressive, ongoing growth period for the company. "My wife is the big boss," Tahari says. Rory's primary concern is managing the company's image. ("If it's not sexy, it's not Elie Tahari. I'll tell you that," she says.) She oversees advertising, marketing and public relations, or as she puts it, "What am I not working on now?"
In addition to its shop-in-shops, Elie Tahari has six freestanding boutiques along the East Coast and one in Las Vegas—all designed by Piero Lissoni—and leases popping up throughout Europe and Asia. In 2006 the company branched out into accessories with luxury shoe and bag collections, launched a full men's wear line and debuted its first advertising campaign (currently shot by Terry Richardson). This past summer the Taharis cut themselves a piece of the art-fashion pie when Kenny Scharf, whom they met on one of their trips to Art Basel in Miami (Rory is a collector), created a print for caftans, pareos and surfboards. Fall marks Elie Tahari's entrée into the increasingly important costume jewelry category.
It's a lot of change for a company that has been around for 30 years, and Tahari is quick to point to the source. "They say that a kick in the butt is good when you're facing the right direction," he says. "[Rory] is the one that gave me the kick." And she's not quiet about her ambitions. "Obviously I want to be in all categories," she says. "The other week I was thinking about how intimate apparel and lingerie are just such a natural evolution for us. But it's not a single person or a single idea. I can have that idea, but most important is what's right for the company at that moment."
While Rory has done her part to raise the label's hip quotient in terms of advertising, art and accessories, she champions her husband's aesthetic instincts as the driving force behind the company's success. In fact, it compels her to quote Oliver Wendell Holmes: "'Man's mind, once stretched by a new idea or sensation, never regains its former dimensions.' If you wanted to sum him up in one sentence or less, that's Elie," she says. "He knows how to really expand somebody's mind."
The example she cites: the skylight in the firm's year-old East Hampton store. "People go to the Hamptons to be outside," she notes. "Therefore, when someone comes into the store, they should be surrounded by natural light. Otherwise, why would they want to be shopping?"
And with that, everything is illuminated; after all, Elie Tahari knows how to sell clothes.
Photos: Resort: Kyle Ericson; Bag: Steven Sullivan