How an Abercrombie Model Looks Beach Ready Year Round
Model Elizabeth Bennett loves pilates and doesn't get her hair highlighted too frequently.
---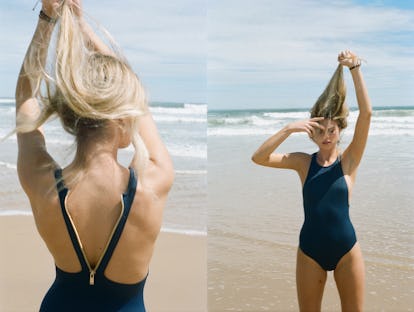 18-year-old model Elizabeth Bennett grew up in Rhode Island, playing hockey during the winters and going to the beach all summer long. It's that outdoorsy, All-American look that got her noticed by Abercrombie for the brand's recent campaign, shot in Santa Barbara, California. Here, the up-and-coming model shares the secrets to her long blonde hair, bikini-ready body, and more.
Describe your style: I'm definitely a minimalist. Kind of girly, yet sporty at the same time. I love to wear a semi-fancy outfit with a pair of sneakers. I wear a lot of black. I'm not really a fan of bright colors. I feel like since I'm blonde, that's enough brightness for one look.
Favorite beauty product: Brown eyeliner.
Items you never leave the house without. Red lipstick, any mascara with a fat brush, my phone and hoop earrings (just in case).
Favorite pharmacy find: A travel-size paddle brush.
Makeup routine: I bank on my skin being tan. In the winter I have to wear foundation and bronzer, but in the summertime I'll just put mascara on if I'm tan.
Hair history: I had blonde curly hair when I was younger, and then it started to get darker. In 6th grade, my friend and I decided we were going to buy blonde hair dye from CVS because I wanted blonder hair and I had yellow hair for about two years. Then I dyed it brown and gradually got back to blonde–so honestly, I couldn't tell you what my natural color is! I've gone to the same hairdresser for a while now, but I don't get my hair done that often because I kind of like that grown out more natural blonde look. When it's freshly done it's too blonde for me, so I like the way my hair naturally grows into the highlights.
Worst beauty blunder: After I dyed my hair brown, I then went to burgundy. I still had braces, so that was like the worst decision I could have made. It didn't suit me at all.
What's your snack of choice: Trail mix.
Fitness regimen: I recently stated pilates, and I love it. I like anything that will stretch my body out, since I played hockey for so long I can't even come close to touching my toes. I'm just not a flexible person. I feel as though when I go to the gym I'm not working myself hard enough, and I don't like when I do an exercise and I can't feel my muscles on the spot working and pilates just like I can feel every single muscle in my body they are sore the second I walk out. I actually love being sore.
In-tub must read: The encyclopedia of plants and flowers. It's weird, but I love plants!
Dream destination: Thailand
What's always in your suitcase: My leather jacket, no matter the weather.
Fragrance of choice: Daisy by Marc Jacobs.
Beauty icon: Elsa Hosk.
Model you most resemble: Kate Upton. That's my twin. What I love about her is she became an actress and she's not one of those models who becomes an actress and you watch the movie and are like oh wow how did they get that role she's actually a really good actress. Acting is something I'd like to get into, as well.
Best beauty advice from mom: Sunblock, sunblock, sunblock!
Best beauty advice from the pros: Never let anyone change my eyebrows.
Watch W's most popular videos here:
The Montauk Moment: The Best Swimsuits of Summer Are Revealing In All the Right Ways