Everything You Need To Know About Ella Balinska, Charlie's Newest Angel
The newest fresh-faced addition to the Charlie's Angels reboot will be one to watch.
---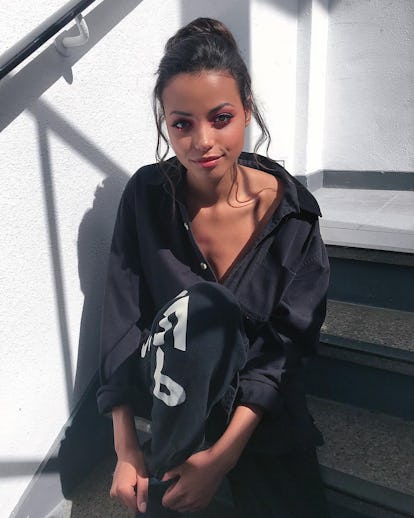 Photo by @ellabalinska.
Every franchise reboot needs a fresh face. And Ella Balinska, the newest addition to the Charlie's Angels reboot, will be one to watch.
Audiences going to see the film will instantly recognize Kristen Stewart, and a few might already be familiar with Naomi Scott, the recently appointed millennial queen of reboots (she played the Pink Ranger in the 2017 iteration of Power Rangers and will star as Princess Jasmine in Disney's new live-action Aladdin reboot), but the third angel—Balinska—is the newcomer to keep an eye on.
Nearly every film announcement that mentions Stewart can be exciting, and it's been a while since she's had a chance to flex those action flick muscles. Plus, Scott has been on the rise since starring in the 2011 Disney Channel movie Lemonade Mouth (alongside pop star Hayley Kiyoko), and has proven herself to be one of the biggest blockbuster stars on the rise. But it is likely that audiences will be chuffed to watch Balinska in Elizabeth Banks' adaptation of the beloved 1970s franchise about the undercover trio of crime fighters. The Charlie's Angels reboot will be one of Balinska's biggest roles to date, as she has only previously made a small splash on television in the United Kingdom, with shows like Midsomer Murders, Nyela's Dream, and Casualty.
Turns out the 21-year-old actor doubles as a British baking scion as well—her father is Count Kaz Balinski-Jundzill, a Polish musician, and her mom is model-turned-chef Lorraine Pascale, and is very huge in the "baking shows" genre of television.
Pascale was the first black British model to appear on Elle's cover, and had a cameo in a music video for former Take That band member, Robbie Williams. She later switched gears from modeling to the culinary arts, and eventually became the host of BBC's Baking Made Easy (which is just one of the plethora of British baking-themed competition series in existence right now) and a judge on Holiday Baking Championship on the Food Network in the United States.
Sony's announcement made it clear that none of the new Angels will replace the iconic roles played by Drew Barrymore, Cameron Diaz, and Lucy Liu in the 2000 film, so the possibility for a cameo from at least one of the early aughts trio is there. While further details about the Charlie's Angels reboot have been kept to a minimum (the casting announcement was just made on July 26), the film is scheduled for a September 2019 release. Until then, Balinska should be on your radar.
Related: Kristen Stewart, Naomi Scott, and Ella Balinska Are Your New Charlie's Angels