Kristen Stewart, Naomi Scott, and Ella Balinska Are Your New Charlie's Angels
Name a more iconic trio. We'll wait.
---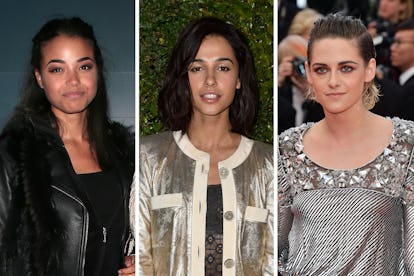 Composite. Getty Images
Prepare to hear three totally new angels muttering the iconic phrase "Good morning, Charlie." On Thursday, Variety confirmed that Kristen Stewart, Naomi Scott, and Ella Balinska have officially joined the Charlie's Angels film reboot. According to Variety, the women will star in a proper reboot of the franchise (the likelihood of a cameo from Cameron Diaz, Lucy Liu, or Drew Barrymore is probably slim, but the door is open), which will be directed by Elizabeth Banks, who's also playing their beloved handler, Bosley.
Per the logline, this Charlie's Angels will focus on "the next generation of Angels working for the mysterious Charlie." Evolving from the previous films, the Townsend Agency "has grown considerably and gone global, providing security and intelligence services to a wide variety of private clients with offices and highly trained teams worldwide." The film will focus on the members of one of those "teams," Stewart, Scott, and Balinska, as they work on a case, presumably a case with global ramifications. Other details are sparse, but the already-confirmed premiere date of September 27, 2019, speaks to further casting and plot details being revealed sooner rather than later.
While Stewart has been (successfully) chasing fame since she was a tween, allow us to give you a brief primer on Scott and Balinska, who aren't as prominent on the Hollywood circuit. You might know Scott from her recent work in Power Rangers or future work as Princess Jasmine in the live-action Aladdin, while Balinska is best known for her television work in the U.K., such as Midsomer Murders and Casualty. This diverse trio of "empowered" women, Banks told Variety, couldn't make her more excited to helm a film that celebrates a "new era of modern and global Angels." Charlie would be proud.
Related: Why Does the New Rita Repulsa Look So Much Like Susanne Bartsch?