Elle Fanning and Max Minghella Might Possibly Be Dating
The Maleficent actress and the Handmaid's Tale star (and writer and director) were spotted taking selfies in London, and you know what that means.
---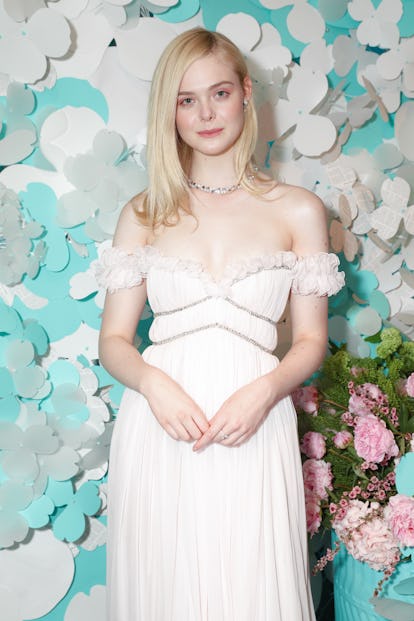 Matteo Prandoni/BFA.com
It might mean nothing, but it also might mean something: Earlier this week, the actor Elle Fanning and the writer-director (and The Handmaid's Tale star) Max Mingella were photographed, looking cozy, on a leisurely jaunt in London's Mayfair neighborhood. In the photo, first published by E! News, Mingella grins down at his phone while Fanning, her right arm wrapped around his shoulder and her left arm on his chest, looks on, laughing.
According to a bystander quoted by E!, the two "were all over one another. She kissed him on the neck as she draped her arms around him." The anonymous source went on, "They looked really happy and laughed a lot as they took selfies with each other." That must be what they're laughing at in the sole paparazzi photo making the rounds: a silly selfie! Maybe with a filter! Anyway, sounds like they're dating now.
Minghella, 32, is a native Londoner; Fanning, 20, is currently in London filming Maleficent 2 with Angelina Jolie. The two apparently met last year during production of Teen Spirit, Minghella's directorial debut, in which Fanning stars as a sheltered teen living on the Isle of Wight who enrolls in a singing competition in hopes of reaching pop stardom. In an Instagram post from last August, Fanning can be seen standing at a microphone in sweatpants and a torn white T-shirt, looking suitably grungy for the film's title, with Kurt Cobain hair. Minghella looks on, also in sweats and a white T-shirt, hands on his waist. (While Fanning's Instagram is public, it appears Minghella's account, @minghellamax, which she tagged in the post, is protected.) It's far from the first time Fanning has pulled double duty as actor and singer: For 2017's How to Talk to Girls at Parties and 2015's 3 Generations, she also recorded songs.
Teen Spirit, which Minghella co-wrote with Jamie Bell, was filmed in Montreal and London last year, and is slated for release next year. Two years ago, Minghella (who is the son of the famed director Anthony Minghella, of Cold Mountain and The English Patient) made his debut as a writer with The 9th Life of Louis Drax, which was made into a film starring Jamie Dornan and Sarah Gadon by director Alexandre Aja.
In any case, we wish them all the best.