Elle Fanning Is So Close With Her Sister, Dakota, She Used Her as an Emergency Jewelry Safe
The Tiffany & Co. campaign star had a minor diamonds emergency.
---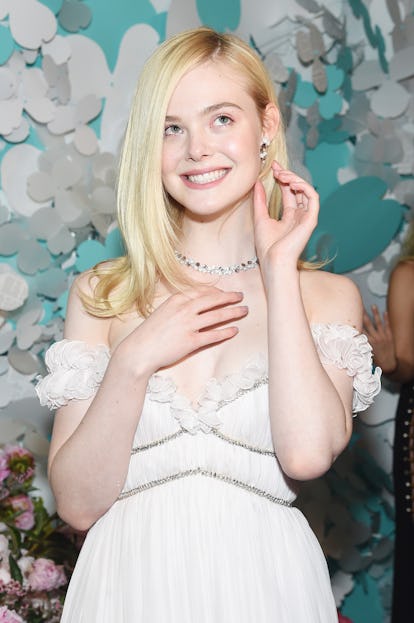 Jamie McCarthy/Getty Images
The first time Elle Fanning went to Tiffany & Co.'s flagship store on Fifth Avenue, it was on her first-ever trip to New York, when her family was "doing the rounds"—which, of course, included a requisite Breakfast at Tiffany's–themed pit stop.
And when Fanning returned to the store on Thursday night to celebrate her starring role as a "modern Holly Golightly" in Tiffany's new campaign, it was as equally magical for the actress—despite a sudden downpour forcing the outdoor red carpet to be moved to a cramped hallway indoors.
"That's what's so special about this—and it's so cool that [the "modern Holly Golightly"] is in a sweatshirt and a little tiara," Fanning said as Zendaya, Sarah Paulson, Ava Phillippe, Naomi Campbell, Kendall Jenner, and A$AP Ferg joined her indoors, the latter performing his take on "Moon River," which soundtracks the splashy video that unveiled Fanning (and her singing voice) as the campaign star of "Paper Flowers." (The collection also happens to be Reed Krakoff's first as chief artistic officer.)
Rather than wear a hoodie, Fanning opted to celebrate in $92,000 worth of "Paper" diamonds—a quick and easy way to upgrade any outfit, particularly if you've just flown to New York amid a week of starting rehearsals with Angelina Jolie. Maleficent 2 has yet to have either a release date or a confirmed cast, and while Fanning, who plays Princess Aurora, didn't shed light on the rumors that actors like Michelle Pfeiffer will come on board, she did confirm that this time around she's definitely more comfortable with the cast. "I met her and kind of got those nerves over with, so now I know her better," she recalled with a laugh of shooting the first film with Jolie in 2014.
Elle Fanning on How She Secretly Watches (and Cries Over) Dakota's Old Talk Show Videos:
While she's been prepping for her first-ever reprisal of a role and sequel, plus contemplating the question, What can I bring to this character now that I'm 20 and not 14?, Fanning's also been keeping busy with her sister, Dakota, with whom she's long shared jewelry, and with whom she'd conveniently been hanging before the Tiffany's event. "I was wearing jewelry earlier tonight that I had to take off, but there was no safe in my hotel room, so she's wearing it all at dinner right at this moment," Fanning said. She recounted the ordeal with a laugh, but knowing that her $75,000 Tiffany necklace, for one, was in good hands definitely seemed to have taken a weight off her chest, and not just literally. "She's keeping it all safe for me," she added with a hint of relief.
Related: Elle Fanning Made Her Runway Debut at Miu Miu's Paris Fashion Week Show
Audrey Hepburn and Hubert de Givenchy's Iconic Fashion Moments In Film: A Look Back
Audrey Hepburn in Love In the Afternoon (1957). Photo courtesy of Everett Collection.

Courtesy Everett Collection
Audrey Hepburn in Love In the Afternoon (1957). Photo courtesy of Everett Collection.

Courtesy Everett Collection
George Peppard and Audrey Hepburn in Breakfast at Tiffany's (1961). Photo courtesy of Everett Collection.

Courtesy Everett Collection
Audrey Hepburn in Breakfast at Tiffany's (1961)

Courtesy Everett Collection
Audrey Hepburn in Funny Face (1957). Photo courtesy of Everett Collection.

Courtesy Everett Collection
Audrey Hepburn and Fred Astaire in Funny Face (1957). Photo courtesy of Everett Collection.

Courtesy Everett Collection
Audrey Hepburn in Sabrina (1954). Photo courtesy of Everett Collection.

Courtesy Everett Collection
Peter O'Toole and Audrey Hepburn in How to Steal a Million (1966). Photo courtesy of Everett Collection.

©20thCentFox/Courtesy Everett Collection
Audrey Hepburn in How To Steal A Million (1966). Photo courtesy Everett Collection.

©20thCentFox/Courtesy Everett Collection
Audrey Hepburn on the set of Love in the Afternoon (1957). Photo courtesy of Everett Collection.

Courtesy Everett Collection
Audrey Hepburn in Paris When it Sizzles (1964). Photo courtesy Everett Collection.

Courtesy Everett Collection