Cut and Dry
Elle Fanning talks about her role in Jake Paltrow's post-apocalyptic drama.
---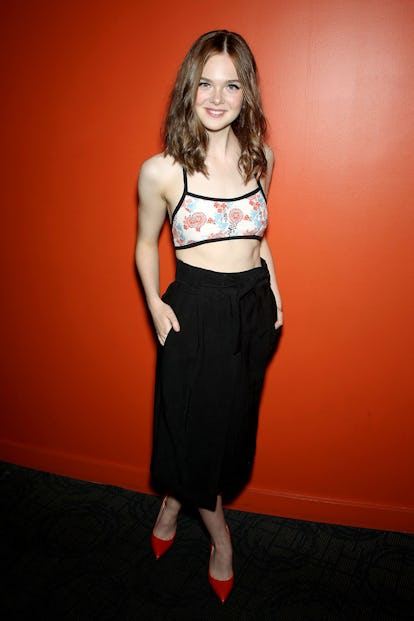 What: The New York premiere of director Jake Paltrow's post-apocalyptic film, Young Ones.
When: Thursday, October 9th
Where: A screening at the Landmark Sunshine Theater followed by an after party at Sons of Essex, both on the Lower East Side in New York.
Who: Paltrow's cast including Elle Fanning, Michael Shannon, and Nicholas Hoult were joined by the likes of Michael Stipe and Ed Norton.
Why: Fanning, the recently transformed brunette ingénue, was on hand to discuss the impact of the film—which was set in a future where water is more valuable than oil, requiring the production crew to shoot in the barren deserts outside of Cape Town South Africa—on her beauty routine. "When it's 118 degrees outside, you just sort of dry up," joked Fanning, who looked cool in a patterned crop top and voluminous skirt. "I'm very pale, so there was a lot of sunscreen involved." No word on the impact of the after party's free-flowing tequila and water on her complexion.
Elle Fanning. Photograph by Startraks.
Michael Shannon and Jake Paltrow. Photograph by Startraks.
Ed Norton and Nicholas Hoult. Photograph by Startraks.
Kodi Smit-McPhee and Michael Stipe. Photograph by Startraks.