Elle Macpherson and Aerin Lauder Know The Importance of a Balanced Life, Just Don't Ask Either of Them To Cook For You
Supermodel Elle Macpherson and beauty and lifestyle designer Aerin Lauder have combined forces on the ultimate wellness product. The two modern businesswomen, who had never officially met, talked about how it all started on Instagram, their fitness routines, Thanksgiving plans, and more.
---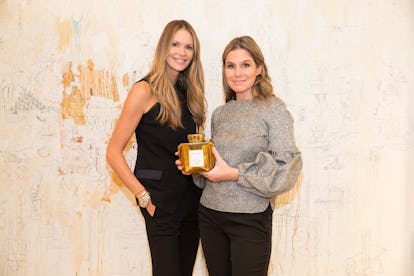 This is the year of the cool collaboration, the latest being Aerin X The Super Elixir ($250, Welleco.com the brainchild of supermodel Elle Macpherson and beauty and lifestyle designer Aerin Lauder. Lauder designed the limited-edition, gold-glazed ceramic caddy for Macpherson's popular alkalizing greens, an organic daily supplement created by nutritionist Dr. Simone Laubscher.
"I feel that wellness is often presented as brown rice and Birkenstocks and kind of hippy, but I actually think wellness is a true luxury," said Macpherson. "So, I wanted to create a jar that looked like it could have been a big beautiful cream that you could put on your face but was actually a green powder that you take."
They shared the story of how this confluence came to be, plus their tips on living a balanced life and Thanksgiving plans.
How did this collaboration come to be? How long have you two known each other? Aerin: It's a funny story. We met on Instagram. She literally reached out to me with a DM. I was sitting with my husband and saw that I'd gotten a message, and it said it was from Elle, and I was like, "Oh my gosh!" She was my role model. And then my husband said, "I had posters of her in my dorm rooms all through boarding school and college."
So you made the first move, Elle? Elle: I've always admired Aerin, and when I was thinking about this concept of beauty from the inside out and working with somebody who had a like-minded spirit to complete a project together, Aerin was ringing so clearly in my mind. But I didn't know how to contact her. I was in Montauk at the time and I saw on Instagram that she was in Montauk at the time, and I thought, "She's here!"
A: I had gone to the Crow's Nest with Carolyn Murphy and Jenny Landey.
E: I said I've got this project and I'd really like you to be a part of it. I'd love your feedback on it, if it's something you'd be interested in, and immediately she said yes. I mean, this was in August.
I can't decide what I love more: the shagreen box or the gold caddy [lifting the caddy]. Whoa! Heavy! E: 600 grams of wellness!
A: Shagreen is obviously a big part of my world, but when when I think of Elle, I think of her in a white bikini and white jeans. White was perfect.
But that's very you, too, Aerin. You wear white jeans all year. A: That's true. I only wear black or white. Or gray. I try wearing flowers or color, but it never works. It never looks right on me.
E: We have very similar styles.
And yet, you had never met… A: I'd seen her, obviously, at the Costume Institute and fashion shows.
E: It's strange when you're in the public eye. You kind of circulate in similar circles and you kind of feel each other without actually knowing each other.
A: I remember, 18 years ago, I was in Paris for Fashion Week. I was in Prada with my mother and Elle walked in and she was so beautiful and her hair was so long. Everything about her was perfect. It always stuck in my mind.
E: I remember seeing Aerin around and thinking, "Who's that girl? She's so beautiful. She has great style." That's one of the great things about being in this world. You can actually use your work to get to meet people who you've always wanted to collaborate with and I think in modern-day business, this concept of collaboration and cooperation rather than kind of fighting against each other is a modern way of doing things. Aerin has a modern business, and this is a modern way of looking at wellness and beauty from the inside out. It's just, you know, modern luxury.
WelleCo is almost three years old now. Were you thinking it was time to bring it up to the next level, to work with a beauty or lifestyle brand? E: I wanted to present the Greens [of the Super Elixir] the same way a luxury beauty brand would present their creams and perfumes. I feel that wellness is often presented as brown rice and Birkenstocks and kind of hippy, but I actually think wellness is a true luxury. So, I wanted to create a jar that looked like it could have been a big beautiful cream that you could put on your face but was actually a green powder that you take. So, that was already the concept from Day One. To present wellness as a beauty brand, to come into the market that way. That was three years ago, so, I wanted to take it to the next level for the holidays and work with somebody with I had a lot of esteem and respect for, and tell the message from a different perspective.
A: I launched the brand in 2012, so we're a bit older. Obviously, it started with beauty, and now we're going into other categories (we just launched accessories), but I think this is really fun for us because I think it feels really special and different, but very true.
Aerin, how do you take your Super Elixir? A: I love it with coconut water.
E: She's not a water-and-greens girl.
A: I also drink coffee and Diet Coke, which I know is so bad. But this is going to train me…
E: Hey, if you're going to drink Diet Coke and coffee, at least have your Super Greens, too.
I could drink that all day. When I last saw you, Elle, what did you mix it with that day? E: Banana and almond milk.
Wish I had one right now… E: And the Sleep Tea is great, as well. I developed it with a team of doctors because I can't sleep and I don't take any drugs. I was finding it really difficult to sleep, especially when flying and being jet-lagged. My doctor said it was really important to sleep seven hours. "Fine, got the concept. Now, how do I do that?"
And you have a spray, too. E: The Sleep Well spray is aromatherapy and the Sleep Well Tea has valerian, which is nature's sleeping pill. Just don't take it when you're heading out to a party. But if you're anxious during the day, you can drink it.
What do you like to do for exercise? E: I like to be outdoors and I like adventure, so the moment my son took up wakesurfing, I thought I'd be really cool and do that, too. You're in a boat, it creates a huge wake, you hang on to the rope and you perpetually surf the wake. So it's actually like surfing. I go waterskiing, too.
A: And I walk in Central Park.
E: I think it's really important to be in nature. When I'm in Aspen, I go hiking.
A: I do that, too. I love being outside.
E: When I was younger, before I was 30, I could rely on genetics and I did what I could. Then between 30 and 40, I did about 45 minutes a day of something because I felt I had to be responsible. And then after 50, it's really an hour a day and something in the afternoon if I really want to get in shape. But I try to keep it really organic. I'm not in the gym, I'm not with a trainer, I'm not obsessive and trying to sculpt my body. I'm actually outdoors trying to do things that are good for my mind, good for my body, good for my spirit.
But on the days when you're not in a boat or in the mountains, what do you do? E: I walk, or I do a spin class. I have a fantastic guy I like to box with, and that's a wonderful sport because it combines your brain and coordination. And there's a circuit training afterwards. I find it pretty complete and I like the camaraderie of it. I do it with my girlfriend and we put on music and there's something very special about that as well.
A: Walking, tennis, Pilates. I love hiking the Ute Trail in Aspen. Our house is right near there.
E: Hiking is probably my favorite thing. I just came back from a week at the Ranch at Live Oak in Malibu. And that was a lot of hiking.
A: Ooh, I haven't tried that yet. How was it?
E: It was fantastic.
How good was the food? I love their cookbook. E: Unbelievable. The best food I've ever had. Vegan. You want to change after being there. Of course, you don't. I mean, you do for about a week, then it's just back to your old habits.
Speaking of food, how are you both spending Thanksgiving? A: We're going out to Long Island. My parents host Thanksgiving every year.
Do you cook? A: No
Do you participate? A: I'm not a cooker…We have an American barn and my mother invites about 50 friends. It started off really small, because it was just a few families, but now everyone's gotten married with children. It's always the same group and we love it.
E: I'm a newly converted American, so Thanksgiving for is an opportunity for us all to get together. Considering that my children are raised in the Church of England/Catholic and my husband is Jewish, it's the perfect celebration for us as a family in Florida. So, the kids all come home from school. We've got five kids in five schools in five states.
Wow! Home for the holidays! Do you eat turkey? E: I'll eat turkey. I eat fish as well. But I basically have a plant-based diet because that's what works for me, but I eat animal protein from time to time.
And do you cook, Elle? E: I'm a good re-heater. Let's just say my son doesn't come for mother's cooking.
Watch W's most popular videos here: