Ellery Harper, Laura Dern's Son, Made His Runway Debut at Calvin Klein
After making Raf Simons wait a year.
---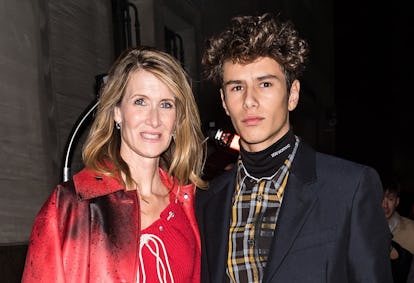 Gilbert Carrasquillo
Calvin Klein designer Raf Simons usually gets what he wants, but he had to wait an entire season to get Ellery Harper, son of Laura Dern and singer-songwriter Ben Harper, to walk his runway.
"[Raf] originally asked me to walk. But my dad had different opinions," Harper told WWD last February. "He wanted him to wait a little bit more," his mom chimed in. So the then 16-year-old opted to sit front row alongside his mother instead, which was no problem for him as he's a big fan of the Belgian designer.
Well apparently Dad has changed his mind (perhaps the fact that Harper has since turned 17 had something to do with it), and the Hollywood scion finally made his long-awaited debut on the catwalk last night during Calvin Klein Collection's Spring 2019 show.
Harper emerged during the later portion of the show (indeed he walked right before Cindy Crawford's daughter, Kaia Gerber, made her appearance). He wore a textured V-neck sweater vest, futuristic slim cargo pants made out of a material reminiscent of a deep-sea diver's suit (fitting, as much of the collection was inspired by the movie Jaws), and an element of tasseled fringe around his neck. The look was topped off by a graduation hat, a frequent element seen throughout the show.
As was the case with all the male models, a single dangling red earring hung from his left ear.
Mom Laura Dern was on hand in the front row, looking quite chic herself in a baby-pink coat, and she shared her frow territory with Game of Thrones actress Gwendoline Christie and rapper A$AP Rocky (whom Harper met at last year's Klein afterparty.
No word on whether Harper might pursue modeling as a career or if he was just doing a solid for his favorite designer. Still, show business is in his blood. Not only are his parents a famous actress and a famous musician, but his grandparents, through Dern's side of the family, are Diane Ladd and Bruce Dern, both Academy Award–nominated actors.
Though we suppose Mom and Dad would prefer their son to at least wear a graduation cap to his own actual high school graduation before deciding on any major career moves.
Related: Turns Out Laura Dern Might Have Killed the Popular Film Oscar, For Now Anyway