Laura Dern's Son Ellery Harper Turned Down Calvin Klein Modeling Gig to Sit Front Row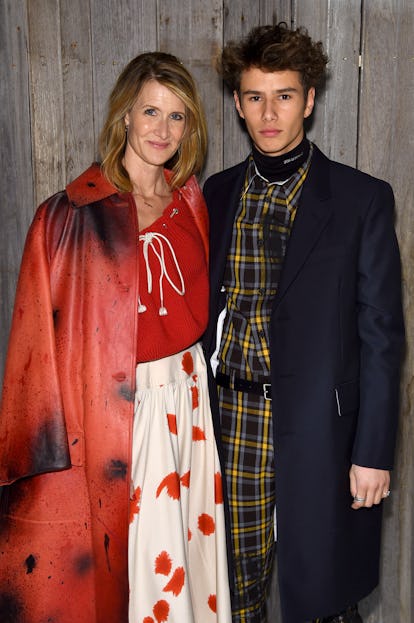 Jamie McCarthy/Getty Images
Another New York Fashion week means another new set of scion faces. The latest celebrity offspring to make their debut? Laura Dern's son Ellery Harper. The 16-year-old accompanied his mom to Raf Simons' recent Calvin Klein show to sit front row — only, that wasn't his first choice. Harper had hoped to walk the runway after being extended an invitation by Simons, but he couldn't get parental approval from dad Ben Harper. He's only 16 after all. Being the child of a celebrity does have its limitations, it seems.
While at the show, Dern opened up about taking her son along, telling WWD, "Really I'm attending with Ellery who has a great love of Raf and is an invited guest of Raf — they have a beautiful connection."
That's when Harper revealed, "[Raf] originally asked me to walk. But my dad had different opinions," to which Dern replied, "He wanted him to wait a little bit more." "So I'm just here, spectating this," Harper said, adding that he's more interested in design than modeling.
Harper later shared a photo from the show, which took place at the New York Stock Exchange, atop a floor flooded with 50,000 gallons of popcorn. He posed atop a mound of it alongside Raf Simons super fan A$AP Rocky, which he later shared on Instagram, writing, "Honored ? ."
Harper wasn't the only family Dern spent time with at the Calvin Klein show. She was reunited with Nicole Kidman, her Big Little Lies co-star. The pair will have ample time to spend together soon as the beloved HBO show is currently gearing up for season two. Just recently it was announced that Meryl Streep will be joining the cast as Kidman's mother-in-law, which the actress behind Celeste has expressed awe over. "[The role] was written for her and we wanted her," she told Entertainment Tonight. "Reese [Witherspoon] and I were just [thinking], 'She would be so amazing in the role!… We didn't think we'd get her." Eventually they did, though, "It really is [Streep] standing up and going, 'I support you as women, and I believe in you,'," she added. "I think that's a big statement from her."
Related: Laura Dern Wears Her Cry Face on a Shirt After Realizing Her "Cry Face" is a Meme