True Blood
Editorial superstar Ellis Faas has mined the macabre for her debut makeup line.
---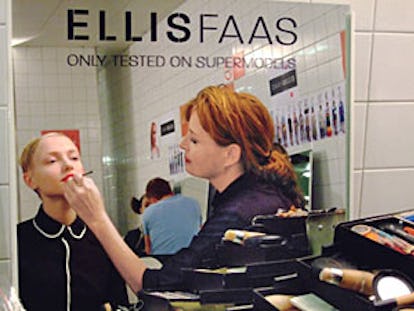 Over the past 10 years, Dutch makeup artist Ellis Faas's work has appeared in top fashion magazines (including W), in ad campaigns (Chanel, Louis Vuitton, Giorgio Armani) and on every major European runway. But for her eponymous makeup line, she ignored the obvious link to the fashion world and went back to her roots—which are far more gruesome than they are glamorous.
"I used to do a lot of special effects," explains the Amsterdam-based Faas, who once made a living out of mimicking wounds, bruises and blood for public service campaigns and music videos. During shoots, Faas, 46, noticed that the unsightly bumps and gashes she was trying to create were made up of hues that looked shockingly good against skin. "I started to use those colors in a beautifying way rather than a gory way," she says. "Why not take the purple in a bruise and use it as an eye color? It's a very natural thing to do."
Ellis Faas's pièce de résistance—Ellis Red, in a milky finish.
This technique, which Faas refers to as using "human colors," defines her groundbreaking line. The first installment, Ellis Lips, lands at several European boutiques and ellisfaas.com in February and will be followed in the coming year by Ellis Eyes, Skin, Lights, Pencils and Prime. "It's all the colors that shine through your own skin," she explains. "The pinks might come from the shell of the ear or the palm of your hand; browns derive from different kinds of pigmentation like freckles." Faas uses only liquid formulations, and they are contained in sleek, uniform packaging (glosses, eyeliners and even blushes are dispensed in identical silver pens) that keeps things simple and streamlined. In the spring a bullet holster–inspired carrying case will further aid the organization effort.
Faas didn't always have such a clear-cut vision, especially since makeup artistry wasn't a profession that was on her radar as a teenager in the late Seventies. "I didn't even think it was a real job then," she says. That all changed when, as a photography student working on an assignment to portray narcissism, she shot herself in different guises, from a Clara Bow Twenties type to a Twiggy acolyte. "I liked the instantness of it," she says. "You make a stripe or you change a color, and you see this dramatic effect. I found it fascinating and fun."
From there Faas went on to study traditional beauty and special effects makeup in Paris and to pursue both in the Netherlands and in London. Eventually she moved back to Amsterdam to raise her daughter, Flavia, now 20. In the late Nineties Mario Testino came to town for a L'Uomo Vogue shoot and searched for a local makeup artist with serious chops. Faas's portfolio easily stood out from the crowd. "She had such a different take on things and was so free in her approach," Testino says. "She adapted to fashion and then took it elsewhere without fighting it." The two worked together off and on for four years, and Faas credits Testino with launching her career internationally. "He took me everywhere," she says. "Suddenly I was in fashion." During that time she also helped L'Oréal develop a makeup collection to complement its Biotherm skincare brand.
For her own line, there was one God-given hue she was particularly intent on re-creating: bloodred. After mixing a homemade version and collaborating with a lab to replicate it, Faas created Ellis Red, a surprisingly wearable blackish rouge lip color that comes in three formulations—creamy (for full coverage), milky (for a stained look) and glazed (for a glossy effect). It's the ultimate expression of her guiding philosophy: that naturally occurring colors will be flattering and beautiful on women of all skin types and ages. This democratic attitude might seem to be contradicted by her cheeky tagline—only tested on supermodels—but Faas insists the slogan is all in good fun. "Everybody asks if you test on animals," she says with a laugh. "But I don't need to—I work with all these models."