Actress Elodie Yung Doesn't Lie… Much
The Gods of Egypt and Marvel's Daredevil actress explains how she got her start.
---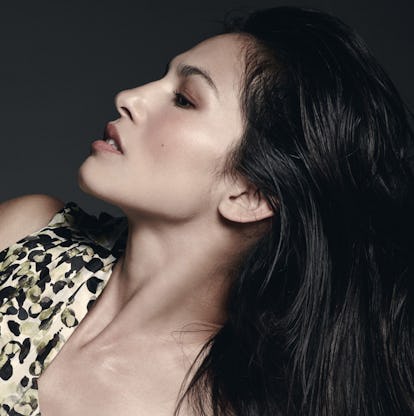 Photographer: Mark Segal Stylist: Sally Lyndley
Don't mess with Elodie Yung. The French-Cambodian actress has been a cop, a ninja, and a gang lord. "I'm a black belt in karate," Yung, 35, says. "I grew up on the outskirts of Paris, and it was rough."
But as the assassin Elektra, the comic-book villain she portrays on the second season of Netflix's series Marvel's Daredevil, she isn't only a physical threat. "Elektra is a proper sociopath," Yung says. "She uses people; she's a great liar." A pause. "But, of course, I rarely lie."
Before she turned to acting, Yung, who also appears in the fantasy-adventure feature film Gods of Egypt, was on track to become a lawyer. Then a friend convinced her to go on a commercial audition for a quick paycheck. "I made up a fake C.V.," Yung admits. "I pretended to be an actress who'd done stuff before." Wait, that sounds suspiciously Elektra-like. "You got me—I was lying. But I'm not very good at it, because I end up telling the truth.
Hair by Ramsell Martinez for Oribe at Streeters; Makeup by Darlene Jacobs for Lancome at Starworks Artists; digital technician: Justin Ruhl; photography assistants: Seth Gudmunson, Zac Hahn; fashion assistant: Mary Ossovskaya.