Elvira, Queen of Halloween, Explains All Her Haunted Celebrity Connections
The Queen of Halloween also weighs in on that time Meghan Markle copied her costume.
---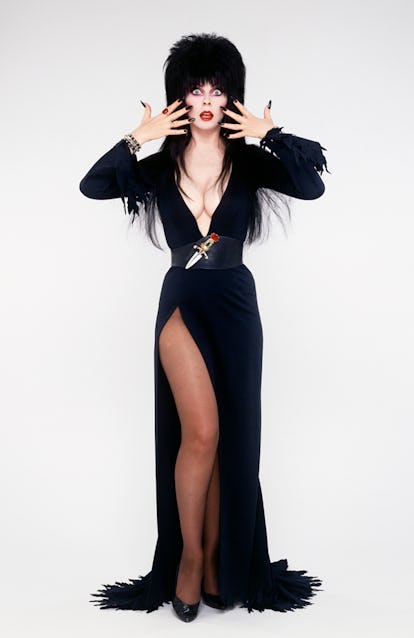 David Goldner
Welcome to W's Witch Week, a celebration of all things witchy. In the days leading up to Halloween, we'll be boiling up a wicked brew of all things occult, from pop culture's favorite new witches to the real women practicing Wicca today.
October is a busy month for those who dabble in the occult. For the Queen of Halloween, though, it's especially insane. "This time of the year is really like, When can I sleep? When can I eat?," a clearly exhausted Elvira told me a week ahead of the holiday, in the midst of her "ridiculous" routine of driving two hours from her home in Los Angeles to see her favorite hair colorist. Despite what you might expect, the cult icon and performer doesn't go all that way for the blackest of blacks: The real-life Elvira, Cassandra Peterson, actually has a head of flaming red hair that she takes care to conceal during Halloween, since she's worn the exact same costume for 36 years.
Of course, she's not the only Elvira out there. Since a teenaged Peterson followed Elvis Presley's advice and left Las Vegas behind, and established her alter ego with the comedic horror Elvira: Mistress of the Dark in 1988, everyone including Meghan Markle has used her as costume inspiration on Halloween. (The Duchess stopped at the push-up bra required for the Queen's infamous décolletage.) Before the chaos really started, Peterson took a moment to talk all things Halloween—plus that time she sold her haunted house to Brad Pitt—in her culture diet.
Do you identify as a witch? I wouldn't say specifically as a witch, although when I was young, I was very interested in tarot cards and ouija boards. I actually once had a Ouija board tell me that I'd been one of the witches that was burned in Salem in a past life, so that was a little bit dark. It freaked me out so bad that I get my Ouija board out of my house.
How long have you been prepping for Halloween?
I kind of prep for it all year round, but I start working on it in August. I've been shooting various TV shows for cable networks that'll air this month, and then I did a song with this new singer Kim Petras. This is the first year I'm not doing my live show, so instead I'll be more or less flying around, meeting fans, taking photos, going to haunted venues, just traveling all of the U.S. I do have some projects coming up—another movie and an animated series—but I can't think about that until after November 1.
You've worn the same costume for 36 years now. Are there any little things you do to change it up?
I do not change any of it up. Ever. I'm always exactly the same. I've got a new lipstick I'll wear that's a little more blood red, but I think it's the only change I'll have this year. [Laughs.] I try to keep it as consistent as possible, otherwise I'm not the same character. It'd be like Superman changing his hairstyle or going all Rasta or something.
Clearly, it's worked. I just came across the photo of Meghan Markle dressed as you for Halloween as a kid.
Isn't that bizarre? It was in the newspapers in England, and someone posted it on my social media. I was pretty thrilled. She actually went to elementary school just a few blocks from where I live. I was actually talking with Kim Petras about this: she dressed as the Queen of England and the Queen of Halloween, and she kind of manifested that. Not that she's the Queen, but you never know.
Have there been any other notable celebrity Elviras?
Lady Gaga sort of did Elvira, Kate Pierson from the B-52s did Elvira, and of course innumerable drag queens have—the list would be too long, but Sharon Needles did a pretty great rendition. Otherwise, I don't really know what other people wear, because I'm always the one in costume. Halloween was always a big bummer for my daughter growing up, because I was always working and I never got to take her trick-or-treating. She'd go with friends, but I never, never got to hang out with her on Halloween. I did help with her costumes, though, which meant that early on, she was Elvira, too—I just thought it was adorable to have a little Elvira. Then she turned six or something, and that was the end of that. [Laughs.]
What about you—what were your favorite costumes when you were a kid?
When I was five years old, my mom asked me what I wanted to be for Halloween and I said the Queen of Halloween, so she made me sort of a princess outfit out of black and orange, with a crown and a scepter. It's pretty bizarre, because now, 900 years later, that's what I do. [Laughs.] But since my mom and aunt ran a costume shop and were really great seamstresses, I always had the best costume every year. It was usually from whatever TV show at the time—I Dream of Jeannie, Gilligan's Island, The Addams Family. I was Morticia, of course. I wanted to be whatever was sexy, which is not the greatest thing for a child, but I don't know—that's what I wanted to do.
Getting into the culture diet questions, what's the first thing you read in the morning?
As myself, it's pretty sad: you'd think as Elvira I should be getting up and reading some black magic bible, but it's usually The New York Times.
What books are on your bedside table right now?
I'm reading a A Gentleman in Moscow [by Amor Towles]. I really enjoy it, but I don't have a lot of time to read these days, so I haven't read much yet. I'm exhausted, doing all of the Halloween things that are going on right now.
Have you had any time to watch TV?
A little bit. I sort of watch one show, and it's Rachel Maddow—I'm a little obsessed with politics right now. And I watch The Walking Dead, which is a little more Elvira.
A Guide to All of Your Favorite Actresses Who Have Played Witches Onscreen
Cher in The Witches of Eastwick (1987). Photo courtesy of Everett Collection.
Susan Sarandon in The Witches of Eastwick (1987). Photo courtesy of Everett Collection.
Sarah Jessica Parker in Hocus Pocus (1993). Photo courtesy of Everett Collection.
Elizabeth Montgomery in Bewitched (1964–1972). Photo courtesy of Everett Collection.
Tilda Swinton in The Chronicles of Narnia: The Lion, Witch and the Wardrobe (2005). Photo courtesy of Everett Collection.
Maggie Smith as Professor McGonagall the Harry Potter film franchise (2001–2011). Photo courtesy of Everett Collection.
Sandra Bullock and Nicole Kidman in Practical Magic (1998). Photo courtesy of Everett Collection.
Emma Watson in the Harry Potter film franchise (2001–2011). Photo courtesy of Everett Collection.
Michelle Williams as Glinda the Good Witch in Oz the Great and Powerful (2013). Photo courtesy of Everett Collection.
Alyson Hannigan in Buffy the Vampire Slayer (1997–2003). Photo courtesy of Everett Collection.
Michelle Pfeiffer in Stardust (2007). Photo courtesy of Everett Collection.
Meryl Streep in Into The Woods (2014). Photo courtesy of Everett Collection.
Rose McGowan in Charmed (1998–2006). Photo courtesy of Everett Collection.
Sarah Paulson in American Horror Story: Coven (2013). Photo courtesy of Everett Collection.

©FX Networks/Courtesy Everett Collection
Emma Roberts in American Horror Story: Coven (2013–2018). Photo courtesy Everett Collection.
Anya Taylor-Joy in The Witch (2015). Photo courtesy of Everett Collection.
Mila Kunis in Oz the Great and Powerful (2013). Photo courtesy of Everett Collection.
Julianne Moore in Seventh Son (2014). Photo courtesy of Everett Collection.
What's the last movie you saw in theaters?
It's funny—the last movie I saw on TV was The Witch. I've been wanting to see it for a really long time and I finally saw it at a hotel this past week. I loved it. And the last one I saw in theaters was A Star Is Born. I loved [Lady] Gaga, and I loved him, too, whatshisname [Bradley Cooper]. The performances were amazing—I couldn't believe he was singing, too—and the movie was beautiful, but it were me, I would have cut out about 30 or 40 minutes. I changed the name to A Star Is Boring, because it really could benefit from some judicious editing.
What are some of your favorite Halloween movies?
Well, first of all, Elvira, Mistress of the Dark, which is a Halloween classic, if I do say so myself. [Laughs.] I like the old cheesy movies from the '60s and '70s—the campier and cheesier, the better, like Attack of the Giant Leeches, Plan 9 from Outer Space, or House on Haunted Hill [all from 1959] They don't scare me; I feel like they're comforting to me. Nothing feels better than sitting down and watching an old, black-and-white, creepy movie.
Not to get too off-topic, but since House on Haunted Hill reminded me: Did you really sell your haunted house to Brad Pitt?
Yes, he still owns it. Well, he owns many houses, but he still lives there. It was about two acres in the Hollywood Hills that I had for about five years, and had some really bizarre experiences there. Something was going on in that house—I don't know what it was, but it was nonstop. The weird thing it's never happened to me before, and it's never happened since. Then I found out from my neighbor, who was 100 years old and had all of these old clippings, that there were seven tragic deaths that happened there—not just somebody dying in their sleep or of a heart attack, but seven violent deaths, from suicide, murder, drowning, you name it. But I didn't find out until after all of the crazy stuff was happening, and when I did, I was like, I gotta get out of here.
But you know, it's weird: I was nine months pregnant and the doorbell rang, so I went to the intercom and asked who it was, and the person said Brad Pitt. I was like, "Hahaha, that's so funny," but he kept saying it and I didn't believe it so I finally managed to get down to the gate—like I said, I was nine months pregnant, so I really lumbered down there, and it was Brad Pitt. I always tell my daughter, "Honey, you could've been delivered by Brad Pitt," because when I saw him standing there, I just about gave birth. That would have been awesome. But anyway, he said he wanted to see my house—he'd heard about it from our mutual friend at the time, Nicolas Cage. So he looked around and came back a couple of times with his then-girlfriend and then all of the sudden, I got an offer from his lawyer—even though it was not for sale. He offered a really good price and we said no, and then he offered another really good price, and we said no, and then the third time we said, well, alright.
Did you tell him it was haunted?
Oh yeah, I told him about the whole thing, and he loved it. He thought it was awesome, so he was the right buyer.
Getting back to the questionnaire, What's the last song you had on repeat?
I got a record player as a gift and went out and bought all of the Beatles albums on vinyl again. I'm a Beatles freak, so I've been playing the Beatles over and over, nonstop. It gets annoying to people who come over, but having it on vinyl is so awesome—it's just like when I was a kid. Their first album was totally life-changing for me.
What's the last concert you went to?
I see every concert of Jack White's I can get to, if he's around anywhere near in L.A.
What's the last thing you googled?
Oh my god, probably something political. Yup, the New York Times! But earlier, I was googling Josh Homme from Queens of the Stone Age, which I love, and Elijah Wood. They both emailed me today and asked if they would be on their podcasts, though of course I have to wait until November.
What are your favorite social media accounts to follow?
I pretty much stick to following spooky people and drag queens: Alice Cooper, Marilyn Manson, and Rob Zombie, of course, are some of my favorites. I just started following Jamie Lee Curtis this week, too.
You repost so many amazing tattoos of you. How much do you keep up with your fanbase?
I do every day, all the time. I've getting sooo many tattoos now; it's ri-di-cu-lous. I was shocked several years ago when I saw my first one, and now, every appearance I go to, there's a dozen at least. Usually I sign it, and then they get tattooed also. There's been a matching husband and wife—I think that was in New Jersey. It's just getting to be like, 'Oh yeah, an Elvira tattoo'. It's pretty normal to me.
What's the last thing you do before you go to bed?
Ugh. Check my iPhone and my emails, which is such a bad idea, because a lot of the time there'll be one that pisses me off, and then I have to try to go to sleep right after that. It's a bad habit.