Brit Emily Blunt Feel In Love with John Krasinski Before She Saw the American Office
They were engaged 10 months later.
---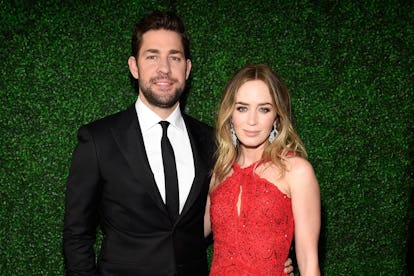 Getty Images
Emily Blunt and John Krasinski may be starring in a horror movie this weekend, but it turns out that their meet-cute was practically ripped from a romantic comedy. This week, everyone's favorite Devil Wears Prada cast member sat down with both Seth Meyers on Late Night and People editor-in-chief Jess Cagle and revealed that it was basically love at first sight in both renditions of the story.
"We were in a restaurant, he was also in a restaurant, I was sitting with a mutual friend," she told People on Thursday, having told the story almost word-for-word on Late Night the day before. "We were talking, and discussing how much I was enjoying being single, and then she goes, 'Oh my god, there's my friend John!' And that was it." When pressed, she revealed that there's a bit more to the story than that, and it only gets better. "He was actually sitting with our friend Justin Theroux," she told Meyers (Theroux, meanwhile, seems to have so many surprising friends). "And then he abandoned Justin and came over to come and talk to us, and he just stood there, and made me laugh. He just did a bit."
At the time, however, she only had a broad idea of her future husband's identity, not to mention his comedic prowess. As she told Meyers, "I was sort of aware that he was vaguely recognizable, blurrily familiar, but I was a big fan of the British Office." The chance meeting with Krasinski then led her to "binge-watch" several seasons of the American Office, where he plays the character of Jim.
"He likes to say that I had no idea who he was, but then you knew I liked you, so it's real," she added to People. And after their meet-cute, Blunt continued, she knew he was the one "disarmingly soon." "We were engaged within 10 months, but I think we probably knew before that," she said.
Although Blunt prefaced the story on Late Night by calling it a "sad, lame story," by the end she came around and admitted that it was "cinema gold."
Related: What Is A Quiet Place Even About?
Emily Blunt and Ewan Mcgregor Go Fishing
Patricia Clarkson and Ewan McGregor

Photographer: Alexis Dahan
Emily Blunt and Simon Beaufoy

Photographer: Alexis Dahan
Photographer: Alexis Dahan
Yelena Yemchuk and Helena Christensen

Photographer: Alexis Dahan
Photographer: Alexis Dahan
Robert Konkic and Julia Restion-Roitfeld

Photographer: Alexis Dahan
Photographer: Alexis Dahan