Emily Ratajkowski is the New Face of Aussie Swim Label Amore + Sorvete
The top model is introducing Americans to the bikini brand, one Instagram at a time.
---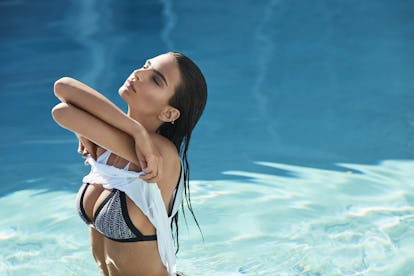 Photo courtesy Amore + Sorvete
Though she launched her collection, Amore + Sorvete, in 2009, designer Bridgette Gale didn't dip her toes into the American market until last year. "My goal was to be featured in the swimwear bible: the Sports Illustrated Swimsuit issue," Gale says. Fast forward a few years, and she got her wish. Model of the moment Emily Ratajkowski wore an Amore + Sorvete suit in the 2015 issue, and since then, the she's been wearing and, more importantly, tagging the burgeoning label on Instagram. From that moment on, girls on this side of the pond have been trying to get their hands on the cheeky maillots.
Thankfully, this summer, you no longer have to travel to Perth, where the brand's flagship brick-and-mortar resides, to score a suit. The brand recently launched U.S. e-commerce, and is also being carried by Florida boutiques Love Shack and Splash in Palm Beach and Miami, respectively. And (thankfully, again) this season, Ratajkowski is officially the face of the brand. After all, who doesn't want to see Emrata in a killer bikini? Here, Gale talks brazilian bums, Australian beaches, and shares new, exclusive shots of Ratajkowski wearing Amore + Sorvete. You're welcome.
Why did you decide to go into designing swimwear? I knew I always wanted to do something creative with my life, and swimwear was something I knew extremely well. I know it sounds strange to hear that someone was so passionate about swimwear, but my teenage years were all about being in a bikini at the beach. Every birthday and Christmas I would get new bikinis, and I was about 14 when I purchased my first pair of Brazilian bikinis — after that, I never went back. At 15, I got a job while I was still at school, just to fund my bikini habit! It was around that time that I really started to pay attention to the small details and what went into swimwear — I would spend time walking around the store feeling all of the different swimwear fabrics, the little trimmings and cord ends. It was the cut and fit, which are extremely important along with those special details that would sell me on which suits to buy.
Did you spend a lot of time at the beach growing up? I grew up on the coast of Western Australia and North Cottesloe beach was my local spot. My mum used to pick us up every day from primary school and take us straight to the beach with an afternoon snack and our boogie boards in the car, which we also got every year for Christmas. We would stay at the beach until the sun went down and it was time to go home for dinner. Our whole lives revolved around the beach and still to this day, my family spends Christmas morning at the beach. Swimwear was something that came very natural to me and something that I knew very well from a very young age.
What was it like getting your business off the ground? When I was 21, I packed up my bags and decided to move to Bali to follow my dreams. I lived there for over three years so that I could oversee production to make sure that our quality was exceptional. My manufacturer is also Australian, so the quality was great from the very start! However, it was very important to me to be there every step of the way, working early mornings and late nights to perfect my product. I eventually moved back to Perth to open an Amore + Sorvete flagship store. A lot of hard work, sweat and tears went into my business to get it off the ground — it's my baby! They say "if you do what you love, you'll never work a day in your life" and that's how I feel everyday with Amore + Sorvete.
What were the main pieces you began with? I feel like the Amore + Sorvete collection and aesthetic has grown as I have grown. I was a young girl when I first began, so our pieces were very frilly, young, feminine and girly. Now, as I have gotten older Amore + Sorvete has developed into a strong, independent, feminine, yet active lifestyle brand. Styles have supportive cups, so you're able to go stand up paddle boarding or for a simple walk along the beach. The swim pieces stand out for women who aren't afraid to show off some skin. I find that swimwear is very much an expression of who you are.
What style do you find is still popular with your customer? My customers love our cheeky, Brazilian cut bottoms. We obviously still have a larger coverage option, but when I first started, the market lacked small bums. I like to call myself the "bum expert" because I feel like we specialize in making women's bums very shapely, no matter your age or size.
What swim trends are you seeing among women right now? I find that women and young girls today are more conscious of the sun, they're not frying themselves in baby oil like they used to, which is great to see. I'm a firm believer of being skin smart, so I'm finding that women aren't afraid to go for a swimsuit that has obscure lines. They're not just wearing a string bikini so they don't get tan lines, they are wearing swimwear for fashion — with sleeves or strappy backs, which they can also pair with a cute pair of high-waisted shorts or wear out for lunch.
Emily Ratajkowski is the New Face of Aussie Swim Label Amore + Sorvete
When did you feel the label was on the right track? I got extremely excited when the 2015 Sports Illustrated Swimsuit issue came out, not only was Amore + Sorvete featured, but Emily Ratajkowski was wearing my suit.
Let's talk about fit — what does it mean to you, your brand, and how is it important? What is the key to great fit? It's all about the fit!! The fit is one of the most important things about shopping for a swimsuit. You don't want to be falling out of your swimsuit as you're walking along the beach — not a good look! I believe that getting the fit right says a lot about the quality of the brand, and I spend a lot of time with my pattern makers making sure the cut is right, the shape is right and fit is perfect. If a customer goes for a swimsuit that they love on someone else, but it's not the right fit for their body shape, then they need to try on another cut because if they're not comfortable in that fit then they'll never end up wearing it.
Is there a certain beach that inspires you? I got engaged last year in the Great Exuma Island in the Bahamas. I don't know if it was the love in the air, but all of those beaches are some of my favorite spots in the world.
Where are you excited to travel this summer? I'm actually really excited about staying in Western Australia for the summer. I find our beaches are some of the best in the world. I travel a lot for work, so when I can have some down time with my family and friends at home for summer, it's honestly the best thing in the world. My family and I normally go down south about three hours from Perth on the coast of Yallingup, with beautiful wineries, white sand and crystal clear water, it's the best! I couldn't think of a better destination to be in summer, I love it!
If one of your swimsuits could be packed by a style icon and taken anywhere, who would the icon be and where would she go? I would say Emily Ratajkowski, the new face of our campaign. I had to pinch myself last month when I was at an incredible home in Beverly Hills shooting my 2016/2017 swim campaign with Emily Ratajkowski as the new face of my brand and Sports Illustrated photographer Derek Kettela behind the lens. I was a little chuffed to say the very least! Not only is Emily a style icon with an insane swimwear body, she's an incredible person to work with. She's so down to earth, intelligent and a strong empowering woman. I couldn't think of a better woman to be the face of Amore + Sorvete, she's a perfect role model for the young women out there today. I really admire her!
Talk to me about your plans for the future. What's next? With our big launch in the U.S. this season, I'm focused on growing Amore + Sorvete here in the states and internationally. It's an exciting time for us and I can't wait to see what the future holds!