Emily Ratajkowski's New Sitcom Sounds an Awful Lot Like Friends
Lisa Kudrow is involved, too.
---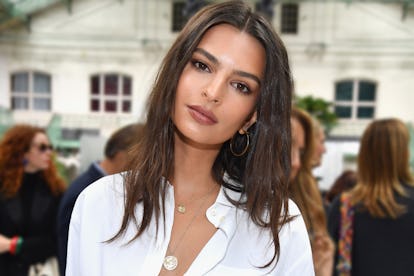 Pascal Le Segretain/Getty Images
Is Emily Ratajkowski the next Jennifer Aniston? Because she's just been cast in an NBC sitcom pilot that sounds an awful lot like the network's seminal hit Friends, right down to the fact that Lisa Kudrow is involved. Titled Bright Futures, the show, much like Friends, follows a group of twentysomething pals as they stumble into adulthood while living in a major metro area. In a conceit similar to How I Met Your Mother, Kudrow will narrate the program; and in an uncanny twist that is similar to the fictional sitcom Room and Bored from Kudrow's HBO program The Comeback, it seems that all are millennial protagonists who live together under one roof in Los Angeles.
Lilly Singh, Shameik Moore, Jimmy Tatro, and Calum Worthy will round out the cast, and their credentials certainly seem to reflect on their generation. Together, the cast consists of one Instagram-famous model (Ratajkwoski), two people who got their start on YouTube (Singh and Tatro), one Disney Channel alumnus (Worth), and, well, one guy who is just your up-and-coming actor (Moore).
So who are these people and what are their characters? Let's meet them!
In addition to being a master of the internet thirst trap, Emily Ratajkowski actually has a legitimate acting career with roles in Gone Girl and the upcoming Amy Schumer comedy I Feel Pretty, though Bright Futures will mark her first regular TV gig.
According to Variety, she'll play Sarah, "a girl-next-door type but also with a behind-the-ear tattoo." Wow, that symbolism is rich. You meet her with her hair down, and you're like, "Who's this plain Jane?" but then she puts that hair up and you catch a glimpse of her nape ink and you're like, "Damn, this girl has so many more complicated layers than I originally thought." That's the power of a behind-the-ear tattoo, folks.
Variety adds that the character "can just as easily bro out with the guys as she can be the girliest girl." Get you a girl who can do both, indeed. Notably, unlike the other characters, no profession is listed for the character.
Now also seems like a good time to confirm that no women are listed as creators or producers of this show.
Lily Singh is one of YouTube's biggest stars with over 13 million subscribers, and, unlike some of her peers, she's done it all without ever filming a dead body! Though, she also has traditional credits in Bad Moms and Michael B. Jordan's upcoming Fahrenheit 451. She'll play a character named Sid who is "a recent med school graduate and who became a doctor mostly so people would call her a doctor."
Jimmy Tatro also got his start on YouTube, but had already transitioned into a mainstream acting career with the lead role in Netflix's beloved American Vandal. He'll play a character named Berger. His description: "On the surface he's the hater of the crew, but deep down he's incredibly loyal and would be the first one to take a bat to someone for any one of his friends." So, he's Chandler Bing except with a propensity for extreme acts of violence instead of verbal quips? Nice.
Callum Worthy is a Disney kid who had main roles in Austin & Ally and The Coppertop Flop Show. He also appeared with Tatro on American Vandal. His character is Danny and "he's a gung-ho yet ultra-neurotic USC film school grad and a wannabe screenwriter who's just landed his first job working for Hollywood's hottest up-and-coming writer."
Finally, we have Shameik Moore who is best known for his lead role in indie hit Dope and Netflix's short-lived The Get Down. He'll play Aaron. "A drinking blowout on the night he passed the bar put a halt to any grandiose ideas and he now works as a lowly personal-injury attorney." We've partied with several young lawyers with a propensity for binge drinking who have never had their careers noticeably stalled because of it, but, sure.
So there're definitely a lot of parallels to both Friends and HIMYM here, but there're also some notable differences. The pilot will be shot single-camera style. There's also the matter of the fact that the show's main cast is already more diverse than those other shows. And it's possible the pilot alone will have more lines spoken by people of color than an entire season of Friends.
Black-ish alum Hale Rothstein will write and executive produce the pilot, while Isaac Schamis and Danny Segal will also write and co–executive producer (they have one episode of Grown-ish to their names, according to IMDb). Black-ish creator Kenya Barris will also executive produce.
Of course, we should note this is merely in the pilot phase, and there's no guarantee that it will actually ever be ordered to full series. The networks have spent decades trying to recapture the "twentysomething stumbling through life together" magic created by Friends, and few have proved successful by any measure.
Related: Everything You Need to Know About Emily Ratajkowski's New Husband Sebastian Bear-McClard
Exclusive: Bella Hadid, Alessandra Ambrosio, and Emily Ratajkowski Take the Bahamas by Storm