Emily Ratajkowski Is the Star of Tyga's New Music Video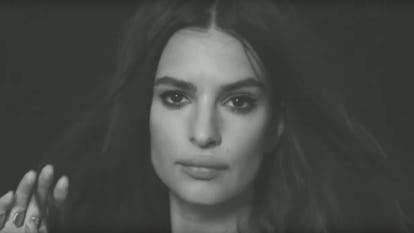 RAWW/Youtube
Emily Ratajkowski, the actress/Instagram A-lister/red carpet trendsetter is also a music video star — again.
Ratajkowski is back in the music video business, appearing in a minute clip for "Tequila Kisses," a bonus track off Kylie Jenner's ex Tyga's album Bugatti Raww. The video shows the model posing in a number of getups (though the message of the song is clear, if repetitive, "That Gucci shit don't matter" — something Gwyneth Paltrow also agrees with might we add) and taking Tyga's lyrics to heart by lounging in something a little more comfortable (and NSFW).
Of course, this latest video is merely a reprisal for the model. Ratajkowski is best known in the music world for her sultry appearance in the video for Robin Thicke's 2013 summer hit "Blurred Lines," a song whose lyrical content has not aged well.
Though Ratajkowski isn't shy about undressing for the camera, she's been clear that she's in control of how and when her body is put out there for public consumption. There's no blurred lines here. In September she criticized French magazine Madame Figaro for photoshopping her image, writing in an Instagram post, "Everyone is uniquely beautiful in their own ways. We all have insecurities about the things that make us different from a typical ideal of beauty. I, like so many of us, try every day to work past those insecurities. I was extremely disappointed to see my lips and breasts altered in photoshop on this cover. I hope the fashion industry will finally learn to stop trying to stifle the things that make us unique and instead begin to celebrate individuality."
Kylie Jenner was once Tyga's go-to star for his music videos, appearing in both "Stimulated" or "Dope'd Up." Now, over a year post-break-up, it looks like he's found a new muse in Ratajkowski.
Related: Emily Ratajkowski Shows Off Her Messy Car to Jimmy Kimmel
Emily Ratajkowski and Other Super Models Talk On Camera Nudity:
Kendall Jenner, Emily Ratajkowski, Slick Woods and Their Friends Make Wearing Couture Look Easy
From left: Maison Margiela Artisanal Designed by John Galliano dress, parka, and underpinning. Maison Margiela Artisanal Designed by John Galliano bustier and dress.

Photographs by Alasdair McLellan; Styled by Katie Grand
From left: Adidas Originals jumpsuit and shoes; Tommy Jeans sweatshirt and pants; Converse shoes. Atelier Versace dress. Atelier Versace dress; Converse shoes. Atelier Versace dress; Versace hat; Manolo Blahnik shoes. Gurls Talk sweatshirt; Palace jeans and boots.

Photographs by Alasdair McLellan; Styled by Katie Grand
From left: Fendi Haute Fourrure dress. Tommy Jeans sweater. Vintage sweatshirt from Blitz, London. Beauty note: Give hair some flip with Playa Endless Summer Spray.

Photographs by Alasdair McLellan; Styled by Katie Grand
Ronald van der Kemp clothes, accessories, and shoes.

Photographs by Alasdair McLellan; Styled by Katie Grand
Photographs by Alasdair McLellan; Styled by Katie Grand
From left: Viktor & Rolf Haute Couture dress and headpiece. Vintage sweatshirt and pants from Blitz, London.

Photographs by Alasdair McLellan; Styled by Katie Grand
Chanel Haute Couture dress and hat; Chanel bag; Manolo Blahnik shoes. Chanel Haute Couture dress, hat, earrings, and bracelets; Chanel bag. Chanel Haute Couture dress, pants, hat, and earrings; Chanel bag; Manolo Blahnik shoes.

Photographs by Alasdair McLellan; Styled by Katie Grand
Photographs by Alasdair McLellan; Styled by Katie Grand
Photographs by Alasdair McLellan; Styled by Katie Grand
From right: Alexis Mabille dresses. Adidas Originals jumpsuit.

Photographs by Alasdair McLellan; Styled by Katie Grand
Photographs by Alasdair McLellan; Styled by Katie Grand
Giambattista Valli Haute Couture dresses.

Photographs by Alasdair McLellan; Styled by Katie Grand
From left: Azzedine Alaïa coat, pants, and shoes. Topman sweatshirt; Tommy Jeans pants; Converse shoes.

Photographs by Alasdair McLellan; Styled by Katie Grand
Alexandre Vauthier dress.

Photographs by Alasdair McLellan; Styled by Katie Grand
From right: Dior Haute Couture dress and shoes. Dior Haute Couture dress and sandals. Miu Miu shoes; model's own clothes.

Photographs by Alasdair McLellan; Styled by Katie Grand
Photographs by Alasdair McLellan; Styled by Katie Grand
Philip Treacy London hat.

Photographs by Alasdair McLellan; Styled by Katie Grand; Hair by Orlando Pita for Orlando Pita Play at Calliste Agency; makeup by Diane Kendal for Marc Jacobs Beauty at Julian Watson Agency; manicure by Chisato Yamamoto for Morgan Taylor at David Artists. Produced by Ragi Dholakia; Production Managers: Claire Huish, Vinita Dave; Retouching by Output. Models: Slick Woods, Adwoa Aboah, Daisy Cvitkovic at the Lions; Ben Sherrell at Supa Model Management; Lily Nova, Faith Lynch, Dylan Hughes, Bradley at IMG Models; Hanna Halvorsen at Exclusive Management; Kendall Jenner at The Society Management; Leonard Mushiete at Rebel Management; Tommy Genesis at Eqt Management; Cara Taylor at Silent Models NY; Emily Ratajkowski at DNA Model Management; Estelle Yves at Women Management Paris; Sharas Kalytis at Elite London. Photography Assistants: Lex Kembery, Matthew Healy, Simon Mackinlay, Peter Smith; Stylist Assistants: Lynette Garland, Oliver Volquardsen