The Eminem vs. Machine Gone Kelly vs. Iggy Azalea vs. G-Eazy Feud: Everything You Need to Know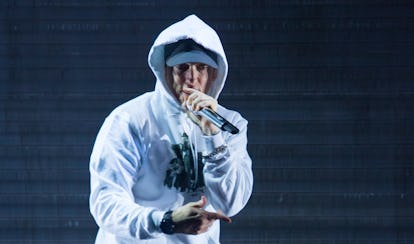 Photo by Scott Legato/Getty Images
Totally over the Cardi B/Nicki Minaj drama of Fashion Week? Care for a rap feud with a little less glamour, and not to mention melanin? Then have we got the fight for you! Iggy Azalea, Eminem, G-Eazy, and Machine Gun Kelly are all in a war of words over Eminem's recent songs. As they say on the streets (do they?), let's break it down:
This week, Eminem dropped a new song from his album Kamikaze called "Kill Shot." As Variety explained, "Killshot" is "in response to Kelly's 'Rap Devil,' which itself was a response to Eminem's 'Not Alike.'" So, right off the bat, we are like three or four layers removed from reality. According to Rolling Stone, on "Rap Devil," Kelly claims that "Em tried to blackball him from the music industry after he tweeted about his daughter, Hailie, being 'hot as fuck' in 2012." And then, on "Killshot," Slim Shady goes after MGK "for a variety of things including him sporting a man bun and his choice of breakfast food." (For an even more thorough analysis, see Vulture's timeline.)
Diss tracks, rivalries, and taking shots at other artists is part of the tradition of rap, and these men have every right to call each other out if they want, but still—it's a song about a song about a song. Just whip 'em out and measure already?
And while the whole song is directed at Kelly, a few lines from Em's latest in particular that mention other musical artists have caught special attention: "You ain't never made a list next to no Biggie, no Jay / Next to Taylor Swift and that Iggy ho, you about to really blow." According to Genius (formerly RapGenius), Eminem also made a rape joke about Azalea ("that Iggy ho") on a previous album. What Taylor Swift, a successful country-pop singer-songwriter, has to do with any of this remains to be seen. Back to the beef!
Iggy tweeted in response: "Diss songs shouldn't be filled with celebrity name drops to pad out lazy bars…And that's my unbiased opinion from a girl that watched this guys set and sung the words in the crowd. I'd think it regardless. One of the greatest to do it, I'm NOT in dispute about that. But I do think the name dropping thing has become a crotch [sic]…Also let's talk about why it's lazy now; but wasn't in the earlier work. The earlier stuff was crazy, twisted and creative. This stuff feels more like picking names that fit easily into a rhyme scheme. ?‍♀️"
Let's assume that "crotch" is a typo and that she meant to write "crutch." Although celebrity crotches are certainly a topic a person could rap about.
So how does G-Eazy fit into this? He's on Team Em, in that he's on Team Not-Machine-Gun-Kelly. Because his song "Bad Boy" mocks Kelly for his low album sales "and being jealous of his on-and-off relationship with Halsey," per Vulture. Solidifying his alliance, yesterday G-Eazy posted a picture of himself with Eminem flipping the bird to Instagram with the caption, "Let's talk about it."
But that's not the only controversial aspect of the Eight Mile star's new album. On another track, "Fall," he raps, "Tyler create nothin' / I see why you called yourself a f—-t, bitch," directing a homophobic slur (which is distorted on the album) at Tyler, The Creator. According to Billboard, Eminem apologized for his word choice, saying, "I think the word that I called him on that song was one of the things where I felt like this might be too far. Because in my quest to hurt him, I realize that I was hurting a lot of other people by saying it." Tyler, The Creator has yet to comment.
With Mac Miller sadly gone, we suppose it falls to Macklemore to preside over matters pertaining to the White Rappers Community. Unfortunately, he's more interested in trivial matters like encouraging people to vote. Will we ne'er have peace?
Related: Eminem Disses Everyone on Surprise New Album Kamikaze; Twitter Reacts
Warped Tour: A Look Back in Photos in Honor of Its Last Hurrah
Skrillex, when he was Sonny Moore of From First to Last, at the 2006 Vans Warped tour in San Francisco.

Araya Diaz/Getty Images
A pre-pop-fame Katy Perry performing at the 2008 Warped Tour in Carson, California.

Stephen Albanese/Getty Images
Hayley Williams of Paramore, with her signature neon hair, performing at the 2011 Vans Warped Tour in Milwaukee, Wisconsin.

Daniel Boczarski/Getty Images
Chris Barker of Anti-Flag performing at the 2010 Vans Warped Tour in Wheatland, California.

Steve Jennings/Getty Images
Jared Leto of 30 Seconds to Mars performing at the 2006 Vans Warped Tour in Fitchburg, Massachusetts.

Marc Andrew Deley/Getty Images
Simple Plan performing at the 2004 Vans Warped Tour in Bonner Springs, Kansas.

Jason Squires/Getty Images
Before his makeup line became an empire, Jeffree Star, seen her at the 2011 Vans Warped Tour in Carson, California, was a Warped Tour regular.

Chelsea Lauren/Getty Images
Gerard Way of My Chemical Romance performing at the 2005 Vans Warped Tour in Columbus, Ohio.

Marc Andrew Deley/Getty Images
Katy Perry performing at the 2009 15th Anniversary Vans Warped Tour in Los Angeles, California.

Noel Vasquez/Getty Images
The Casualties performing at the 2006 Vans Warped Tour in Uniondale, New York.

Eugene Gologursky/Getty Images
Demi Lovato posing backstage at the 2010 Vans Warped Tour in Ventura, California.

Chelsea Lauren
Taylor Momsen of the Pretty Reckless (and more famously of Gossip Girl) performing at the 2010 Vans Warped Tour in Marysville, California.

C. Flanigan/Getty Images
Taylor Momsen's shoes during her performance at the 2010 Vans Warped Tour in Mountain View, California.

Tim Mosenfelder
Bert McCracken of The Used performing at the 2002 Vans Warped Tour in San Francisco, California

J. Shearer/Getty Images
Jared Leto of 30 Seconds to Mars performing at the 2006 Vans Warped Tour in Fitchburg, Massachusetts.

Marc Andrew Deley/Getty Images
Benji Madden of Good Charlotte performing at the 2004 10th Anniversary Vans Warped Tour in Boston, Massachusetts.

Marc Andrew Deley/Getty Images
Katy Perry performing at the 2008 Vans Warped Tour in Carson, California.

Stephen Albanese/Getty Images
Joe Trohman, Patrick Stump, Andy Hurley, and Pete Wentz of Fall Out Boy at the 2005 Vans Warped Tour in Columbus, Ohio.

Marc Andrew Deley/Getty Images
Billy Idol performing at the 2005 Vans Warped Tour in Pomona, California.

J. Shearer/Getty Images
Lars Frederiksen and Tim Armstrong of Rancid performing at the 2003 Vans Warped Tour in San Francisco, California.

J. Shearer
Joan Jett performing at the 2006 Vans Warped Tour in Detroit, Michigan.

Paul Warner/Getty Images
Travis Barker of The Transplants performing at the 2005 Vans Warped Tour in Randall's Island, New York.

Jamie McCarthy/Getty Images
Oli Sykes of Bring Me the Horizon performing at the 2013 Vans Warped Tour in Ventura, California.

Chelsea Lauren/Getty Images
Jeffree Star at the 2013 Vans Warped Tour press conference and kick-off party in Los Angeles, California.

Chelsea Lauren/Getty Images
Andrew W.K. performing at the 2010 Vans Warped Tour in Mountain View, California.

Tim Mosenfelder
William Beckett of The Academy Is… performing at the 2008 Vans Warped Tour in Englishtown, New Jersey.

Jeffrey Ufberg/Getty Images
Hayley Williams of Paramore performing at the 2011 Vans Warped Tour in San Diego, California.

Chelsea Lauren/Getty Images
Ice-T performing in a surprise appearance at the 2003 Vans Warped Tour in San Francisco, California.

J. Shearer/Getty Images
Hayley Williams of Paramore performing at the 2008 Vans Warped Tour in San Antonio, Texas.

Gary Miller/Getty Images
Katy Perry signing a fan's cast at the 2008 Warped Tour in Ventura, California.

John Shearer/Getty Images