Eminem's Daughter Hailie Scott Mathers Wants to Be an Influencer After College
She already has 1 million Instagram followers, so why not?
---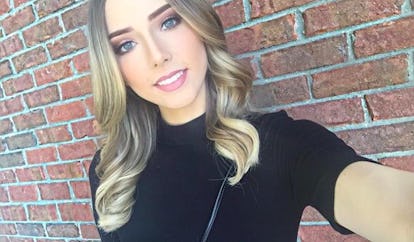 instagram.com/hailescott1
Celebrity kids may be born into a privileged world, but when it comes down to ambitions, they're no different from anyone else. Case in point: Eminem's daughter Hailie Scott Mathers, whom he's famously rapped about, aspires to be an influencer, as she recently revealed to The Daily Mail.
The 22-year-old just graduated from Michigan State University and she's currently planning her next move. While she's still plotting her career path — "It's kind of up in the air, still," she says of her next move — she plans on capitalizing on the nearly 1 million Instagram followers she's accrued. "People have been reaching out through [Instagram], as I don't have any [management]," she said, adding that many "companies" have offered to collaborate with her.
While she wasn't specific, Mathers thinks her budding personal brand would be a good fit for cosmetics companies, considering she's "drawn to the beauty world." She hasn't shared her makeup tutorials yet, but she often shares selfies that showcase her beauty looks.
One thing she won't be doing, however, is following in her dad's steps of pursuing a music career. Of course, she will always have her psychology major to fall back on: Mathers, who reportedly graduated near the top of her class, was "on the Dean's List or whatever," as she explained.
"She had a normal life at university and was in a sorority, she was popular and focused hard on her studies," a source explained to The Daily Mail. "Hailie wanted to test the water by sharing some of her life on Instagram but is not yet ready to fully put herself out there.… She enjoys keeping a low profile, walking her dog and going to fitness classes, hanging out with her friends and holidaying with [her boyfriend] Evan."
Interestingly, Hailie Mathers has stayed out of the spotlight for most of her life. Eminem, who still lives in the Detroit suburbs, has been notoriously private throughout his career, shying away from cameras and tabloids. Yet he did publicly address his daughter recently in "Castle," on his 2017 album, Revival: "I said your name but always tried to hide your face," he raps. "This game is crazy, I wanted to claim my love for you but damn/I never knew it'd be like this/If I did, I wouldn't have done it/You ain't asked for none of this s—/Now you're being punished?/Things that should've been private with me and your mother is public." Good thing Hailie is turning lemons into, well, you know.
Related: Nicki Minaj Says She's Dating Eminem But Weirder Things Have Happened