Eminem Disses Everyone on Surprise New Album Kamikaze; Twitter Reacts
Eminem remains none too impressed with the newest generation of rappers.
---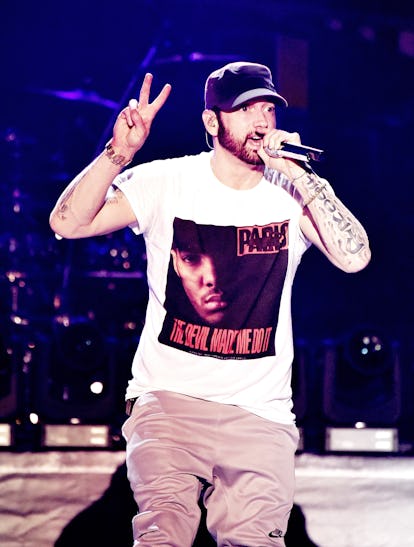 C Flanigan/Getty Images
Last December, Eminem released Revival, his first full-length album since 2013's The Marshall Mathers LP 2. Then, earlier this month, he returned with prominent placement on Nicki Minaj's Queen—both as a featured artist alongside Labrinth on "Majesty," and as one of the myriad names she playfully calls out in the diss track "Barbie Dreams." ("Em, cop the Barbie dream house then you can play the part/ I ain't tryin' to bust it open in a trailer park," she raps.)
Now, the rapper born Marshall Mathers is closing out the summer with a surprise release: Kamikaze, which debuted Thursday night. It opens with "The Ringer," a five-and-a-half-minute-long track that begins with the line "I'm just gonna write down my first thoughts and see where this takes me" and proceeds to eviscerate a selection of young rappers as thin imitations of their forebears in an attempt to hold onto a place as an elder statesman of rap.
The source of Eminem's discontent, apparently, is the tepid response to last year's Revival. "Last week, an ex-fan mailed me a copy of The Mathers LP to tell me to study," he raps. "I mailed the bitch back and said if I did that, I'd just be like everyone else in the f—ing industry"—implicitly indicting other rappers for borrowing from his landmark record. "So finger-bang, chicken wang, MGK, Iggy 'zae, Lil Pump, Lil Xan imitate Lil Wayne, I should aim at everybody in the game, pick a name." In the flow, per Genius, he parrots the style of Lil Pump's "Gucci Gang," which he references explicitly later in the track. (He does take care to exempt Kendrick Lamar, J. Cole, and Big Sean, rappers he cited among his favorites in a 2017 Interview Magazine conversation with Elton John.)
"The Ringer" casts a skeptical eye on the contemporary rap scene, also citing Lil Yachty ("I can see why people like Lil Yachty but not me, though")—as well as adjacent cultural figures like the radio host Charlamagne Tha God and, less adjacently, Mike Pence and Donald Trump (as "Agent Orange" throughout). It's a criticism he also levied in "Majesty," in which he praises old-school rappers like A Tribe Called Quest, Souls of Mischief, Slick Rick, and Dr. Dre in lieu of calling out younger musicians, and it's one he continues later, on Kamikaze's title track: "I heard your freestyle on Shade 45, that s–t was embarrassing," he says, referring to the radio channel that hosts "Sway in the Morning." On "Fall," he refers to Tyler, the Creator by a homophobic epithet, which has already started garnering criticism on social media, as well as to Joe Budden—both rappers publicly criticized Revival. He goes on to rap, "These rappers are like Hunger Games; one minute, they're mockin' Jay, next minute, they get they style from Migos, then they copy Drake." (Migos and Drake may not be among rap's old guard, but apparently they've secured Eminem's stamp of approval.)
An Eminem diss track is certainly not a novelty, but on Kamikaze the rapper takes particular pains to criticize younger rappers. Evidently, the rapper can't take some constructive feedback. Lil Yachty, for one, isn't taking it too hard: "Lmao me personally I think it's fye Eminem took a shot at me.. I f–k wit Eminem," he tweeted Friday. See how Twitter is reacting to Eminem's newest release, below.