Emma Roberts on American Horror Story's Surprise Finale: "It's a Crazy Ending to a Crazy Season"
The "American Horror Story" actress explains her career goals.
---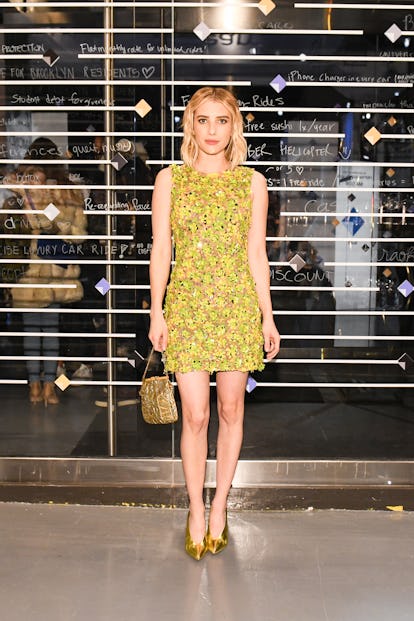 Zach Hilty/BFA.com
Last night, in New York City, at the exact moment that the American Horror Story: Apocalypse finale aired on televisions across the country, Emma Roberts attended a party—specifically, a launch event for Uber to introduce its new Uber Rewards program. And while it might seem a bit strange that an actress on one of TV's most talked-about shows would be out on the town on the evening her finale airs, it's actually kind of serendipitous: Roberts's character Madison Montgomery is last seen—spoiler alert!—playing an Uber driver right before the credits roll. It's so serendipitous, in fact, that you'd be forgiven for assuming that witchcraft itself might be involved. Here, Roberts breaks down the finale, and talks about what's next for the AHS universe.
This season of American Horror Story has been one curveball after another. What was it like filming?
This season definitely took us all for a ride. I would anxiously await getting the scripts because I really didn't know where this season was going to go. You'll see on the finale, I was like, "You want me to do what?!" It's a crazy ending to a crazy season.
And Ryan Murphy brought the witches back this season!
This season, Ryan just called me and said, "We're bringing back the witches." And I hadn't even read the first few scripts, but I just came into it ready to witch it up.
What was it like to reprise the role of Madison Montgomery? In a way, since Coven, she's become both a meme and even somewhat of a gay icon.
I love her. I really had the best time getting to play her. I was so grateful when I got that role because it really came out of nowhere. I was walking around my house one day, and Ryan Murphy called me to tell me about the part, and I was screaming. I'm obsessed with witches. Sabrina the Teenage Witch, Witches of Eastwick, Hocus Pocus—all of those had an impression on my childhood, and I've always been itching to play a witch. Since Coven, I've wanted to bring Madison back. She has been back from the dead many times at this point, and I thought that we should bring her back one more time.
Are you similar to Madison at all?
I think we have the same taste in clothing. The similarity ends there, I hope. Madison and I have same taste in black Prada boots. Other than that, I hope we're different.
What kind of American Horror Story role would you like to play next?
Oh, my God, so many. I really want to do a Western. I'd love to do a Western. I love the world of Westworld and Hostiles. I think those are really interesting worlds, and I'd love to immerse myself in that type of world. And I love to ride horses, so I think it would be fun to do that in a movie. And I also want to do a period piece. The world we live in is so overrun with technology right now that it would be fun to do a period piece that has no phones or computers—and you get to wear amazing clothes.
We're here for Uber tonight. Are you an Uber user?
Of course I am! I Uber way too often. I can't deal with the traffic in L.A. [when I'm] driving.
Do you not like to drive?
It's not that I don't like to drive, I'm just not great at driving. It stresses me out! I love to get work done while I'm Ubering. I'll wake up in the morning, enjoy my coffee in the back of the Uber, catch up on all my e-mails, and maybe read a chapter in a book. I'll set up my laptop, have headphones on, and take phone calls. Like, the driver sometimes has to be like, "Umm, excuse me, miss, we've arrived." But I'm so excited Uber is launching rewards, because I'm obsessed with things like airline rewards. So to get rewards for something I already use is exciting. I actually want to be an Uber driver for a day—drive around and see what happens and record it. It's funny that I'm at an Uber event tonight because Madison is an Uber driver in the finale tonight at one point. It's a funny little clip at the end.
Have you ever done Uber Pool?
I haven't. My friends say that I can't! I feel like I should try it and video it.