Emma Stone Never Thought She'd Be Able to Move Away From Home Because of Her Anxiety
The actress opened up for a good cause.
---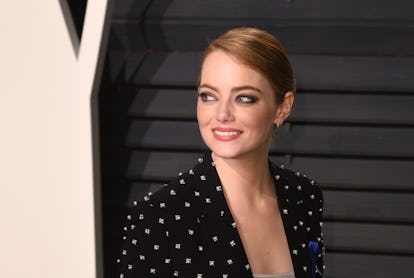 C Flanigan/Getty Images
Oscar winner Emma Stone has long been an advocate for mental health awareness, and now, the actress is discussing her own battles anxiety for the sake of a new campaign. Stone, who has similarly opened up in the past, said in new video that while she is now "living a pretty normal and exciting and vibrant life," she didn't always think she would be able to.
In the People exclusive video for the Child Mind Institute, a nonprofit dedicated to transforming the lives of children and families living with mental health and learning disorders, Emma revealed what she would tell her younger self about dealing with anxiety.
"[Anxiety] has always been something that I've lived with and it flares up in big ways at different times in my life," she said. "Sometimes while it's happening, like while I'm in a phase of real turmoil, or the anxiety is very strong, it feels like it's never gonna end — but it does."
Stone specifically notes that over the years, she's been able to manage her anxiety with the help of a therapist and cognitive behavioral tools like meditation. But while she feels in control of her anxiety now, the actress confessed that when she was younger, she thought it might hold her back from moving away from home — and thus, her support system — and prevent her from leading a "normal" life.
"It ebbs and flows in such a way that as I've gotten older I've learned how to manage it with so many tools and there are so many tools you can learn for it…. I truly, as a kid, did not think I would ever be able to move away from home or be apart from people that I had separation anxiety with."
Another major tool that has helped Stone cope with anxiety: acting, of course. In an interview with The Hollywood Reporter in January, the actress revealed that pretending to be someone else on stage (and eventually, on screen) helped ease many of the mental health symptoms she experienced at a young age.
And even though she still copes with anxiety today, Stone said that she's now more aware of what she needs to do to in order to care for herself, and that's reassuring in itself.
"It's so nice to know in those moments of real intensity that it will shift and it will change and there's a lot I can do to help myself," she said.
Related: Brie Larson, Jennifer Lawrence, and Emma Stone Are Group Text GOALS
Emma Stone Sucked Her Thumb Until She Was 11 Years Old