Emma Stone Had to Do Some Things to a Bunny That Made Her Cry in The Favourite
For her new movie "The Favourite."
---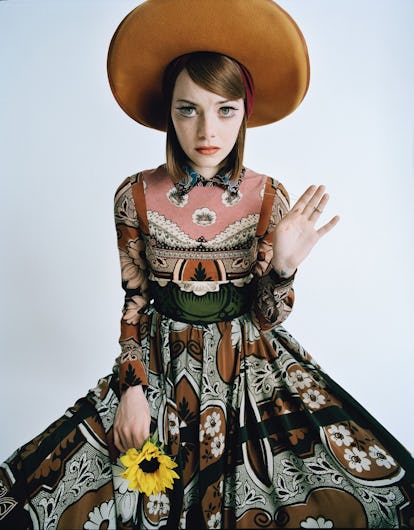 Photo by Tim Walker, styled by Jacob K.
If Hollywood ever remakes Fatal Attraction, don't expect Emma Stone to step in to the role originated by Glenn Close. She's already had enough of pretending to do horrible things to a rabbit in her upcoming film The Favourite that made her cry for about an hour after filming. She still doesn't appear over it.
Yorgos Lanthimos's film is in keeping with Stone's latest streak of left-of-center choices. In the film, she stars opposite Rachel Weisz as one of two noblewomen battling for the affection of a slow-witted Queen Anne (Olivia Colman, who is also The Crown's next Queen Elizabeth II) and all the immense power that comes with it. It's not your typical period piece, though, and uses contemporary music and a whole bunch of dark humor to drive home its semi-fictionalized plot. The trailers alone have already promised more than a few bizarre situations, but apparently none bothered Stone as much as her scene with a rabbit.
"Well, just in the end—I don't want to give anything away—but I have to be a little bit aggressive in the end with a bunny," she recently told Entertainment Tonight. "I cried my eyes out for about an hour."
Stone says that no animals were actually harmed during the making of the film, but she was still upset by the idea of having to act out any violence against an animal.
"They sort of talked me through it and how it would be a gentle and okay thing, but no, it's very, very upsetting," she continued. "Any idea of ever harming an animal in any way is crushing to me."
That's not the only bizarre experience Stone had in the making of the film.
During the film's U.S. premiere at the New York Film Festival this weekend, she said that when "I auditioned for Yorgos, he had me pant like I was giving birth throughout the lines…I think he just does this to everyone."
Somehow, costar Nicholas Hoult's audition was even weirder.
"Yorgos asked me to hum while the person I was with said their lines, and then I had to imagine force fields around the room and sculpt them into things," Hoult said. "There were lots of games like that throughout rehearsal as well. I'm not sure how it affects the performance."
"I have no idea," added the director, according to USA Today.
Related: Emma Stone Wore Fresh Roses in Her Hair at "The Favourite" Premiere