Emma Stone Will Reportedly Play Cruella de Vil in Live-Action Origin Film With a "Punk Vibe"
The Disney villain's upcoming origin film will be set in the 1980s.
---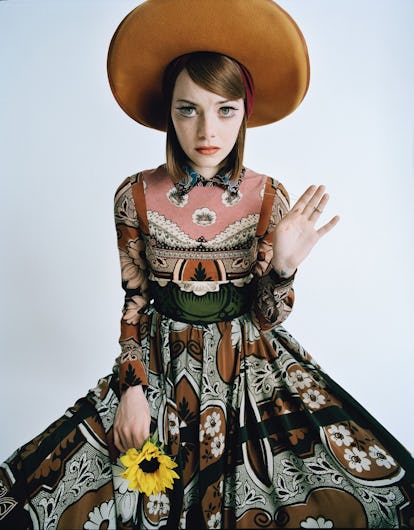 Photo by Tim Walker, styled by Jacob K.
After spending the past few years of her career playing complex characters, Emma Stone is set to play perhaps the most complicated woman of them all: Cruella de Vil, noted fur lover and puppy torturer. According to The Hollywood Reporter, Stone will star in the live-action Cruella, which will depict the chain-smoking Disney villain's origin story.
The film will reportedly be set in the early 1980s and have a "punk vibe," which would certainly explain de Vil's iconic hairdo: a shaggy black and white mullet. On the other hand, Cruella's late 20th-century setting does disrupt the villain's overall continuity, since she first appeared in the 1956 novel The Hundred and One Dalmatians and its 1961 film adaptation as a fully formed, fully evil adult and, as far as we know, didn't age backwards like some nefarious Benjamin Button. Perhaps, then, de Vil subscribes to the "Time is a flat circle" school of thought, and is therefore perfectly capable of being a budding supervillain in the 1980s and a full-fledged puppy thief in the late '50s. Maybe we'll find out in the new film or maybe, and more likely, we'll just have to chalk it all up to movie magic.
Cruella was reportedly previously set be directed by Mozart in the Jungle creator Alex Timbers, but is now in talks to be led by Craig Gillespie, who, with his last film I, Tonya, proved he has a knack for showing a more sympathetic side of long-vilified women. The film has been in the works for several years, with Stone "in talks" to star from very early on.
Of course, de Vil has already received the live-action treatment several times: in Disney's Descendants, ABC's Once Upon a Time, and, most notably, in 101 Dalmatians and 102 Dalmatians, in which she was played by Glenn Close. Stone, clearly, has some big shoes to fill, but has already proved herself capable of emulating another of Close's most sadistic roles: In The Favourite, Stone's character briefly tortures a bunny in a scene eerily reminiscent of Close's own moment of bunny abuse in Fatal Attraction. "I have to be a little bit aggressive in the end with a bunny," Stone said of the scene earlier this year, then added, in a very un-de Vil-like way, "I cried my eyes out for about an hour."
Related: Emma Stone Proves Her Vocal Chops With "I Will Survive"