Emma Stone
Emma Stone is a throwback to the days of American screwball comedies, when a beauty could also be madcap and outrageous.
---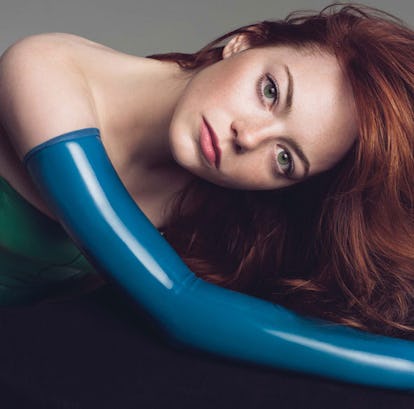 Photo by Inez van Lamsweerde and Vinoodh Matadin. W Magazine, January 2011.
Emma Stone is a throwback to the days of American screwball comedies, when a beauty could also be madcap and outrageous. In Easy A, the surprise hit of the fall, the 22-year-old gives her character spark and glamour—with her red hair and smoky voice, she's a wonderful mix of Lucille Ball (circa Stage Door) and Rosalind Russell. Which isn't to say Stone isn't original. True to her age, she draws inspiration from sketch comedy and improvisation, giving her characters a looseness and spontaneity that is distinctly current. Although she's been acting since she was a child, Stone is not jaded, self-conscious, or predictable—she seems to be up for anything. She had massively frizzed hair and braces in Ghosts of Girlfriends Past, ran from flesh eaters in Zombieland, and shined in a musical skit on Saturday Night Live last October that channeled the Nouvelle Vague. Speaking French and dancing in narrow jeans, Stone was the epitome of a Godard Sixties ingenue, with a dash of Laugh-In-era Goldie Hawn. Just as Godard's films simultaneously embraced and recontextualized cinematic archetypes, Stone is constantly reimagining the past for the future.
What was the first movie you remember seeing? The Jerk, starring Steve Martin. It was my dad's favorite. I grew up in Arizona, and I wasn't really a tomboy, but I was loud. And bossy. I wanted to be Steve Martin. Or John Candy.
You're only 22! Was there anyone closer to your own age who you wanted to be? She's not closer to my own age, but I loved Gilda Radner. My favorite of her Saturday Night Live characters is Judy Miller. She's the Girl Scout who runs around her room, putting on her own show. In my Judy Miller–like way, I did sketch comedy from when I was 11. Some kids join the debate team; I joined improv class.
Did you do musicals too? I was a stepsister in a local production of Cinderella. I had crazy red hair in a cone shape and lots of blue eye shadow. I had braces at the time, so whenever I smiled it was all red lipstick on my teeth, which was really attractive. After that I did a play called Noises Off, and when that was over I thought, I really want to be in movies. So I asked my parents and eventually they said yes.
You did a PowerPoint presentation? Yes, I did. There was a chart; there was the song "Hollywood," by Madonna; and there were pictures of actors like Sarah Jessica Parker, who had started young, in order to explain why we needed to move to L.A. when I was 14 instead of waiting to graduate from high school. There was a fair amount of alliteration in the presentation. It was some really heady stuff. [Laughs.] But I convinced them. When I was 14, my mom and I left Phoenix for pilot season. And…nothing happened. I didn't get my first big part until I was 18.
Superbad, in which you play the object of desire, was your first major role. I don't think people thought comedy was my M.O., and it was. They always cast me as "the girlfriend" or "the young girl with attitude." I would lose my mind if I felt like I had to be something like "the pretty girl." When I was auditioning five or six times a week, they'd send me the descriptions of characters. And if it said "beautiful" or "gorgeous" or even "pretty," my manager would delete it before sending it to me. Otherwise I'd immediately call him and say: "I will not be cast. It's not going to happen." Not to put myself down, but I just always thought I'd be a comedian. It was way more important to be funny or honest than to look a certain way.
You must have developed a devoted following of adolescent boys after Superbad. Yes, I guess, but the movie that really has devoted followers is Zombieland. The zombie fans are avid. There is such a thing as a zombie purist, and they believe zombies need to be slow-moving and dead. Our zombies were fast-moving and alive. We were excommunicated from the zombie community.
Spider-Man fans must be just as intense as the zombie fans—and you are about to play Gwen Stacy, Peter Parker's very blond girlfriend. And I have red hair! I think the Spider-Man fans are very upset. But I'm about to go blond.
Spider-Man is a prequel, which means your character is in high school. In Easy A, you play a high school girl who is falsely accused of being sexually promiscuous. Having never attended high school yourself, did you interview any actual high school students? Luckily, Easy A could have taken place anywhere. The theme of reputation and miscommunication and technology could have been in any environment. Rumors fly everywhere.
Especially about sex. You got to simulate sex in Easy A: Your character and a gay male friend try to start a rumor by loudly pretending to have sex. That was my favorite scene in the script. But when we actually shot it, I learned how difficult it is to simulate sex for that long, from that many angles. Simulation of sex is a real workout. We must have done a hundred takes. There was an oxygen tank at one point. It took two days. Simulated sex is really fun, but it's not easy.