Emma Watson Is Rumored to Be Dating Chord Overstreet But Let's Focus on Her Accomplishments
Here are other things about Emma Watson you should focus on instead of whether she's dating Chord Overstreet.
---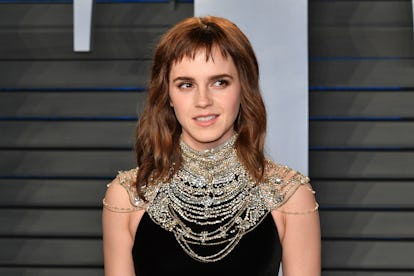 Dia Dipasupil/Getty Images
Emma Watson is a UN Goodwill Ambassador promoting women's equality, an indie darling (See: The Bling Ring, The Perks of Being a Wallflower), and, most obviously, a Hollywood star who's led mainstream films like Harry Potter and Beauty and the Beast to crush box-office records. But, despite these titles, it is her love life that is drawing the most attention at the moment. Specifically, who is in it.
Over the past month, in the wake of her breakup last year with Silicon Valley tech company manager William "Mack" Knight, Watson has been linked to Glee alumni Chord Overstreet. They were spotted together in early February as they left a Nathaniel Rateliff & the Night Sweats concert at West Hollywood's Troubadour, per Daily Mail, and again over the weekend when she left the Vanity Fair Oscars afterparty in what some speculated to be his suit jacket. (If you look closely at this video you can see them emptying out of the party with a couple of people between them.)
But, truly, who cares? Watson has made it clear that she has no interest in sharing details from her personal life with the world, and she's entitled not to. Unlike some of her more social media–active peers who freely share updates on their lives, Watson has attempted to remain a movie star without the celebritydom that comes with it. "I want to be consistent: I can't talk about my boyfriend in an interview and then expect people not to take paparazzi pictures of me walking around outside my home. You can't have it both ways," she told Vanity Far last year. "I've noticed, in Hollywood, who you're dating gets tied up into your film promotion and becomes part of the performance and the circus. I would hate anyone that I were with to feel like they were in any way part of a show or an act."
Instead of focusing on Watson's love life, here are some other things Watson did or continues to do to immerse yourself in instead:
Her feminist book club, Our Shared Shelf, on GoodReads
The letter she sent to her book club addressing criticism that she was a "white feminist." "When I heard myself being called a 'white feminist' I didn't understand (I suppose I proved their case in point)," she said. "What was the need to define me—or anyone else for that matter—as a feminist by race? What did this mean? Was I being called racist? Was the feminist movement more fractured than I had understood? I began…panicking. It would have been more useful to spend the time asking myself questions like: What are the ways I have benefited from being white? In what ways do I support and uphold a system that is structurally racist? How do my race, class, and gender affect my perspective? There seemed to be many types of feminists and feminism."
Her 2015 UN speech where she broke down feminism and the need for gender equality
The time she got Gloria Steinem to weigh in on her portrayal of Belle in Beauty and the Beast. "It was fascinating that her activism could be so well mirrored by the film," Steinem said. "Emma is interested in the world, she is caring, and though she is active, she is also joyous and informed."
Her recent response on Twitter after some pointed out that the Time's Up tattoo she wore to the Vanity Fair Oscars afterparty was lacking an apostrophe.