Emmanuelle Chriqui, Without the Entourage
Emmanuelle Chriqui is best known as Sloan, the ultimate cool girl who held her own in the testosterone-fueled HBO series, 'Entourage.' Now, the actress is ready to try her hand as something different in the hypnotist in Hulu's dark new show, 'Shut Eye.'
---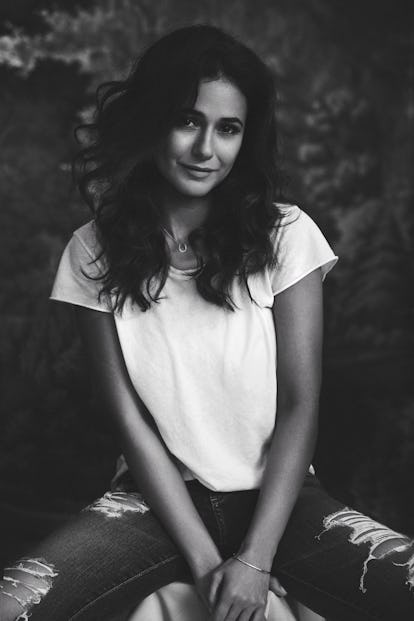 E and Roso. Produced by Biel Parklee.
When Entourage ended with its eight and final season in 2011, the year that followed was a tough one for Emmanuelle Chriqui.
"There was a year of just a lot of no's, making room for the yes's," the actress said as she sat in a room at New York's London Hotel, where she was staying when she was in town for ComiCon in October. She was wearing blue jeans, a white t-shirt, and black Saint Laurent booties. "I wanted to pull my hair out, but I think it was important," said Chriqui, 40, who has an enviable, glowing complexion and looks like she could still be in her early thirties.
Chriqui has appeared in numerous TV series over the past 20 years, ranging from The Borgias to The O.C. to The Mentalist, and movies like You Don't Mess With Zohan with Adam Sandler. But was her role as Sloan McQuewick on HBO's popular series Entourage and the Entourage movie released last year, alongside the almost all-male cast that included Adrian Grenier, Kevin Connolly, and Jeremy Piven, that brought her to international fame (and made her the celebrity female crush of just about every straight man on the planet).
"As grateful as I am for the incredible chapter of Entourage—it was more amazing than not—but it was also a bit of a challenge," said Chriqui, who is based in Los Angeles and was born in Montreal. "I can be more than the girlfriend or the cutie, and I think it has been long enough that people are willing to take a chance."
She's been dipping her toes in new and unexpected roles, including a National Geographic miniseries with Ridley Scott called 'Killing Jesus,' where she played an evil queen. Next month, she'll make her debut as Gina, the hypnotist in Hulu's dark, new psychic drama series 'Shut Eye,' with Isabella Rossellini and Jeffrey Donovan. Created by Les Bohem, the 10-episode series explores the world of Los Angeles storefront psychics and the organized crime groups that run them.
"All the characters are so left of center, there is really barely a normal person in the show," said Chriqui. "It is always fun to play flawed, imperfect people and certainly with my character, I was most intrigued because she has a shady past and it unravels."
In the first episode of Shut Eye, she appears for a hypnosis session with Charlie Haverford (Donovan), who oversees several fortune telling parlors, wearing big hoop earrings, an arm party full of bracelets and bangles, black-painted nails, and a loose-fitting sweater draped over her shoulders. You don't learn much about her yet, but it's clear she's got a dark side.
Chriqui, by contrast, is a far cry from the character she plays on television. She's smiley, sharp-witted, warm, and undeniably beautiful—much more like Sloan than Gina. But as it turns out, she has more in common with her new character than it would first appear.
"When this came up, I had been doing hypnotherapy for like three years," said Chriqui. "It really helped me move through some pretty big stuff. I have this theory that life imitates art, and art imitates life, so when I went in to audition for this I was like, 'Um, I am very familiar with all of this.'" Chriqui, in her everyday life, also dabbles with energy workers—something she attributes to her spiritual upbringing by her parents. "I do Transcendental Meditation and I will not start my day without it. It's been two and a half years and it was a major game changer for me," she said. "We spend so much time working on the outside but we should spend just as much time working on the inside. Sometimes it means just clearing yourself of shitty energy."
A little laughter, she finds, is also good medicine for clearing bad energy. When we met in NYC, she had just finished filming Super Troopers 2, the sequel to the 2001 cult hit film, just outside of Boston. "I was surrounded by consummate comedians, we could not stop laughing," said Chriqui, who plays a French girl named Genevieve opposite the likes of Rob Lowe, Brian Cox, Will Sasso, and more in the film, due out next summer. "They make it look so easy and it's not something that comes naturally to me."
What's next for Chriqui? She's got a few projects in the works (she remained tight-lipped about the details for now), but her dream is to get her own cable television show. "I just want to keep surprising people and surprising myself," she said. "I have been in this business for 20 years and I feel like in every interview, I say it's just the tip of the iceberg and I still feel that today. From comedy to drama to thrillers, I want to do it all."
Watch W's most popular videos here: